Dancer, choreographer, visual artist and teacher Florence Peake is in for a busy 2017.  In December 2016, Peake was awarded funding from the second edition of the Jerwood Choreographic Research Project to start her research into the sculptural interpretation of Stravinsky's Rite of Spring through dance and building with clay. A few weeks later, Peake flew to Athens to teach the Skinner Releasing Technique form of dance. And in quick succession, Peake's work will be featured in two groups shows, one opening in London in January and one in Rome in February. Opening on 12th January and running until 25th March 2017, the Bodikon exhibition at Belmacz in Mayfair alludes to a late 1980s fashion phenomena and will present artworks  by 11 artists that explore narcissism, physicality and elegance.  Opening on 9th February and running until 25th March 2017, Walled Gardens in an Insane Eden, a group exhibition at the Sara Zanin Gallery in Rome, will feature Peake's ceramic artworks and a restaging of her performance entitled The Voicings on 10th March. In this performance, Peake actively channels both physically and orally the personal losses and political concerns of various audience members, acting as a conduit between imagined and material place as she embodies a spirit, entity or personality from another space or time.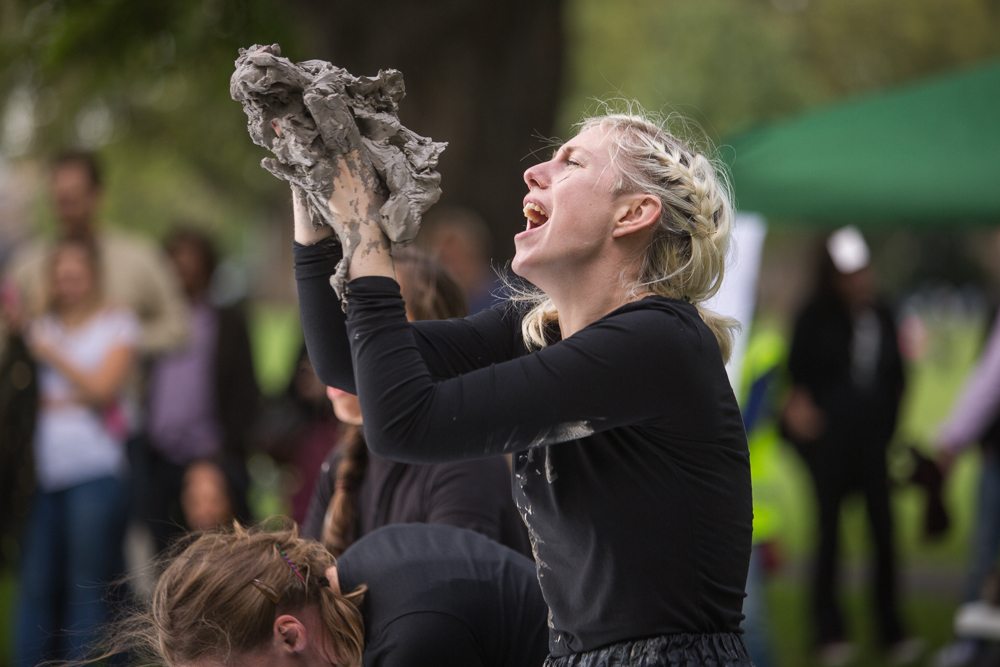 Congratulations on the funding from the Jerwood Choreographic Research Project! What an honour! Can you tell us a little bit about what your artistic interpretation of Stravinsky's Rites of Spring will entail?  Will this funding enable you to stage this work as well?
This funding is to research a sculptural interpretation of The Rite of Spring through choreographed movement and building structures with clay. I also want to research how the themes that drive the musical score are politically relevant to current unrest in the world and to use them as a response to an arguably fascistic moment we are in. I am hoping for production to be in Spring 2018.
It is just over one hundred years since Diaghilev and Stravinsky's infamous first performance, which sparked a riot in Paris in 1913. I am curious about this timing perhaps being historically connected to today also. I want to give significance to the riotous and primal body as a manifestation of protest and as a catalyst for positive change as we see growing turmoil in the world as well as exploitation and repression of people and the environment. I would like to explore the proposition of how the performance of The Rite of Spring could be a protest — an action for this time. I am excited to work with five dancers, including Katye Coe and Susanna Recchia, and the dramaturge, academic Martin Hargreaves to pick this all apart.  For some time, I have longed to delve into this haunting and uncompromising musical score with its insistent, formidable rhythms that seem to ambush its audience. I intend to work with wet sculptural materials in live performance.  It feels like a Herculean task but I think the musical score demands to be met in this way.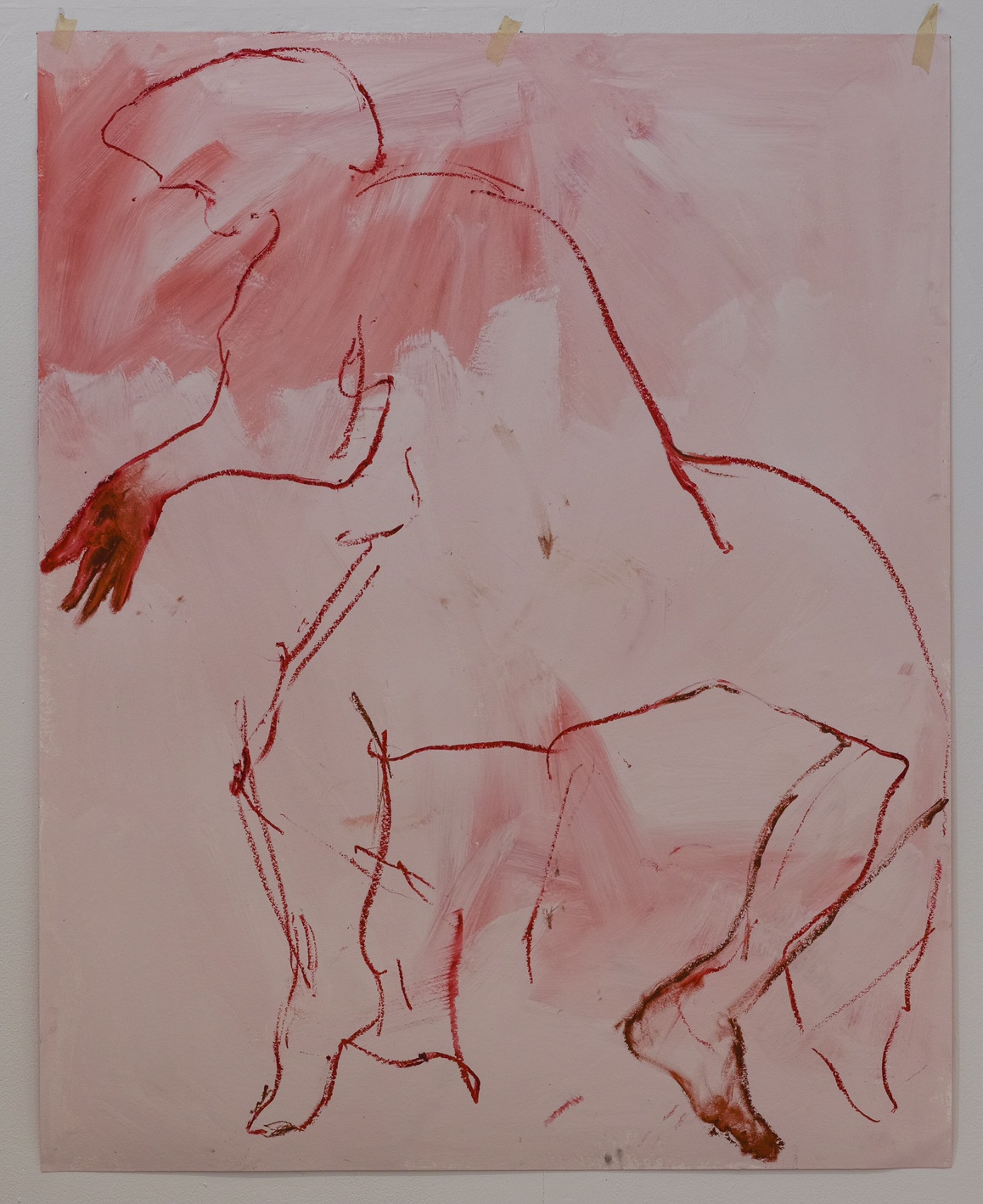 You dance, choreograph and teach as a performing artist and you paint, sculpt and perform as a visual artist.  Is there a dividing line for you in your mind or are all these things just forms of expression in your practice?
I enjoy a promiscuous relationship with how ideas get expressed so I will pick up the discipline/medium relevant to the idea. However, I am very loyal to my movement practice and the somatic dance community which does influence all my work in some way. I can feel quite spooked if I haven't connected for a time with other bodies moving in a studio and with a particular kind of intelligence that somatic practices provide. Teaching and choreography keep that exchange between movement body and other dancing bodies alive. I always feel a sense of huge privilege when dancing in the studio with other dancers. Painting is very important as a more private practice and perhaps more psychological; it still requires a kind of sensuality and embodiment in terms of the translation of ideas onto a two-dimensional surface. Sometimes I get close to the sense that the process of painting is doing something similar to what a live performance can do – like the exhilaration of dancing and the kinaesthetic empathy that can occur….how painting cannot just emulate but actively participate in a kinaesthetic experience.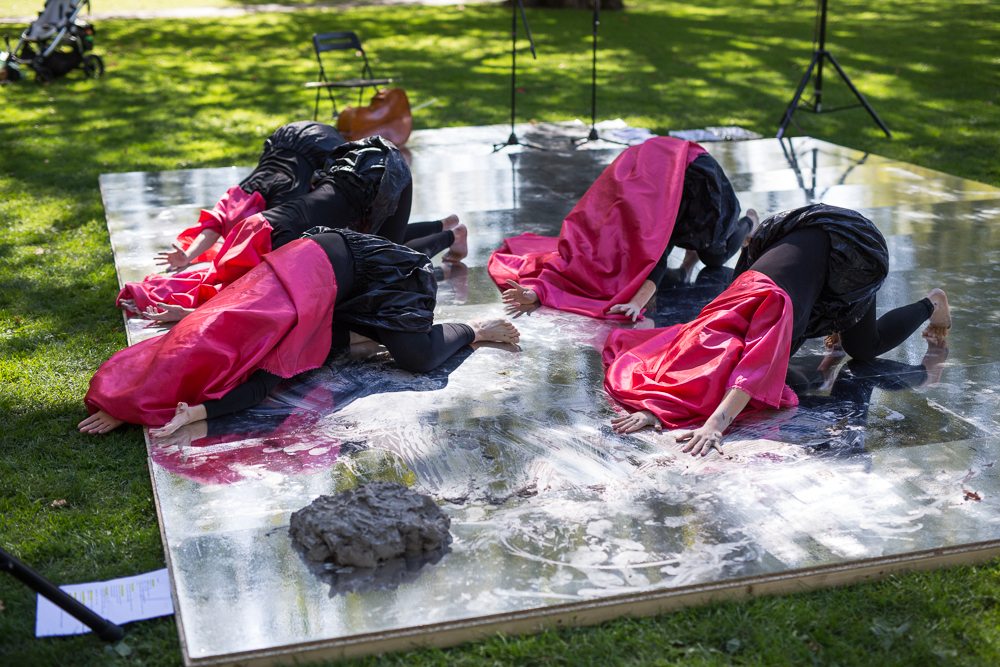 What work will you be presenting in the Belmacz's Bodikon show in London this month and how do you feel it will respond to the 'body conscious' theme?
I am re-staging objects produced and used from a previous performance The Keeners presented in London Fields with SPACE in 2015. The objects (part of the mirrored stage and a mound of clay) had actions impressed and acted on them as emotional and physical gestures. Five dancers worked with the notion of keening losses from cultural life through a public call, keening these losses into clay and using a mirrored stage as a platform for catharsis and grief. For Bodikon, the objects are presented as relics from a more ritual like performance but re-staged for a new audience/bodies to interact with by walking on the mirrored stage, changing it and impressing on it again. These objects then become a gesture and a space for new actions to be layered onto but perhaps to articulate something in their history as objects onto other bodies.
When I visited you in your studio last year, we were looking at your new paintings. With your extensive training in dance, I remember asking you whether you were a self-trained painter. What have been your main influences?
My route as an artist within the visual arts has been unconventional without a formal art school training.  The more traditional forms of my dance training required such immersion and then the Skinner Releasing Technique training I undertook in Seattle was demanding. So even though I was drawing, painting and working with sculpture and installation, to have included an art school training with that I think I would have had a nervous breakdown!! My father (Fabian Peake) has been influential in my painting practice but he also has a practice similar to my own in terms of its diverse methods. My dad has been in some of my performances and I would love to work with him again, especially with his poetry. I admire his particular approach to rhythm and layering of images and his text balancing weighty concerns about form combined with humour and absurdity.
In March, you are restaging your Voicings performance in Rome in response to our new post-Brexit, post-Trump, post-Italian referendum world. How do you feel this change in venue and country will affect this performance? 
Setting up the preparations with the audience will require care and attention as Voicings involves audience participation and much of the performance is forming a collective and temporary community with the audience for the brief duration of the performance (45 minutes).  Bringing a direct subject to this work challenges me to approach the environment, locality and community with sensitivity and care. The act of 'channelling' which Voicings centres around can be adapted and is versatile but it is important to not take for granted what is local/cultural vernacular and impose that on another culture. In particular, the themes of appropriating spiritual practices and psychic phenomenon for performance to a visual art context with a political comment could be like mixing oil with water, exciting! I am taking American cultural references from 'new age' preachers. This might need adapting to what the Roman version is even though YouTube 'channellers' like Abraham Hicks seem to be widely known. There is a lot of heat, heartbreak and potential destruction with the recent political results. How then can performing 'channelling' approach these times as we feel it globally and personally? I hope with humour and cathartic expressions, I can respond to my audience's personal concerns surrounding recent troubling events.
Your performance work often explores the relationships between the moving body and different sculptural materials. Can you talk about what you want to convey to your audiences through these relationships?  Is it a comment on the built environment and how it impacts our daily life or is it more about the internalised struggle that goes on within our hearts and minds?
My use of objects and materials is continuously changing especially when transferring them into a live and performative context. In 2006- 2009, I wanted to think about how objects have their own inner life, a subjectivity that I can imagine onto the object. I also thought about how the physicality and its subjectivity can be directed to my body and then also how my intentions can imbue the object with meaning. This relationship can be given meaning. I think I inflict a lot of longing onto objects, and I want them to perform for me. Then, the loss and recovery of this relationship can be generative. A lot of my work with objects has to do with discovering what methodologies are intrinsically within that relationship and how the object, body and then the site or environment all meet, constellate and form a particular dynamic score to be performed. In 2010, I developed a work called MAKE, which was a new thinking about performing with materials. I was concerned with the theatricality of making, the handling and tactility of making with materials and revealing gestures and actions behind the sculptural product. From working as an artist's assistant, I was curious about the factory likeness of making – the repetitive choreography and machine likeness of the body behind a sculptural product. I like working with the absurdity of inflicting our will onto materials, how they are disobedient to my desire, how materials behave awkwardly, I think this is a metaphor for a lot in human relationships. Recently, I have wanted to use the action of live making as a vehicle for the audience to project/transfer their own more psychological, symbolical sense of self or as a way of forming connections personally with the audience both collectively and individually. This has included more figurative forms and wet materials. At times, I get sick of objects/materials and I like to do away with them altogether and work with just the live body; it can be a relief but then I get lonely and need objects, the other, that tactile relationship to something non- human again. But it is hard to discern where the line is… objects/materials quickly become human and dancers transform into vibrant objects, this is a whole discussion about presence…
What is the hardest thing about being a performance artist as the work is ephemeral, experiential and time-based, disappears once performed and often entails working with several collaborators? Are you reliant on commissions and videography
There are propositions that performance isn't as ephemeral as assumed or as it appears and I like to approach performance in this way. Otherwise, I am privileging the material elements over its relational experiences. And that it is not just valued in monetary and material exchange – maybe a romantic idea that it can have more impactful reverberations beyond this. Also that the materials I use in performance then do not get performed in a literal linear way- whatever remnants are left are the result of a gesture, I like to think they could be actively transformed and can resonate into something else. I think objects left over from a performance can look dead, empty – they need to be re-staged, and find an autonomy beyond the performance they took part in. I am more sensible these days about documenting work for record purposes. Videography or filming performance can also be an interesting element to work with how to take it out of a literal relationship. Commissions are exciting to receive but there is often a lot of compromise. So drawing on old work, adapting old work to make things financially work can be interesting. However, relying on commissions to make work or try out new ideas is not really what is on offer. The recent JCRP funding means I can really explore new material and work with a really ambitious idea. I don't like to think that work is restricted to finances, and when I was younger, I could make ambitious things happen but now it's too hard to do that. Back then, I could get away with being skint but now after 20 years of performing and making performances, it's too much to work one's arse off and not have enough to put on your Oyster card. It is really important to pay dancers in my work and to pay them well. I think that is still something that institutions find hard to make happen, and this has been one of the most difficult things.
About the Artist
Florence Peake is a London-based artist who has been making work since 1995. With an extensive training in dance and a background in painting, Peake's performance practice uses drawing, painting and sculpture materials combined with found and fabricated objects placed in relationship to the moving body. Site and audience, live and recorded text, wit and humour are key to her work. Recent performance work has taken themes from popular spiritual practices and appropriating them to interact intimately with audiences, exploring a range of states of being to test what is assumed of reality. Her painting work with mixed media attempts to capture the live experience of performing, the performers' inner states and memory of a given performance, re-performing the live works through large scale canvases and fresco works. Ceramic explorations also include performance as the subject, making clay forms through the live performance to extract new autonomous sculptural works. Recent work includes; The Keeners, SPACE, London (2016),Voicings, Serpentine Gallery Offsite Project, London (2016), Lay me down, NoTT Dance Festival, Nottingham, UK (2015) and Modern Art Oxford, Oxford, UK (2015), Swell the Thickening Surface of, Hayward Gallery, London (2014), MAKE, BALTIC, Gateshead, UK (2013) and Yorkshire Sculpture Park, Yorkshire, UK (2012); REMAKE, Baltic 39, Gateshead, UK (2012) and Lanchester Gallery, Coventry, UK (2012); Chorus; Swell the Thickening Surface of, Tintype, London (2013); Paper Portraits, National Portrait Gallery, London (2010). As a performer, Peake works with filmmakers, artists and choreographers, including Joe Moran, Gaby Agis, Serena Korda, Nicola Conibere and Gary Stevens, and tours with Station House Opera's Roadmetal and Sweetbread. Peake lectures at leading dance conservatories and at Camberwell School of Art in London, and is a recent recipient of the Jerwood Choreographic Research Award.
Categories
Tags