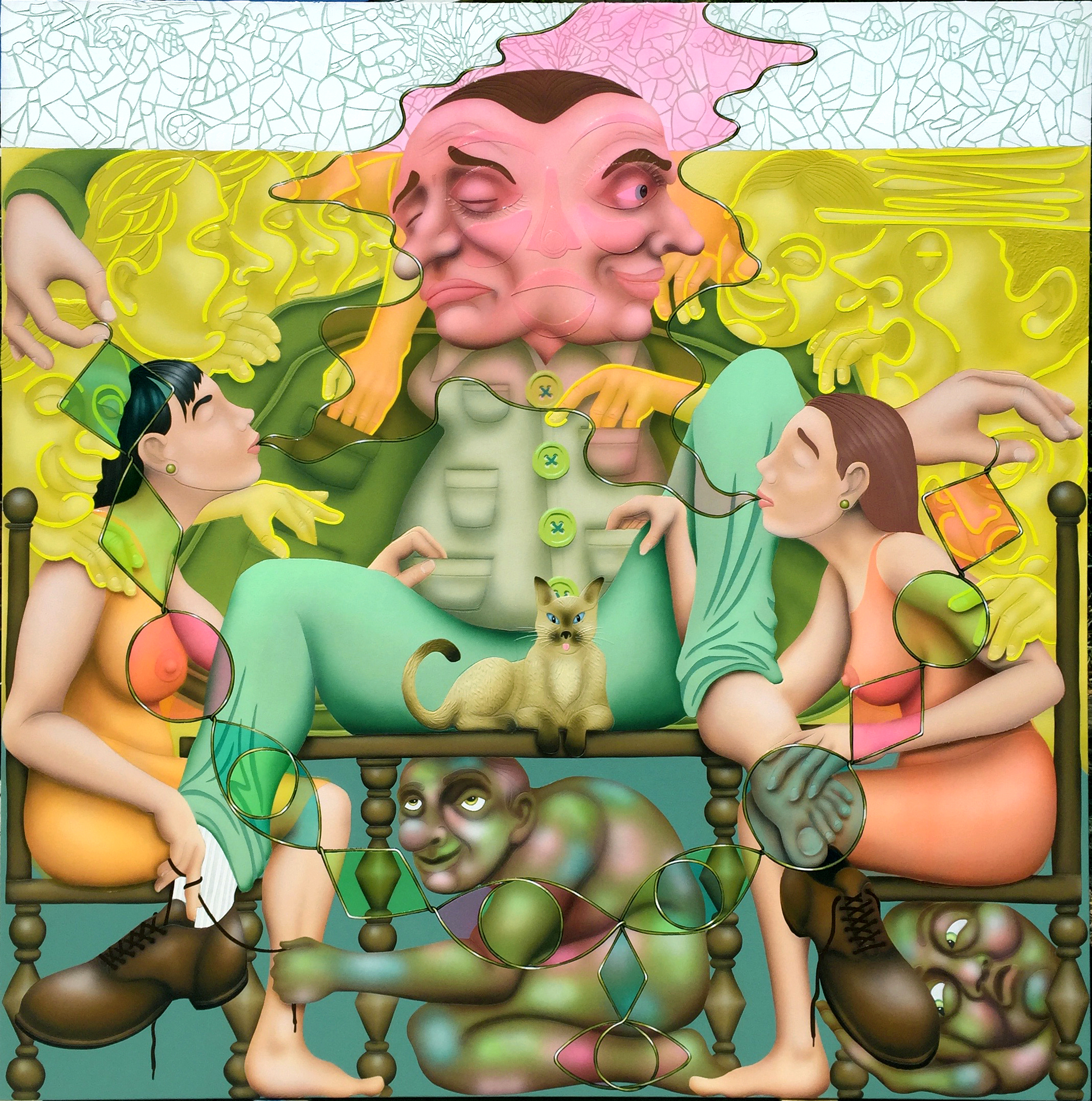 Wendell Gladstone "Smoke Screen", 66″ x 66″ acrylic on canvas, 2016
This weeks 'Artist To Watch' is L.A based American artist Wendell Gladstone.
Tell me about your first encounter with Art?
A trip with my mother to the Hirschhorn museum in DC pops out as having had a big impression on me. I was young, maybe 11 or 12 years old, and obsessed with sculpting heads out of clay. There were so many that my parents had them all over the yard, popping up out of bushes and hidden behind trees. My mother, wanting to support my interest, took me to the Hirschorn to see an exhibition of figurative sculpture. I think it was Carpeaux and classical stuff like that. I was digging it, but what really blew my mind was a neighboring exhibit of Sigmar Polke. He had these massive paintings of guard towers with crazy bright colors on weird soiled fabrics. I'm pretty sure it was my first exposure to contemporary art and the rupture between the two shows was crazy. The non-traditional materials and strange subject matter that Polke used made everything seem like fair game and it expanded my concept of art making.
Are your paintings pure inventions or do you partly paint from observation?
I think you're a highly conceptual, experimental and pictorially minded artist. I'm intrigued by the process of your work and how you reach the point of creating these very bizarre and strange images?
It's a bit of a mixed bag. I try to keep myself open to anything that might spark me in some way. My process is to massively forage and find things that peak my interest and then jot them down into a lot of lists. Sometimes it's internal, memories etc., other times it's something I see or read about. I sift through them until a few jump out and I'll put them through a distillation process of quick doodles to hone in on what it is that's speaking to me. Once I have a bunch of these, connections start to emerge and compositions and narratives bubble up. I bring the ones I'm vibing on into Photoshop and go through a more extensive level of experimentation and messing around. The final step is making a painting based on the digital sketch and with that a whole other set of decisions and tweaking. It feels a bit like divination through personal collage or something, but all those iterations get me to a place where I'm able to make an image that feels my own.
Is the work you make deeply psychological?
Yeah, some pieces more than others. There's often a manic or introspective current that runs beneath the bright and colorful surfaces of my work.
There's a performative quality in your practice and i was wondering if you have ever experimented with this medium?
I do think about movement and rhythm when I'm putting together a composition, but I've never thought about actual performance. I'm not comfortable in front of crowds so it not for me.
What i find exciting about painting is that it is constantly being reevaluated and recontextualized to reflect the lens of our time.
What do you find exciting about painting?
It's strange because it's such an archaic medium. It's not a contemporary innovation like film or video, and it doesn't have that level of mass cultural significance, but somehow it lives on and adapts to remain relevant. I think a big part of that is the massive history of painting; The dialogue is seductive. It's exciting to be a part of that while pushing it forward by adding contemporary materials and tools to the mix. Using things like an airbrush or digital software like Photoshop allows me to explore areas that weren't possible for previous generations of artists.
Who in art history do you look at as a role model?
It's always inspiring to see the shape-shifter types that evolve in radical ways. Picabia is one that comes to mind. Seeing images of the current show at MOMA are really blowing my mind right now. On the other side of the spectrum, it's also cool to see artists who stick to it and build on their own singular voice. Jess and Ensor are favs, too.
Do you listen to music in the studio and if so what exactly?
Yeah, it's a must. Today's playlist from my studio mix:
– "A Great Snake" The Lemon Twigs
– "Masenqo" Mulatu and Heliocentrics
– "2020" Suuns
– "Push Thru the Veil" Herbcraft
– "Get Got" Death Grips
– "M-16" Lone Ranger
– "Der Mond" Damaged Bug
– "Don Juan" Meilyr Jones
– "Forever Heavy" Black Moth Super Rainbow
– "Cut me Baby" Kelly Stoltz
– "Laying Down the Rock" Drinks
– "Poison Dart" The Bug and Warrior Queen
– "Just Like You" Roxy Music
– "Megumi the Milkyway" Connan Mockasin
– "Banana Clipper" Run the Jewels
– "Pedestal" Van Hunt
– "Untitled 06" Kendrick Lamar
– "March of Progress" Peoccupations
– "Moons in my Mirror" H Hawkline
– "Paradice Girls" Deerhoof
– "Street Lights" Paul White and Danny Brown
– "Steady on my Mind" Parquet Courts
– "Red Sails" David Bowie
– "Ancient Techno" Foday Musa Suso
– "Cold Cadaver" King Gizzard
– "Tender Buttons" Broadcast
– "All the Trees of the Field will Clap" Bonnie Prince Billy
Do you collect art ? What was the last piece you brought or traded with another artist ?
A little bit. My collection is mostly paintings that I've traded for with artist friends. The last addition was a drawing by Chris Finley. I also have a bunch of old illustrations and drawings made by a couple of relatives on my mother's side of the family hanging in the house. They're amazing, crude and funny.
I recently heard an older artist say that everyone's an artist but some people are more artists because they have more problems to solve.
What issues does your work help you figure out?
I don't think my work helps me work through any specific trauma or anything like that. It's more about simply being able to have time in the studio to create and getting the fulfillment that goes along with that. It's a luxury/necessity and life is kind of a drag without it.
Categories
Tags