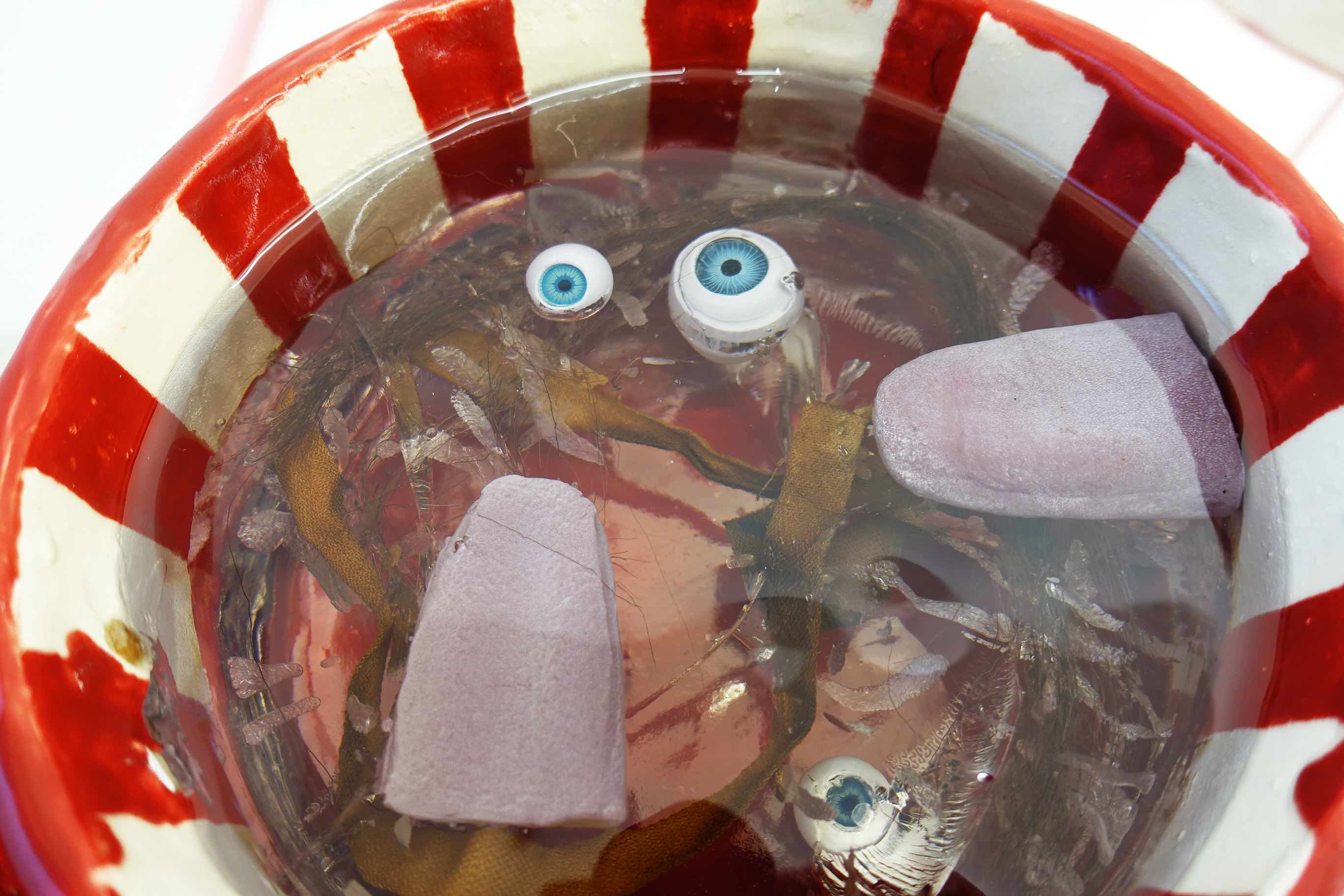 PEER, Grundy Art Gallery and De La Warr Pavilion have announced Love Life, a major new touring commission by Jonathan Baldock and Emma Hart. The artists have radically re-imagined the traditional seaside show Punch and Judy, transforming the puppet booth living quarters of the pair into an oversized, warped and darkly humorous place where the ever-present threat of violence acquires a new resonance in an era of cyber-bullying. Launching at PEER, the artists' most ambitious collaboration to date evolves in scale, form and content in three acts at three venues over a year.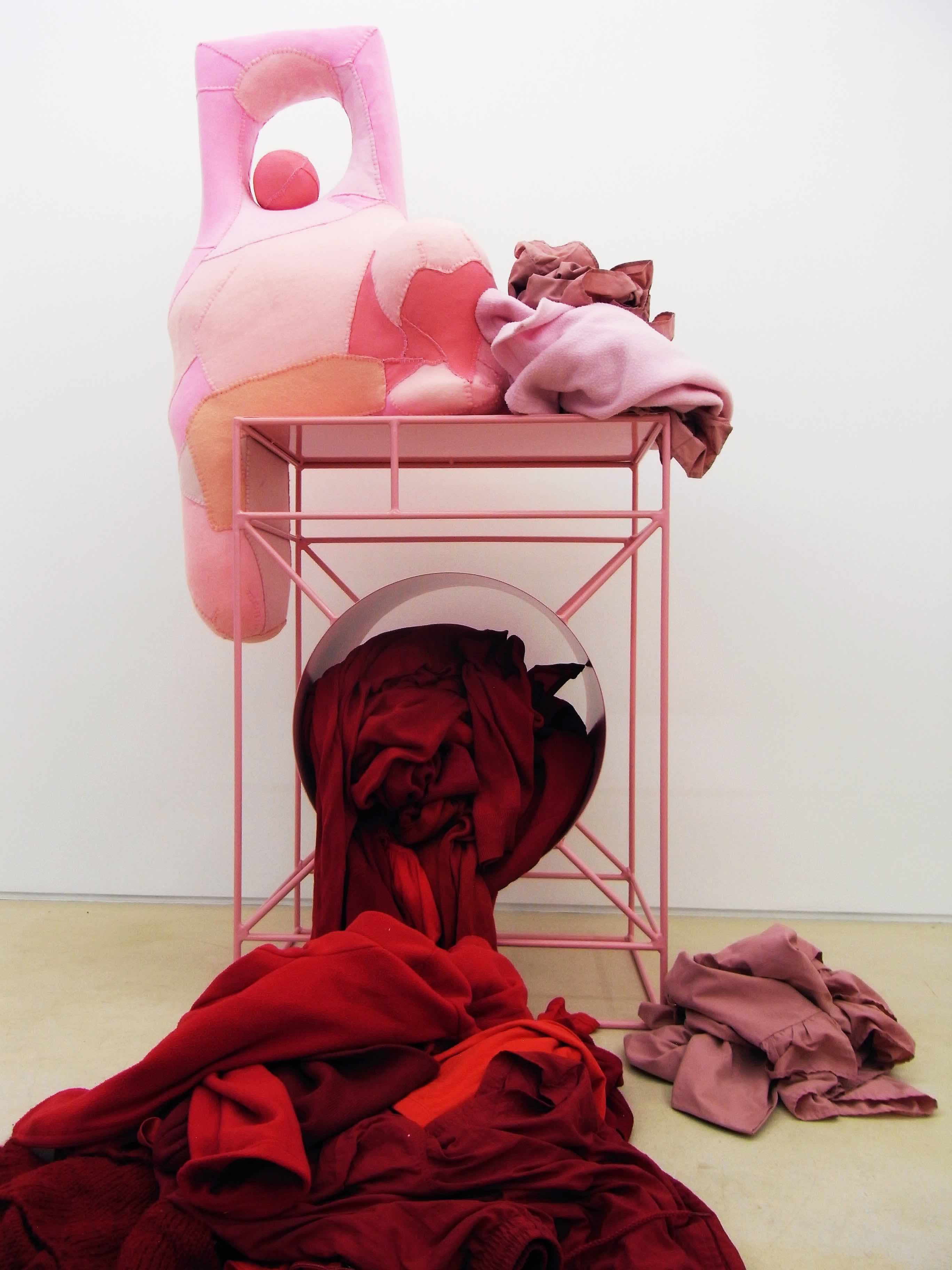 Love Life: Act 1 opens at PEER, where the gallery environment becomes a grotesque domestic space strewn with crudely made props, possessions, commodities, chattels, knick-knacks, gewgaws, bling, tools, trappings, and fixtures and fittings – with the visitor both participant and spectator. Hart's string of real sausages, shaped to form the words 'YOUR BACK' accompany a huge ceramic locket, squeezed out toothpaste tubes and multiple ceramic 'nagging' feet. They banter with Baldock's large pink baby walker, an oven filled with anthropomorphic pots and pans, a washing machine spewing out its contents and a toy basket filled with the decapitated heads and masks of Punch and Judy characters. These unfinished narratives seem momentarily stilled as the melodramatic strains of Jon and Emma, Baldock and Hart's collaborative soundtrack resonates across the gallery space. The song has been adapted from John and Marsha, the comedian and puppeteer Stan Freberg's 1951 cult record parodying soap opera dialogue. Fronting this alternative stage set is Baldock's straggly, hole-riddled hessian and net curtain hanging across the double windows of the gallery, revealing an unlikely mise-en-scene twenty-four hours a day.
In 2016 Emma Hart won the Max Mara Art Prize for Women and in 2015 was supported by the Paul Hamlyn Foundation Awards for Artists. She has exhibited extensively across the UK and Europe including at Camden Arts Centre, Folkestone Triennial, Whitechapel Gallery and La Galerie CAC Noisy Le Sec, France. Jonathan Baldock has exhibited internationally including at Nicelle Beauchene, New York; La Galerie Centre d'art Contemporain, Paris; Northern Gallery for Contemporary Art, Sunderland and Harris Museum and Art Gallery, Preston. Baldock and Hart met on a residency at Wysing Arts Centre and have collaborated on projects ever since, including SUCKERZ in 2015 at L'etrangere, London.
Love Life is a collaboration between PEER, Grundy Art Gallery and De La Warr Pavilion supported by Arts Council England through the National Lottery.
Love Life: Act One, 9 November 2016 – 28 January 2017. PEER, 97/99 Hoxton Street, London N1 6QL. Opening hours: Wednesday – Saturday 12:00pm – 6:00pm. Admission free. www.peeruk.org.
Love Life: Act Two, 17 June – 12 August 2017. Grundy Art Gallery, Queen Street, Blackpool FY1 1PU. Opening hours: Tuesday – Saturday 10:00am – 5:00pm. Admission free. www.grundyartgallery.com.
Love Life: Act Three, 21 October – December 2017. De La Warr Pavilion, Marina, Bexhill-On-Sea, East Sussex TN40 1DP. Open every day 10am – 6pm. Admission Free. www.dlwp.com.
Emma Hart lives and works in London. In 2016 she won the Max Mara Art Prize for Women in collaboration with the Whitechapel Gallery. In 2015 she was awarded a Paul Hamlyn Foundation award for Visual Art. Recent solo exhibitions include: big MOUTH, Grand Union, Birmingham (2015); Sticky, Austrian Cultural Forum, London (2015); Spread, Art Exchange (2015); Giving It All That, Folkestone Triennial (2014); Dirty Looks, Camden Arts Centre (2013); M20 Death Drives, Whitstable Biennale, Whitstable (2012); TO DO, Matt's Gallery, London; Word Processor, Stanley Picker Gallery, London (2012). Recent group exhibitions include: The London Open, Whitechapel Gallery (2015); SUCKERZ, L'etrangere, London (2015) a joint show with Jonathan Baldock; Only the Lonely, La Galerie CAC Noisy Le Sec, France (2015); Dear Luxembourg, Nosbaum Reding, Luxembourg (2015); Hey I'm Mr.Poetic, Wysing Arts Centre (2014); Bloody English, OHWOW Gallery, Los Angeles (2013); The World Turned Upside Down, Mead Gallery, Coventry (2013). Hart was shortlisted for The Jarman Awards 2013, and awarded a Random Acts commission. In 2012 she was shortlisted for the Jerwood / Film and Video Umbrella Awards: Tomorrow Never Knows, with an exhibition at Jerwood Space, London. Hart was resident at Camden Arts Centre with her Question Department in 2009 and for The Forest residency at Wysing Arts Centre in 2012. Hart received an MA in Fine Art from the Slade in 2004 and completed her PhD in Fine Art at Kingston University in 2013. In 2017 she will present solo exhibitions at the Whitechapel Gallery, London and the Collezione Maramotti, Italy. www.emmahart.info
Jonathan Baldock (b.1980) is London based artist. Recent solo shows
include The Skin I Live in, Nicelle Beauchene, New York (2016); The Soft Machine, Chapter Arts Centre, Cardiff; Notes from the Orifice, Vitrine Gallery, London; Hot Spots, The Apartment, Vancouver; Warm Bodies, (a 2-person show with Olga Balema), Kunstvereniging Diepenheim, (2014); A Strange cross between a Butcher`s Shop and a Nightsclub, Wysing Arts Centre, Cambridge (2013) and The Blue Epoch, Colloredo – Mansfeldský Palác, AMoYA, Prague, Czech (2012). Recent group exhibitions include Baldock Pope Zahle, Northern Gallery for Contemporary Art, Sunderland; Seepferdchen und Flugfische (touring), Arp Museum Bahnhof Rolandseck, Remagen, (2016); Archetypes, Power, and Puppets, College of Wooster Art Museum (CWAM), Wooster, Ohio (USA); Only the Lonely / Seuls les solitaires (curated by Elina Suoyrjö), La Galerie centre d'art contemporain, Paris (Fr); and The Varieties – Dance First, Think Later, Harris Museum and Art Gallery, Preston (UK), (2015). Forthcoming solo shows include SPACE, London (April 2017) and CGP London (June 2017). www.jonathan-baldock.com
Categories
Tags