There are lots of art events happening in London; talks, workshops, tours, discussions and many many more! To help you with the choice Jenny Judova from Art Map London has picked 'The Most Interesting Art Events ' to see in London this week.
---
WEDNESDAY 26 OCTOBER
5:00 PM – 11:00 PM @ Haunt Gallery, 182 Stoke Newington Road, London, N16 7UY
'Oddly Drawn Object' is a group exhibition of works by Anna Reading, Hattie Moore and Lotte Scott.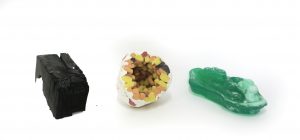 THURSDAY 27 OCTOBER
Private view: Imperfect Reverse
5:00 PM – 8:00 PM @ Camberwell Space Projects, Wilson Road, London, SE5 8LU
Camberwell Space Projects presents Imperfect Reverse, a group exhibition curated by Laurence Noga, in collaboration with Saturation Point, an editorial and curatorial project for reductive, geometric and systems artists working in the UK. The term 'imperfect reverse' intimates a move towards a structural logic, generative grammar, allowing an outside system or set of rules to drive the making of a series of works.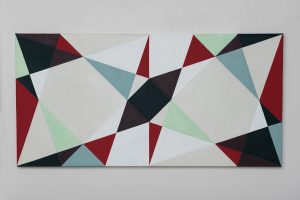 FRIDAY 28 OCTOBER
Private View: What We Saw From The Cheap Seats
5:00 PM – 8:00 PM @ The Deptford Project, 1 Octavius St, Deptford, London, SE8 4AG
'What We Saw From The Cheap Seats' comprises a selection of image based work that engages with ideas surrounding narrative and the suspension or interruption of a particular continuity.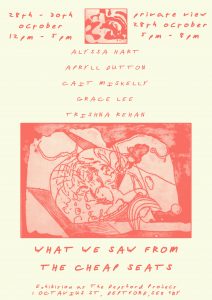 About Art Map London