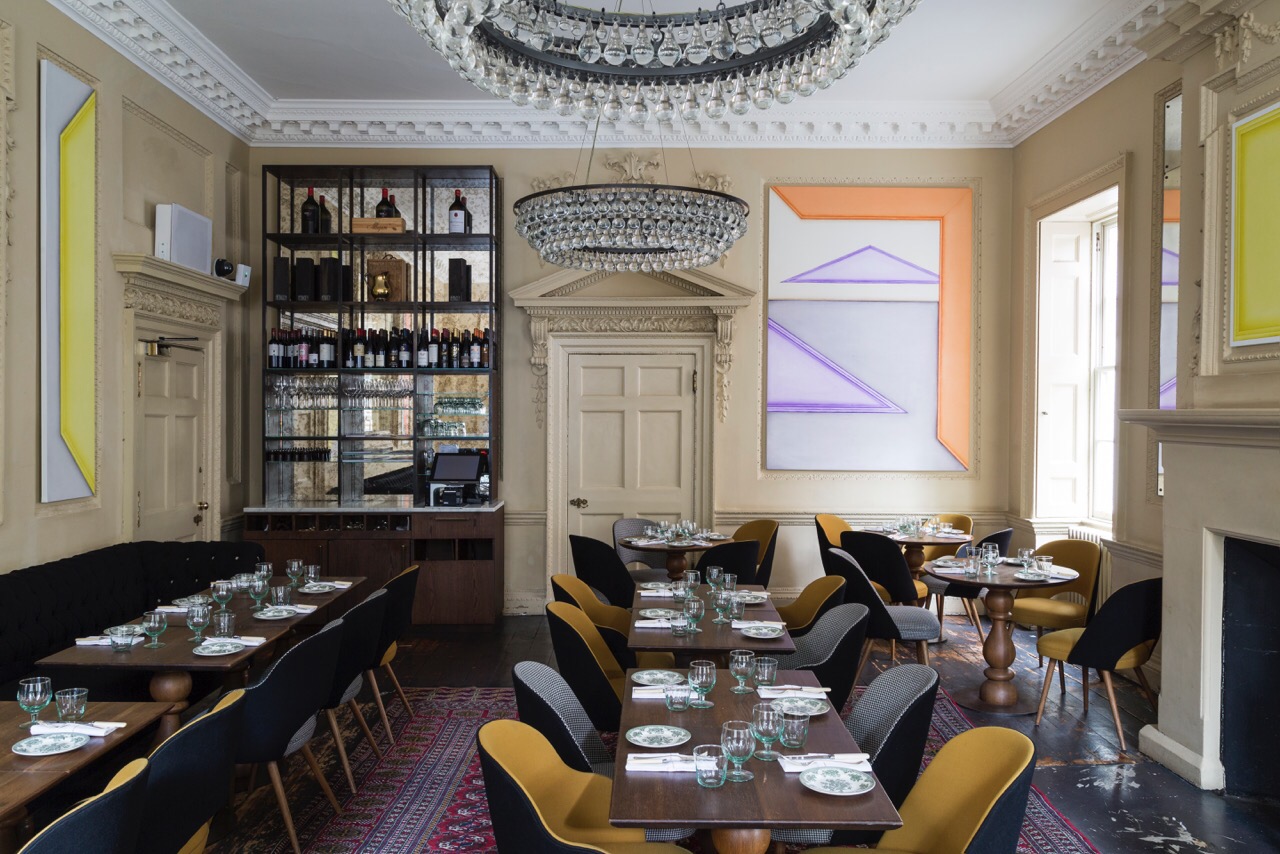 Private View: Friday, 7th October, 6.30 – 8.30pm
Soho Room at the House of St Barnabas 1 Greek Street, London W1D 4NQ
Marcelle Joseph Projects presents Parlour Games, a site-specific, semi-permanent installation of new paintings by London-based artist Selma Parlour. These new abstract works, created with a luscious, glowing colour palette, are situated within the 1750's rococo panelling of the Soho Room in the Grade I-listed House of St Barnabas, producing a visual cornucopia of colour, line and form. Parlour's paintings are an exercise in minimalist abstract perfection, meticulously rendered through thin films of transparent oil on linen such that the brushstrokes are invisible and the resulting imagery looks printed. The flawless precision of her surfaces, the flatness of her imagery and the trompe l'oeil illusion created by her use of shading are the artist's signature touches.
Central to her work is also the repetition of shapes that reference architectural geometries or a two-dimensional stage space that curtails fictive distance as much as it represents it. As for the artist's use of colour, Parlour extracts the oil binder from her paint so that the texture of the colour is parched like chalk pastel. This method of application produces a veil of colour that glows as if lit from behind, reminding the viewer of painting's social function as a window to another world. This exhibition is the first solo presentation by Parlour after being named one of the five prizewinners of the John Moores Painting Prize 2016. She will participate in a panel discussion at the Royal Academy of Arts in connection with its autumn blockbuster exhibition entitled Abstract Expressionism on 5th November 2016.
About the artist
Selma Parlour (b.1976, Johannesburg, South Africa) lives and works in London. She graduated from Goldsmiths, University of London (PhD Art) in 2014, University of Reading (MFA) in 2002, and De Montfort University, Leicester (BA Art) in 1998. Parlour was one of the finalists in two national painting shows this year: John Moores Painting Prize 2016 and the Marmite Prize for Painting V, winning a prize at the John Moores Painting Prize. In 2014, she was selected by a ten-person jury including the likes of artist Cecily Brown, art critic Barry Schwabsky, collector Valeria Napoleone and Tate Modern Head of Exhibitions Gregor Muir to be one of the 100 painters featured in the publication 100 Painters of Tomorrow (Thames & Hudson, 2014). Selected exhibitions include: John Moores Painting Prize 2016, Walker Art Gallery, Liverpool (2015), Kaleidoscope, FOLD Gallery, London (2016), The Marmite Prize for Painting V, Highlanes Gallery, Drogheda, Ireland, and Block 336, London (2016), Paradoxes of the Flattened-Out Cavity (solo), Dio Horia, Mykonos, Greece (2015), 100 Painters of Tomorrow, One Art Space, New York (2014), Selma Parlour (solo), MOT International Projects, London (2012), Creative Cities Collection Exhibition, Barbican, London (2012) and Bloomberg New Contemporaries, S1 Artspace, Sheffield and ICA, London (2011). Collections include: Creative Cities Collection, Beijing, and the Saatchi Collection, London.
About Mark Westall