Bilbao's Guggenheim Museum opened a new show to the public last week presenting 80 works by Francis Bacon alongside works by Picasso, Velázquez and other Spanish and French masters who are believed to have influenced the Anglo Irish painter.
In a bold move, art historian and Bacon expert Martin Harrison has drawn explicit links between specific works the Bacon may have seen, and specific works by the painter, whether evidence exists to correlate the works or not.   Admitting that the artist's own tendency to make dramatic, contradictory statements about the art of others makes it difficult to be certain of his true feelings, Harrison said
"Bacon famously said ' I don't really like painters, I just like certain works they did', but you must never believe what he says".
It's certain that Bacon's early work was heavily influenced by Picasso, but whether directly or indirectly, via the work of other Picasso devotees, is harder to establish as Bacon himself destroyed so many works from the early and mid-30s, and didn't write about his influences at this time anywhere. Harrison posits that some of Bacon's genius lay in understanding that to be truly great meant not being derivative, and by destroying his early works ensured no trace of derivation could be attached to him. Yet as the images below show, it seems unlikely that there is no direct reference at play.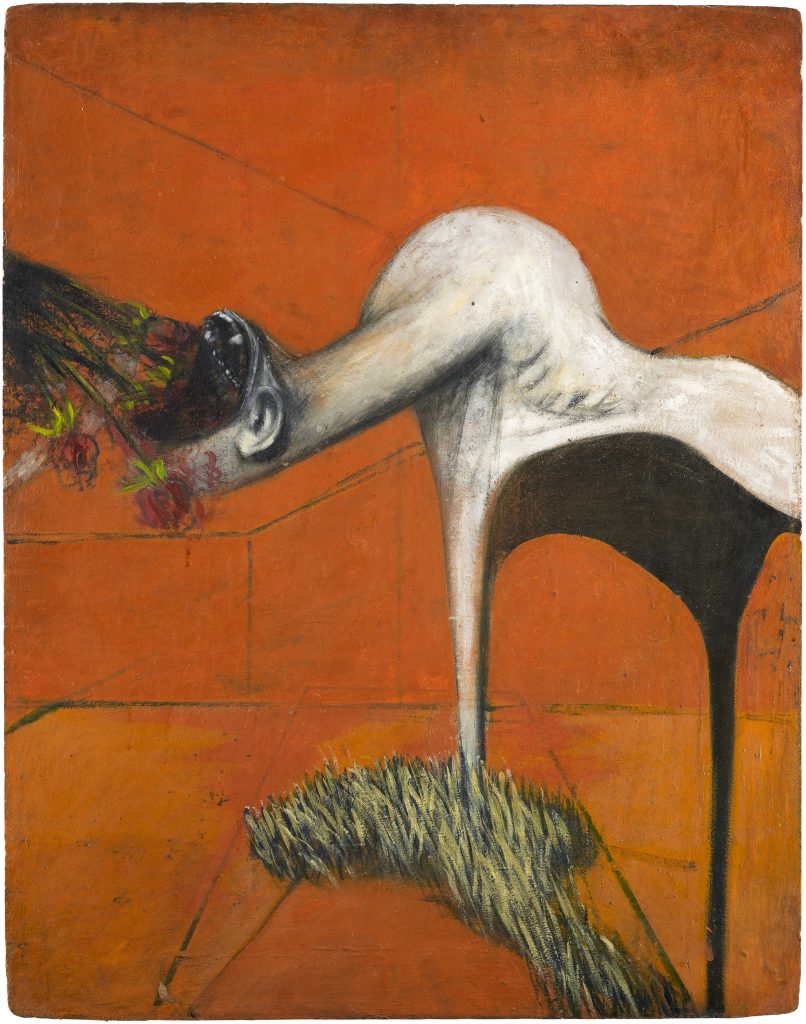 Francis Bacon

'Fury', ca. 1944
Oil and pastel on fiberboard
94 x 74 cm
Private collection
© The Estate of Francis Bacon. All rights reserved
DACS/VEGAP, Bilbao, 2016
Photo: Prudence Cuming Associates Ltd.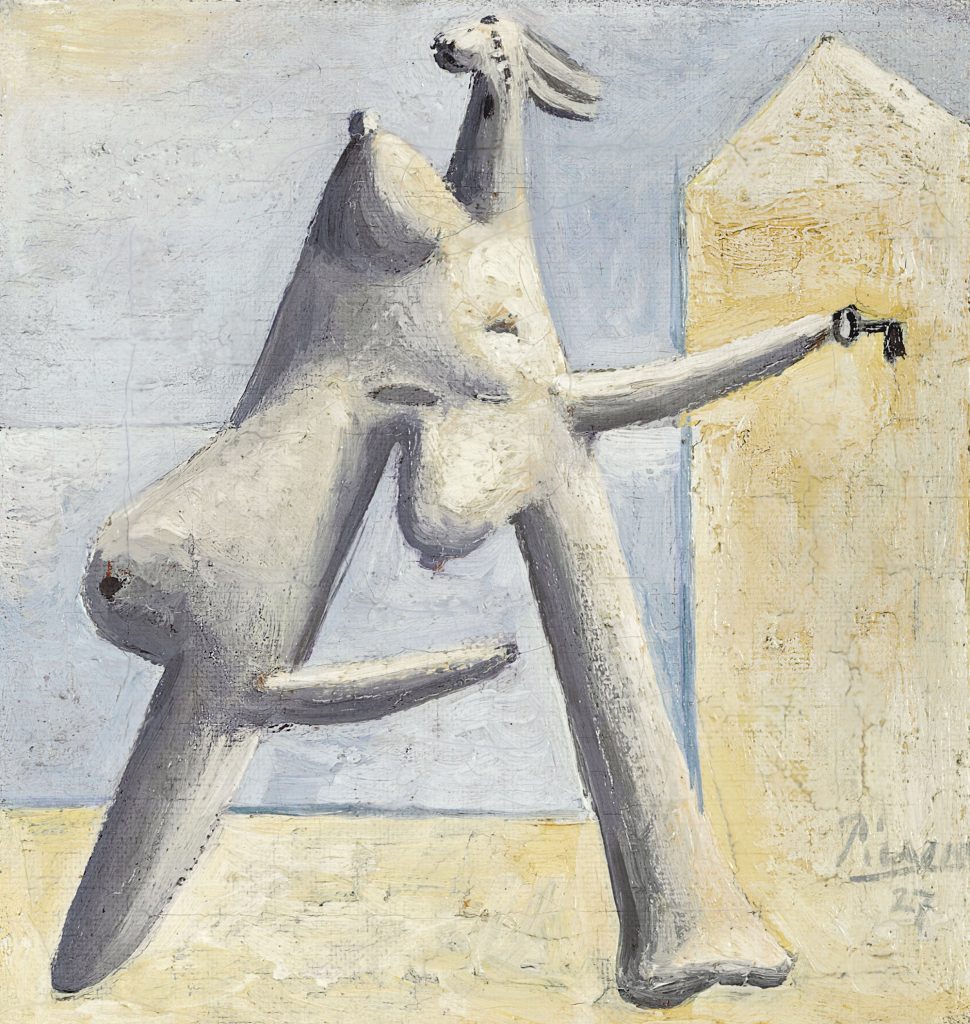 Pablo Picasso
Composition (Female Figure at the Beach) [Composition(Figure féminine sur une plage)], 1927
Oil on canvas
18.8 x 17.6 cm
Private collection
© Sucesión Pablo Picasso, VEGAP, Madrid 2016
A similar process appears to have taken place with Velázquez, who Bacon revered, and who's Pope Innocent X informed his many Pope works. Having worked from reproductions of the Velázquez,  Bacon famously refused to see the original when in Rome, and a wonderful 1846 copy by the French artist Amédée Ternant-Lemaire has been loaned from the Versailles collection to hang alongside Bacon's Pope I.
Also on show are works by French, British and Italian masters, ranging from Georges Braque and Rodin, to Sargent, Whistler and Giacometti, whose drawing Bacon greatly admired, referring to him as "The greatest draughtsman of the twentieth century"
Francis Bacon

Portrait of Michel Leiris
, 1976
Oil on canvas
34 x 29 cm
Centre Pompidou, Paris – Musée national d'art moderne. Centre de création industrielle, Donation Louise et Michel Leiris, 1984
© The Estate of Francis Bacon. All rights reserved
DACS/VEGAP, Bilbao, 2016
Photo © Centre Pompidou, MNAM-CCI, Dist. RMN-Grand Palais / Bertrand Prévost
The exhibition is arranged thematically, and is an interesting way into the artist's work. Of the 80 or so Bacons on display, around 10% are in private hands and rarely if ever exhibited. With Bacon prices now ranging from £3million to just under £200million, it represents a rare, and possibly final opportunity to see such a range of works by the artist in one location.
Francis Bacon: From Picasso to Velázquez is at the Guggenheim Museum Bilbao from September 30th 2016 – January 8th 2017
Categories
Tags