Tonight The Nines, in Peckham plays host to the launch of The Performance Studio's Autumn/Winter Season with Performances From Parisian artist Arianne Foks and London based artist John Costi.
The Performance Studio is an independent, peripatetic production and rehearsal space, founded in 2010 by curator David Thorp. Their ethos is established around the development of performance and live art without the constraints that can be manifested by the pursuit of funding and the ethical dilemmas that can exist with sponsorship. As the program has expanded so has a small team dedicated to maintaining the original ideals as well as showcasing and enabling performance art.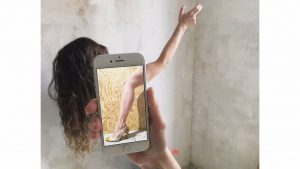 ARIANNE FOKS
Michel, ma belle
'Michel, ma belle' is a live performance by Paris-based artist Arianne Foks that explores Michel Foucault's concept of 'Heterotopia', a concept used to describe places and spaces of otherness.
Arianne Foks' work often explores a fantasised version of everyday life in order to question accepted norms. Her poetic metamorphoses and incongruous associations blur the boundaries between personal realities and fictions.
In 'Michel, ma belle' five performers build up situations that confront the notion of territory in its aesthetic and political form. 'The Reader' is the voice, 'the Tap Dancer' is the rhythm, 'the Deers' interact with the audience and 'the Selfie' is online.
Developing a sequence of actions, including a reenactment of the 'firecracker' dance sequence by Fred Astaire in the film Holiday Inn (1942) as well as actions taken from her previous performance series 'She Killed A Deer' (2013), Foks will let the performance slide poetically towards a fiction where the public will build their own story.
Arianne Foks lives and works in Paris. She works across performance, drawing, writing, and film. Foks' live works have been performed extensively internationally. This new performance will be her first solo presentation in London.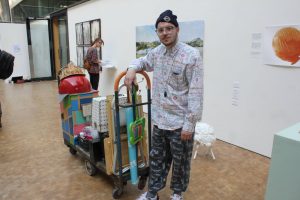 JOHN COSTI
'Culture Mating and Memory Reappropriating'
Born and raised in London John Costi's practice is concerned with experience and perception. For The Performance Studio, Costi will be running through a performative presentation, 'Culture Mating and Memory Reappropriating'. Dealing with issues ranging from love and loss to childhood wonderment employing his beloved collection of fetish objects as tools of conversation and play.
Story telling and the artist's role in sense-making lead to what Costi refers to as Culture Mating: artefacts and stories married together to reveal new essences, ideas and aftermaths of performance that he describes as 'making live assisted ready-mades surrounded by conversation and bouts of poetry'.
John Costi is one of the most fascinating artists emerging onto the London scene. He came to prominence in 2014 with his performance The 2-2's London Bus, part of Tate Modern's Turbine Festival. He was cited by The Evening Standard as 'Tipped for Stardom' while Dazed and Confused subsequently nominated him for the 'Spirit of Toughness' Award. After a spiritual awakening during a 6-year prison sentence Costi sought to make sense of the world around him through art. Working mostly in performance, sculpture and installation, Costi's practice is informed by chance and experience utilising his spoken word skills in high energy playful performance..
Categories
Tags