FAD managed to catch up with artist Nigel Cooke ahead of his first exhibition in London in three years Roman Willow.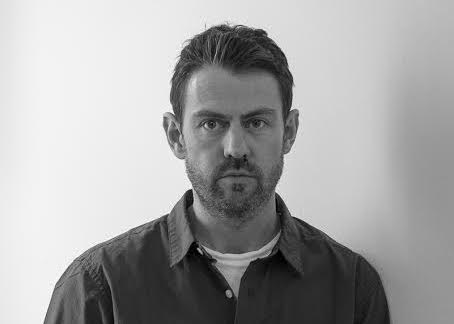 1 How has your work evolved since your last London show in 2013?
In a way that show marked the end of an era for me. It was a bit like saying goodbye to old friends, as a lot of my familiar images disappeared after that. For a long time I was interested in a volume of spent or useless intellectual material floating around in my imagery, which in a way was a stand in for mental clutter – fears, doubts, anxieties, and I suppose I just stopped feeling like that. After that show I spent a lot of time traveling and developing my work without exhibiting, and that kind of iconography just slipped out of the picture. Maybe it's an age thing. This might just be me, but I often think that as a painter, sometimes your normal life and your life in your work are in harmony, at others they are at odds and you have to wait (or work) to let the painting catch up. I had to part company with my work for a brief spell so that I could come back and start a different relationship with it. Reaching a certain age or watching your children move ahead in their lives has an impact, and I always feel things like this must feed into your art, even in a veiled or oblique way, for it to be authentic. So I felt this freedom to reinvent my work in totality, to risk that maybe the paintings wouldn't happen at all without the props and things that had clustered in them previously. What I ended up with is these strange part-autobiographical scenarios that are about blending experience, memory and ideas in an all-enveloping textural field, within which a figure or group of figures exists loosely. The paintings often have the palette of the landscapes in specific geographical regions I have been to, or are distortions of personal experiences of place. They aim to reflect how the mind holds competing perspectives together at once without conflict but sometimes tension. I translate that tension into a different tension, one between figuration and abstraction put simply, which I hope feels vital and familiar in some way. The techniques used to execute the paintings have changed too – the emphasis on texture brings a greater variety of marks which follow more abstract principles, and I have devised new ways of actually applying the paint. The figures themselves are mostly female, which is new for me also, and are less sharply defined than previous figures, so they often merge a little with their surroundings. Many are playing instruments, a suggestion of effects that painting cannot capture.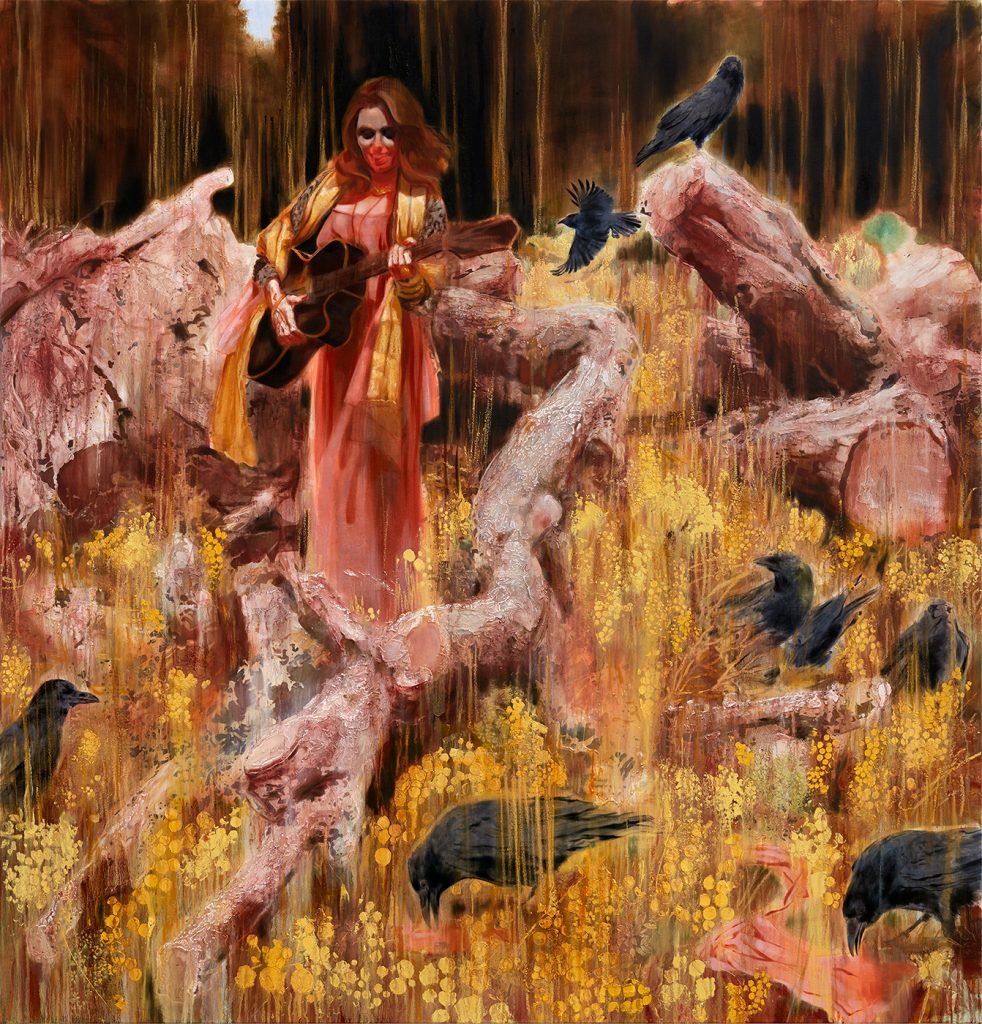 Nigel Cooke Salome, 2016 Oil on Linen Backed with Sailcloth 230 cm x 220 cm x 5.2 cm (90-9/16″ x 86-5/8″ x 2-1/16″) © 2016 Nigel Cooke, courtesy Pace London
2 Is your personal environment, where you live/work important to the kind of work you produce?
It's very important, in several ways. I work in isolation in the country, near to the sea in Kent. I am surrounded by nature, and the patterns and rhythms of natural forms are how my compositions come to life, so that is what I feed on, almost unconsciously. But my work is usually set in places where I don't work (yet), so the studio's isolation helps me to travel in my mind in a way, helping me to create what I hope are evocative atmospheres, in peace and quiet. It is an isolated world really, where experimentation can happen without distraction or intrusion. When I was younger, the work was more urban and correspondingly the work was visually clearer. But I started to feel like I was making my work inside the art world, and that wasn't good for me. I realised I wanted where I work to be its own discreet reality, and the art world a separate place, basically. I am happier like that. But it's also about what I wanted to see every day. I go to the sea every week as it's only down the road, and I am surrounded by trees, fields, woodlands. Being in nature helps me to see the boundaries between forms as porous, through light, seasons and weather, and I think this is key to how the work is moving forward in some way I don't quite yet understand, although I've been working out here for 6-7 years now.
3 You are a painter – is painting still a relevant medium? Is it possible for artists to do or explore anything new with paint?
I believe it is relevant because making a mark is a fundamental human impulse. But it depends what we mean by words like relevant and new. On one hand it suggests making art that fits into the lives and expectations of consumers by being attention-grabbing, but it's the opposite of that. The market has allowed this idea to creep to the forefront, but really, art is a challenge and you have to try and fit your life to it, not the other way round. Doing something new in this way, which is the way I assume you mean, has never been of interest to me, because the rest of the world is already obsessed with replacing things with the next thing. Art I'm interested in has a timeless quality, but touches on aspects of the now with a lighter hand. It's perhaps in that smaller way that I think painting gains relevance – something about the familiarity of the form invites engagement, and the victories are smaller. I'm more interested in making contact with shared thoughts, and I think the 'soul' of old mediums sets a good tone for slower thinking, longer engagement and reflection. My new paintings have a classical tone of voice, but I believe they feel like now, in a way that's hard to pin down. They are not original in that grandiose, attention-grabbing way – they are figures in landscapes painted in oils. But at the same time, on a smaller level, I feel like I have never seen paintings like them. And that smaller scale of invention is a satisfying place for me, and I think it's a bit more human and relatable.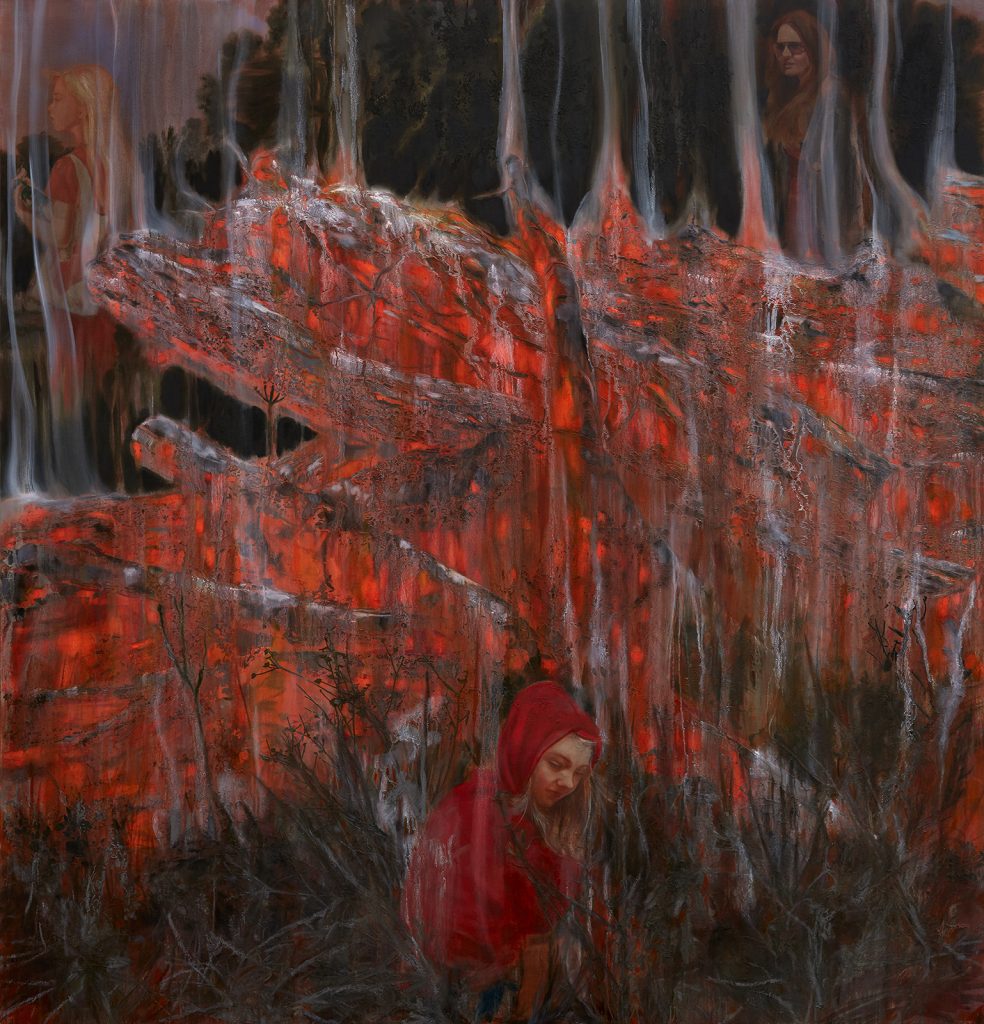 Nigel Cooke Embers, 2016 Oil on Linen Backed with Sailcloth 230 cm x 220 cm x 5 cm (90-9/16″ x 86-5/8″ x 1-15/16″) © 2016 Nigel Cooke, courtesy Pace London
4 How do you know when an artwork is finished?
I used to know very clearly, but now it's like they could go on forever. This is probably because they are more impressionistic and less hard-edged, so can look different to me from day to day. My aim now is to try and hold them at some point of freshness and just decide that that's it. Because finishing paintings is a bit of an illusion, a maybe a power delusion, and you can kill it by overworking, which actually cuts the viewer out in the end. It makes too much of the painter's perspective, which isn't always founded on the soundest judgements. It has taken me a long time to learn how to leave loose threads and allow the viewer in, and I'm not sure I'm there yet.
5 Do you like to exhibit your work?
Although it's quite stressful, I love exhibiting my work. An audience is an essential part of the process, and you always learn something interesting during the show, or notice something you didn't in the studio that guides you to the next works you make. But I have never become used to the feeling of exposure on the day it opens. Probably no artist has.
6 What's up next for you?
My work takes a long time to make, so I avoid queueing up shows. I'll see what happens with this exhibition, and look at the options after the show.
Nigel Cooke Roman Willow 21st September – 22nd October 2016 PACE 6 Burlington Gardens, London, W1S 3ET Private view: Tuesday 20 September 2016, 6–8 p.m.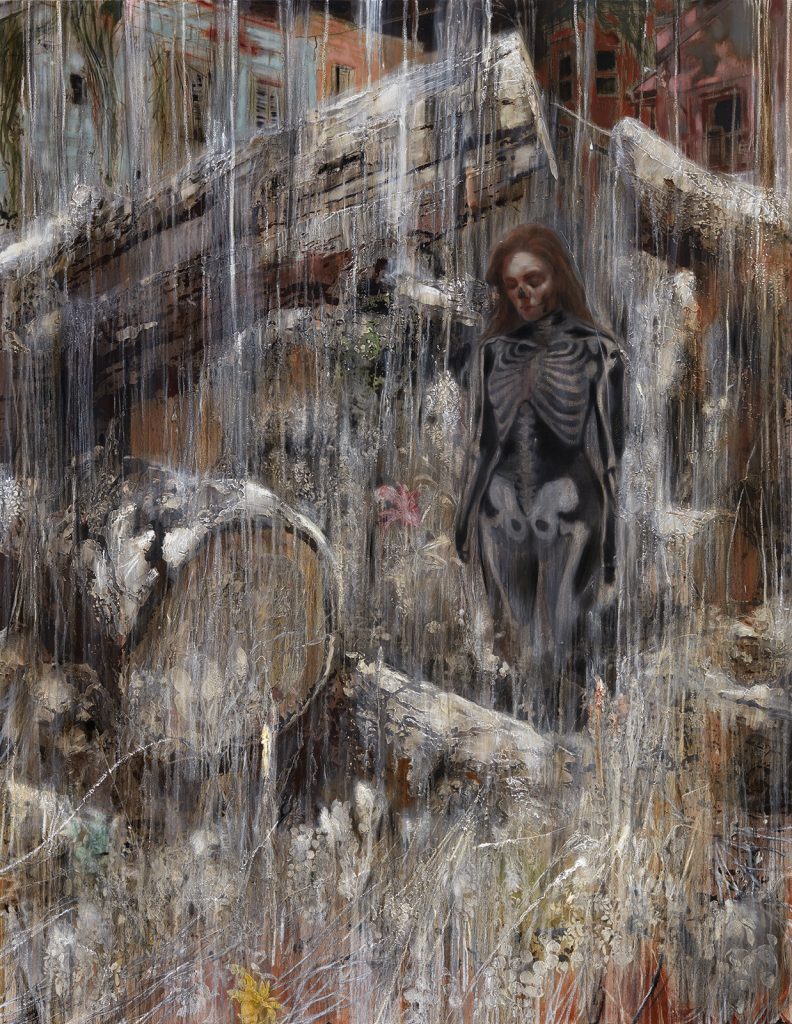 Nigel Cooke Mexican Garden, 2016 Oil on Linen Backed with Sailcloth 232 cm x 180 cm x 5 cm (91-5/16″ x 70-7/8″ x 1-15/16″) © 2016 Nigel Cooke, courtesy Pace London
About The Artist
Nigel Cooke (b. 1973, Manchester) holds an MA from the Royal College of Art, London (1997), and a PhD from Goldsmiths, University of London (2004). Solo exhibitions of Cooke's work have been presented at the Douglas Hyde Gallery, Dublin (2013); Moderna Museet, Stockholm (2007); South London Gallery (2006); Cleveland Museum of Art (2004); and the Tate Britain, London (2004). His work is currently featured in the group exhibition Identity Revisited at The Warehouse, Dallas, which is on view until 1st December.
His work is in the permanent collections of institutions including the Solomon R. Guggenheim Museum, New York; Hammer Museum, University of California, Los Angeles; Museum of Contemporary Art, Los Angeles; The Museum of Modern Art, New York; Sammlung Goetz Collection, Munich; and the Tate, London.
Categories
Tags