The London district of Mayfair holds some of the top galleries in the world from David Zwirner, D Contemporary is next door, to Gagosian; from Hauser & Wirth to Pace Gallery. However, there is no space for newcomers. Mara Alves, an artist and D Contemporary Director, and JA Neto, founder of The Cult House, wanted to address this lack of opportunities for emerging artists and launched an open submission call last May. They, with an independent panel of art professionals, selected 12 artists for a group show and one artist for a solo show during the Frieze Art Fair Week from over 300 applicants. Both exhibitions will take place in the gallery space located in 23 Grafton Street at the far end of Dover Street.
Image of D Contemporary, Mayfair. Courtesy the gallery.
The group show consists of a landscape of artmaking today. From surrealist paintings to complex geometrically created sculptures; intriguing photography, highly skilled etchings, figurative paintings, three-dimensional objects in metal and porcelain, proves that we are living a Golden Era in the Contemporary Visual Arts. This exhibition, titled It's ART Call, has been envisaged as an introduction to a world that can be intimidating to the outsider and also as an in-depth survey to a more discerning public.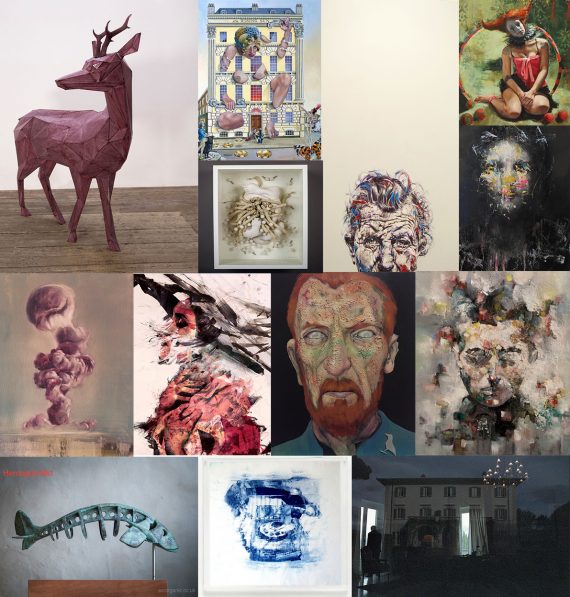 The Collective Artists are: Adam Hall, Ikuko Iwamoto, Ioana Vrabie, Jean – Luc Almond, Jonathan Alibone, Lee Sollitt, Mark Liam Smith, Paul Cummings, Robert Adam, Roberto Grosso, Ronan Walsh and Rosso Emerald. Courtesy the artists.
The Curators kindly agreed to respond to the following questions:
Can you please tell us both a bit about your background?
Mara Alves is a Portuguese Artist & Curator based in London. Figurative passionate, by nature colourist and experimentalist, carrying to her works experiences of her day-to-day. Graduated in Painting and Drawing in ar.co (Center for Art and Visual Communication) in 2005. Founder of PortugArt, an art project with the collaboration of the Portuguese Embassy and the D Group (Strategy International's partner) bringing 20 top Portuguese Artists to showcase their art in London, Portugal and Brazil. This project also got her an invitation to start working as a curator for D Contemporary. Supporting and engaging with the art community's talent, but also focusing in the best established and emerging international artists, whilst connecting them to Strategy International's 300 clientele. Alves is also starting a new body of works to present next year at her very first solo exhibition in London.
JA Neto founded The Cult House in 2013. It is a creative group connecting people in various creative disciplines (arts, craft, design, writing, music and performance) with commercial and social events. Always keen to explore new ideas and creative outlets, Neto keeps up-to-date with the latest technologies and trends. Future projects include organising many more pop up shows and fundraising for the permanent venue to host shows and events.
Why did you decide to curate an exhibition from an open submission call?
There is no open call submission art exhibition in the heart of Mayfair and we wanted to change that. We feel it is very important to open doors to new talent.
From an eclectic choice of artists, is there a tendency you can spot in Contemporary Art today?
With no doubt that we can easily spot a tendency today that is a more figurative offer with the concern for a more perfected technique… the tendency is to come back and regain the visual message with the creation process over the conceptual art.
Why do you think people should come to see group's exhibition in September and the solo show by Kirsten Baskett in October during Freeze Art Fair Week?
We think that it would be an amazing opportunity to see a selection of 12 contemporary artists with a different range of medias that with no doubt have an amazing and quality body of works to show. At the same time, the chance to see the well known invited artists that will also have their artworks display along the selected artists. As for Kirsten Baskett, the solo show winner, it will be a great opportunity to see her fantastic selection of etching works but also to get to know her strong and very interesting creation process starting with her sculptures that will lead us to her final work.
The Group Show will take place from 14-23 September and the solo show by Kirsten Baskett will take place from 28 September – 7 October. The Gallery is open Monday-Saturday 11am – 6pm. Kindly sponsored by AC Cooper (Neg & Print) Ltd. For more information, please visit its website www.dcontemporary.com
Kristen Baskett – Mechanism With Feeling, etching. Courtesy the artist.
Categories
Tags