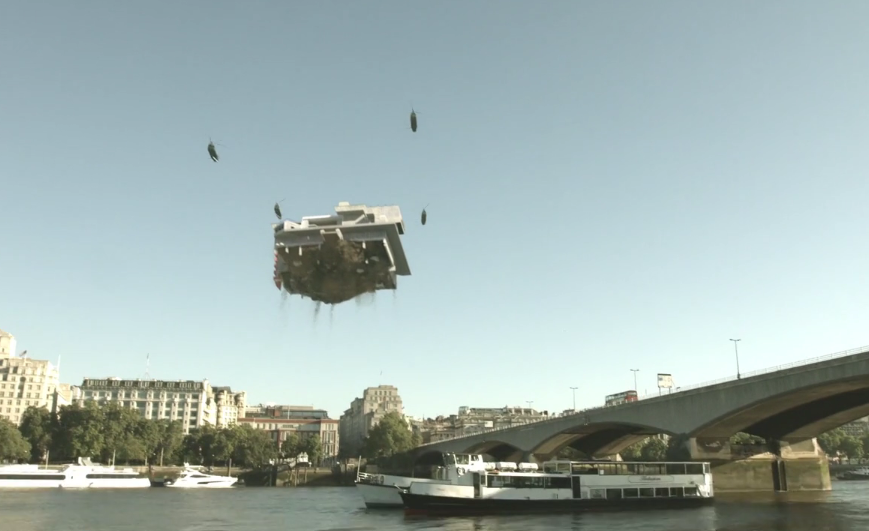 The Hayward Gallery is crossing the River Thames to present the gallery's only major off-site exhibition during its two-year refurbishment at The Store, a new creative space at an iconic Brutalist building on the Strand.
Featuring hologram installations, 3-D projections and immersive multi-screen works, visitors to The Infinite Mix will journey above and below ground to discover 10 audio-visual installations from leading international artists: Martin Creed, Jeremy Deller and Cecilia Bengolea, Stan Douglas, Cyprien Gaillard, Dominique Gonzalez-Foerster, Cameron Jamie, Kahlil Joseph, Elizabeth Price, Ugo Rondinone and Rachel Rose.
The Infinite Mix will premier immersive audio-visual installations by leading international artists: Martin Creed (UK); Jeremy Deller (UK) and Cecilia Bengolea (Argentina), Stan Douglas (Canada), Cyprien Gaillard (France), Dominique Gonzalez-Foerster (France), Cameron Jamie (USA), Kahlil Joseph (USA), Elizabeth Price (UK), Ugo Rondinone (Switzerland) and Rachel Rose (USA).
Pioneering new approaches to combining sounds and images, the artworks in The Infinite Mix engage us in ways that are conceptually as well as emotionally immersive. Visitors to the exhibition at 180 The Strand will journey through a series of spaces above and below ground, discovering hologram-like installations, multi-screen installations and cinema-style 3D projections, each of which foreground the role of sound and its relationship to image. Except for Martin Creed's piece, all of the works in the exhibition are being shown in the UK for the first time.
The exhibition will premiere two newly produced works: a new commission by Dominique Gonzalez-Foerster who has created a new haunting holographic illusion OPERA (QM.15), in which she recreates a performance by opera legend Maria Callas singing arias from Cherubini's Medea, Verdi's La Traviata and Ponchielli's La Gioconda. British artist Jeremy Deller and Argentinian choreographer Cecilia Bengolea's new collaboration Bom Bom's Dream (2016) is a co-commission from Hayward Gallery and the 32nd São Paulo Biennial. Bom Bom's Dream follows the fantastic adventures of a Japanese dancer known as Bom Bom – celebrated for her gymnastic, slapstick dance moves – as she travels to Jamaica to participate in the local dancehall music scene. With its low-fi special effects and fantasy sequences, the video is a cross-cultural, contemporary equivalent to Alice in Wonderland.
The UK premiere of Cyprien Gaillard's complex and mesmerising film Nightlife (2015) will be projected in 3D in the cavernous underground car park of 180 The Strand. Featuring unforgettable images of dancing gust-blown trees lit up at night in Los Angeles and a drone's eye view of fireworks exploding over the stadium built by the Nazi's for the 1936 Berlin Olympics, Gaillard's visually lush tour-de-force builds a multi-layered tapestry of references to history and racism in both the US and Germany. All of the imagery unfolds to the artist's entrancing dub re-mix of a politically charged Jamaican hit song by Alton Ellis from 1969.
Internationally celebrated Canadian artist Stan Douglas explores the intersection of narrative, fact and fiction. In Luanda-Kinshasa (2013), Douglas presents a 1970s fictional jazz-funk band (led by jazz pianist and composer Jason Moran) in the midst of a recording session set in replica of the legendary Columbia 30th Street Studio. The finely tuned sound mix contributes to the illusion that we are witnessing a continuous "real-time" session, but what appears to be a straightforward improvisation is in fact a fiction: a looping patchwork of edited and repeated parts, seemingly naturalistic yet blatantly unreal. In this imaginative reconstruction, Douglas also alludes to the cultural exchanges between Africa and North America during the 1970s, against a backdrop of anti-colonial revolution in Angola.
Swiss artist Ugo Rondinone's THANX 4 NOTHING (2015) is configured as a completely immersive and technically dazzling multi-screen environment, presented on four screens. The work shows a 79-year-old legendary beat poet, John Giorno, performing his 2007 poem of the same name. Dressed in a tuxedo and standing barefoot on a theatre stage under a dramatic spotlight, Giorno delivers an inspiring poetic monologue with both passion and humour. Virtuoso editing, including a dizzying effect whereby Giorno repeatedly transitions from white tux to black and back again, enhance the propulsive character of the poet's meditation on life and death.
2015 Frieze Artist Award winner Rachel Rose manipulates sound and image through non-narrative collaging and layering. Everything and More (2015) mixes up footage shot at a space-station research facility, a vast crowd at an E.D.M. concert and low-tech galactic abstractions fashioned from household products and filmed with a slow motion camera. The images are accompanied by a soundtrack that sifts together wordless vocals by Aretha Franklin extracted from Amazing Grace using a spectrograph and a recording of the American astronaut David Wolf talking about the pleasures and perils of space.
French artist Dominique Gonzalez-Foerster has created multiple performance works over the past two decades in which she takes on the personae of historical figures, usually singers and actors. In her new, yet to be titled work she recreates a performance by opera legend Maria Callas, singing the tragic song Suicidio taken from Ponchielli's 1876 opera La Gioconda, using a theatrical illusion that creates a hologram-like image floating in space. With the image veering back and forth between an almost corporeal solidity and a ghostly transparency, the artist's performance as Callas evinces a haunting power.
With his ambitious two-screen video m.A.A.d. (2015), Los Angeles-based artist and filmmaker Kahlil Joseph takes viewers on an intimate journey through Los Angeles's African-American neighbourhoods, set to a disjunctive remix of documentary sounds and songs from Kendrick Lamar's 2012 album good kid, m.A.A.d city. Interweaving footage of neighbourhoods and intimate home video footage supplied by Kendrick Lamar, the work crosses the wires of music videos, amateur film footage, documentary essay and magical realism.
Similarly, music and sound have long been an essential component of American artist Cameron Jamie's film work. Described by film director Harmony Korine as "the single greatest dance film ever made," Jamie's Massage the History (2007-09) explores a marginal cultural phenomenon: a style of private dance performance developed by young African-American men in suburban living rooms in Alabama. As Jamie's camera shows the dancers enacting a provocative, sexually charged choreography with the living room furniture, the title song by Sonic Youth provides a hypnotic soundtrack.
Turner Prize-winner Elizabeth Price's video installations use a dynamic fusion of image, text and music to explore aspects of social history. Shown in the UK for the first time, the two-screen installation K (2015) combines archival footage of country singer Crystal Gayle alongside images of a textile factory and on screen lines of text describing a professional mourning troupe. Blending the sound of electronic music with the rhythms of factory machines, whilst inviting us to try to watch, listen and read at the same time, K radically detours our habitual ways of looking and listening.
Filmed in a classic minimalist style, British artist Martin Creed's Work No. 1701 (2013) shows a series of people with atypical gaits as eah crosses the same New York Street. Some are clearly managing without their usual aids, be it a cane, crutch or wheelchair. But in their highly individual ways, they all make it across – moving, it seems, in rhythm to the sounds of the artist's buoyant and propulsive rock song, 'You Return' that provides the soundtrack.
The Infinite Mix is curated by Hayward Gallery Director Ralph Rugoff, supported by Assistant Curator Eimear Martin.
The Infinite Mix: Contemporary Sound and Image The Store, 180 The Strand, London, WC2R 1EA
9th September – 4th December 2016 More Details: www.southbankcentre.co.uk/infinite-mix
Categories
Tags