Chilean artist Alfredo Jaar presents the first UK presentation of his iconic work, A Logo for America, across Piccadilly Circus for a series of screenings over four days at the end of July.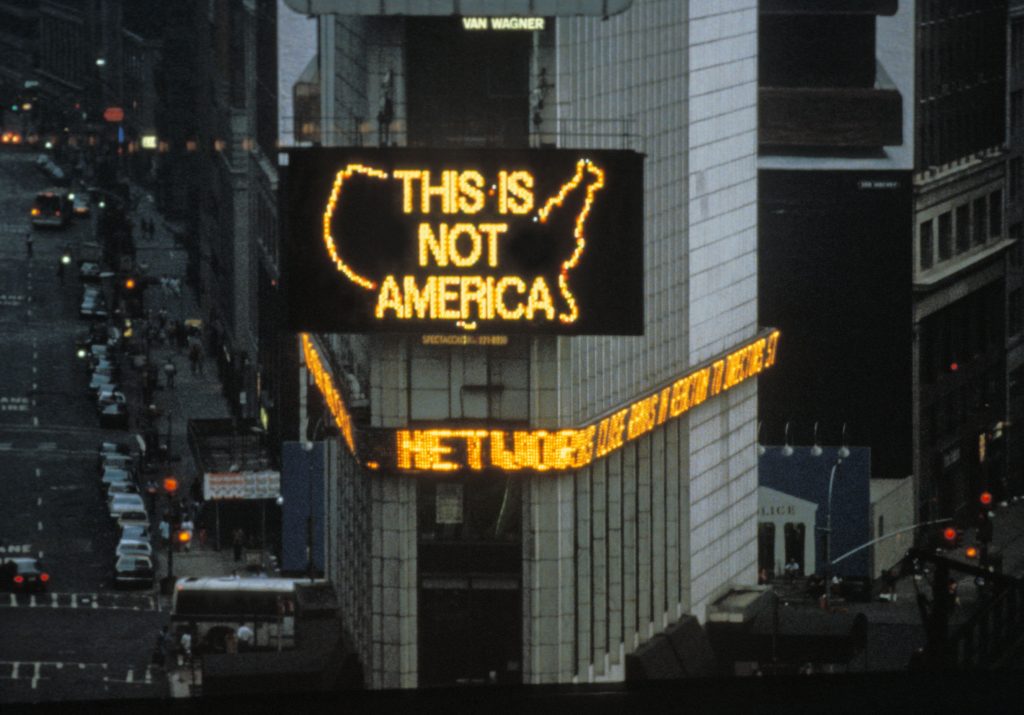 Alfredo Jaar, A Logo for America, 1987/2014. Digital colour video, silent, 37.5 sec., edition 2/6. Solomon R. Guggenheim, New York, Gift on the occasion of the Guggenheim UBS MAP Purchase Fund 2014 © Alfredo Jaar
Jaar's multidisciplinary artistic practice explores the unequal power relations and socio-political divisions that result from globalisation. This presentation of Jaar's A Logo for America is part of Under the Same Sun: Art from Latin America Today, the second exhibition of the Guggenheim UBS MAP Global Art Initiative, curated by Pablo León de la Barra and currently on show at the South London Gallery (SLG) until 4 September 2016. southlondongallery.org/underthesamesun
When it debuted in 1987 on an electronic billboard in New York City's Times Square, as part of the Messages to the Pubic series produced by the Public Art Fund, the piece was seen by some as provocative. The work—which emblazons the text, 'This is Not America' across an outline map of the USA—challenges the ethnocentrism of the United States, which habitually claims the identity of the entire American continent as its own. The work is intended to be shown in context with other advertisements, arguably making London's Piccadilly Circus the most fitting location in the UK.
The artist will give a keynote talk to accompany the UK debut of his iconic work, before the piece goes live on the Piccadilly screens the same evening. Under the Same Sun premiered at the Guggenheim Museum in New York in June 2014 and was then shown at Museo Jumex, Mexico City's newest museum of contemporary art, from November 2015 to February 2016.
The presentation of A Logo for America in Piccadilly Circus is the third large-scale public screening of the work which included a showing in New York's Times Square in 2014 and, at Mexico City's Auditorio Nacional in 2016, as part of the Guggenheim UBS MAP Global Art initiative.
The presentation of Alfredo Jaar's A Logo for America on the Piccadilly Circus is made possible through support from Clear Channel.
With thanks to Latin Elephant for their community outreach.
Piccadilly Circus, London W1D 7ET
Screenings every six minutes, 6:30-10pm, 28th July 2016; Daily 29-31 July, 2016
Jaar delivers a public talk, Thursday 28th July, 7pm, at Faraday Theatre, The Royal Institution, London W1S 4BS. Book tickets:
www.southlondongallery.org/alfredojaar
Categories
Tags