There are lots of art events happening in London; talks, workshops, tours, discussions and many many more! To help you with the choice Jenny Judova from Art Map London has picked 'The Most Interesting Art Events ' to see in London this week.
---
TUESDAY 26 JULY 
Preview: Lucy Parker, Rachel Pimm and Katie Schwab
6:30 PM – 8:30 PM @ Jerwood Visual Arts, 171 Union Street, Bankside, London, SE1 0LN
Lucy Parker, Rachel Pimm and Katie Schwab will each present a body of newly commissioned work. Each artist will have a solo presentation in one of the three galleries at Jerwood Space.
WEDNESDAY 27 JULY
Preview: Print Club London Summer Screen Prints
6:00 PM – 9:30 PM @ Somerset House London, East Wing Galleries, The Strand, London, WC2R 1LA
An annual exhibition organised by Print Club London. Annually a selection of amazing printmakers is asked to illustrate some classics of filmography. This year we welcome you to step inside an immersive Aperol experience, equipped with a photo booth, deck chairs and of course one of the summers most popular cocktails.
THURSDAY 28 JULY
Preview: Some Dimensions Of My Lunch: Conceptual Art In Britain
Part 3: Tony Morgan & John Blake
6:00 PM – 8:00 PM @ Richard Saltoun Gallery, 111 Great Titchfield St, London W1W 6RY
Richard Saltoun Gallery presents a season of four one-month exhibitions devoted to Conceptual Art made in Britain during the 60s and 70s.
The third exhibition focuses on Tony Morgan (b. 1938 Leicestershire – d. 2004 Geneva) and John Blake (b. 1945). These two innovative and experimental filmmakers are also known for their early photo-conceptual works, for which this exhibition will focus.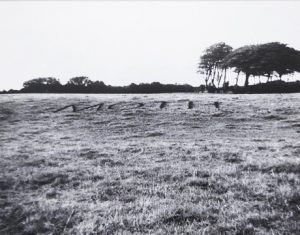 FRIDAY 29 JULY
7:00 PM – 9:00 PM @ cueB Gallery, 325 Brockley Road, London, SE4 2QZ
cueB Gallery is very proud to present "Progress", a new exhibition by Alex Evans.
Alex Evans' obsessively hand-drawn geometric shapes and complex patterns manipulate established traditions of mathematical space, in order to depict hybrid architectural biological systems and topologies of the imagined city.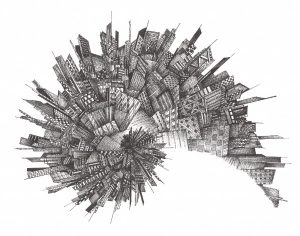 About Art Map London