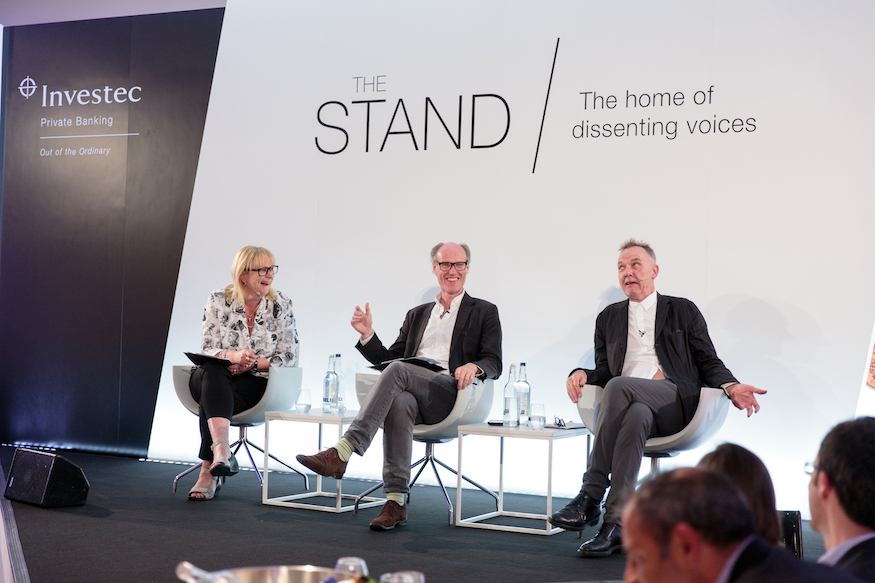 This was the big and controversial question asked at a debate I attended at the auction house Phillips in Mayfair. The star panel debating this was moderated by Will Gompertz, BBC Arts Editor.
Making the argument for the motion that contemporary art has sold out was Adrian Searle, chief art critic for the Guardian. Against the motion was Louisa Buck from The Art Newspaper.
The debate was attended by people from the art world and various people in banking, after all it was sponsored by the bank Investec.
So it was a massive surprise that a poll taken beforehand showed that more people supported the motion that contemporary art has sold out of to the market by around three to one. Unsurprisingly 47% hadn't yet made their minds up. Considering the audience this seemed oddly pessimistic.
And so the debate began and it was a lively affair with both sides making impassioned cases. But it was good humoured between the two protagonists and Gompertz a great moderator.
Adrian Searle was telling us about how many artists are now simply going through the motions and producing work for money, rather than for the love of making it. Something we've all seen in exhibitions. He was pressured into naming some examples of artists who had sold out to the market, I won't reveal them here but there were no surprises including some big names.
Louisa Buck was equally passionate and she made a great case for the 'it's complicated' stance. And the audience, and I, were taken with her view that yes some work is made solely for money but most of it is great art made by artists for love. The examples of 'selling out' are only at the top end and a small minority of artists, while the majority make works full of passion and creativity.
But then came the moment of truth, what did the audience think and have they changed their mind. Prepare to be shocked as there was a massive swing in Louisa's favour as now over 70% of the audience were now thinking that contemporary art hadn't sold out. Kudos to Louisa and commiserations Adrian.
I remained undecided (a minority of 5%) as I stood by my initial view that most art hasn't sold out but some has. And therefore I felt I couldn't vote either way.
It was a great debate, and chatting to Adrian Searle afterwards he did confess that he could easily have made the case for either side.
So has contemporary art sold out to the market? Well, the answer is it's complicated.
The debate titled Has Contemporary Art Sold Out to the Market? was organised by Intelligence Squared and Investec and hosted at Phillips.
Categories
Tags