Tagsmart CERTIFY is a unique, technology-driven platform that delivers a secure and verified solution to artwork security for the global art market.
Developed by leading framer Mark Darbyshire and product designer Steve Cooke, Tagsmart meets the needs of the art world in the digital age. Over the 20 years spent in the framing and art fabrication business, it became clear to Mark that there was a real demand for increased accountability within the art market.
Speaking about his experience in the trade, Mark Darbyshire explains: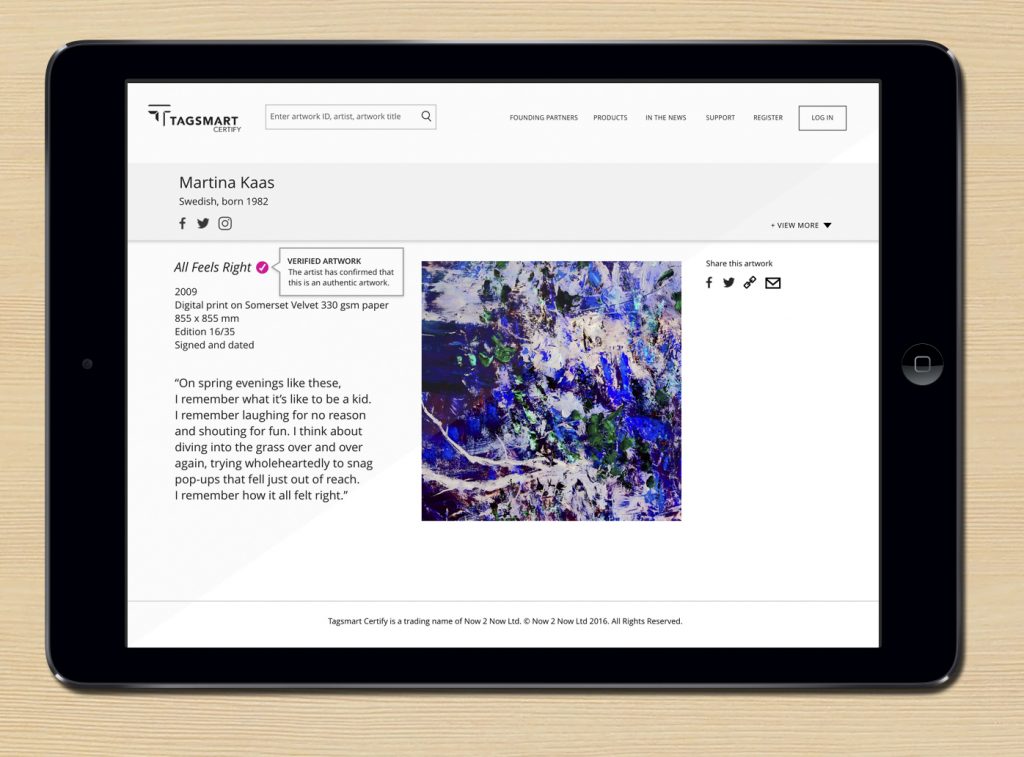 Tagsmart Digital Certificate.
"Working alongside artists, gallerists and museums I came to realise that there was an urgent need for more regulated and technologically-advanced methods of authenticating art. In a rapidly expanding global art market, Tagsmart CERTIFY provides a cast iron authentication tool for artworks."
Art buying patterns are evolving; the growth of online sales channels and emerging markets has opened up a traditionally closed-off market to a much broader audience, and investment buying is on the rise. The globalisation of the art market and the ease with which artworks can now be purchased raises serious issues of traceability, trust and authenticity for both artists wanting to protect their creative rights and collectors wishing to purchase with confidence.
The value of the global art market is expected to exceed €95 billion by 2021, while online market sales in 2015 reached $3.27 billion, up 24% from 2014.Continued market growth is dependent on buyers' confidence, which is clearly under threat with over 60% of collectors citing the fear of buying a fake as a key inhibitor to purchasing art online.
Tagsmart's new CERTIFY platform tackles the issue of buyers' confidence head on, and offers artists, gallerists and print publishers a completely unique approach to artwork security in a single solution. The CERTIFY platform is composed of three main components: a physical label, a certificate of authenticity and a digital passport. The label acts as the delivery system for a sophisticated digital archive, which identifies and authenticates individual artworks. The forensically verifiable label authenticates the artwork, the secure certificate of authenticity provides proof of ownership, whilst the Digital Passport with curated content direct from the artist or gallery, provides the collector with the means to create a digital provenance record. CERTIFY provides an irrefutable chain of information about the artwork to prove its authenticity. Ahead of the platform's launch, CERTIFY has already been endorsed by leading contemporary artists including Marc Quinn, Mat Collishaw, Idris Khan and Gary Hume, with others set to join.
YBA artist and early adopter of CERTIFY, Mat Collishaw explains:
"CERTIFY offers a straightforward means of protecting my intellectual property; with the swift application of a label I can digitally certify and track my works, and quickly disown forgeries whenever and moreover, wherever they appear. CERTIFY has allowed me to build stronger relationships with collectors, who now know that they can purchase my works with the absolute certainty that it has come directly from my studio."
Tagsmart's CERTIFY solution offers artists, gallerists and collectors a completely unique approach to artwork security, and is an essential tool for unlocking continued growth in the global art market.
More Info: www.tagsmart.com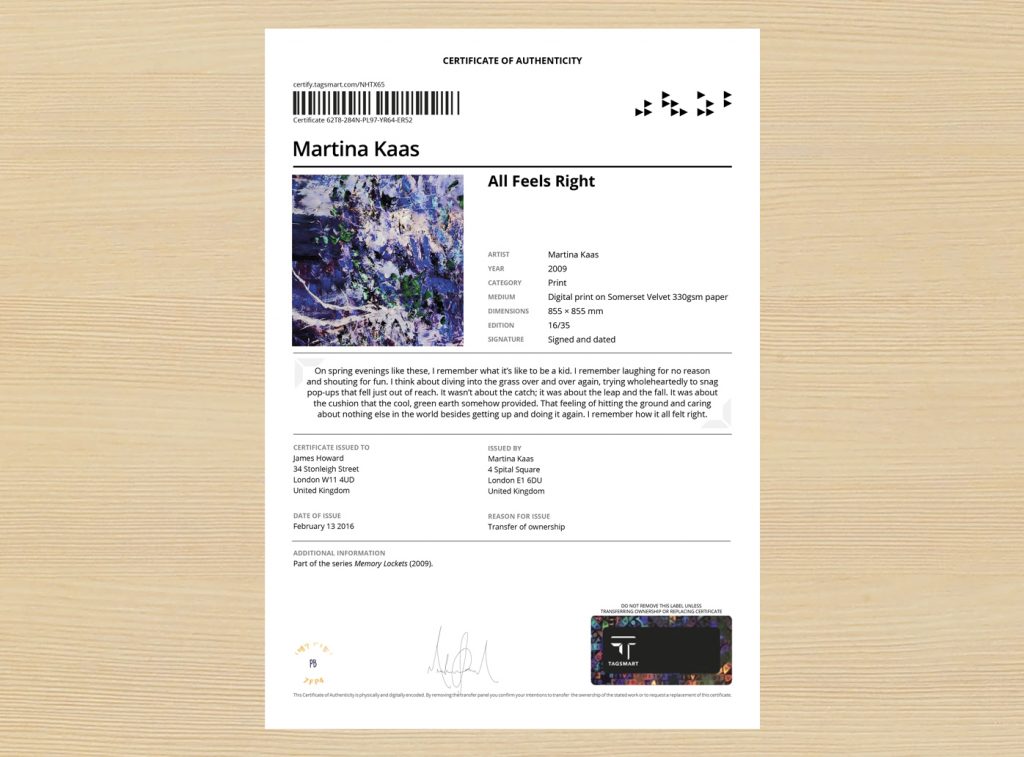 About Mark Westall