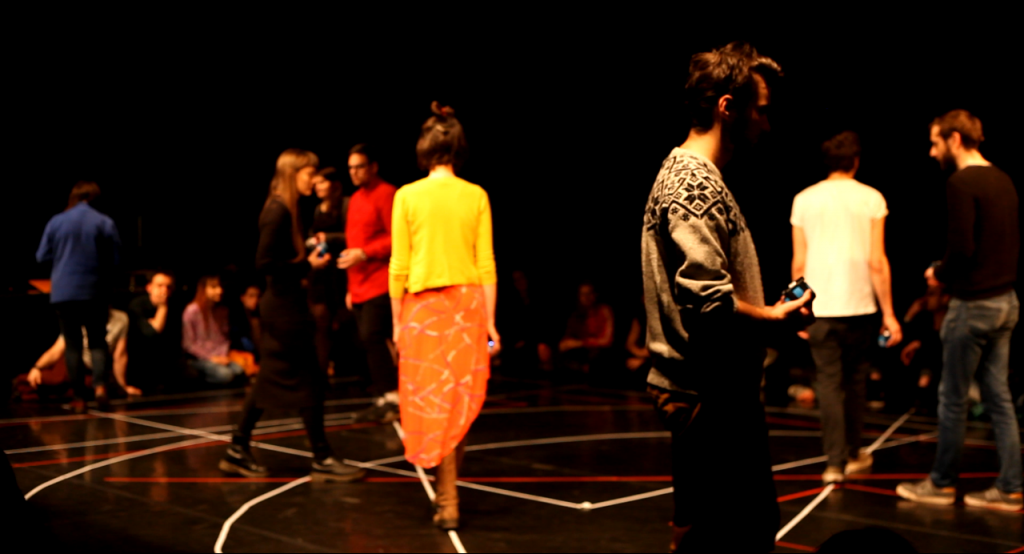 I've never been quite convinced by performance art. I didn't warm to Marina Abramovic's exhibition at Serpentine, nor did I like the one performance I saw at Block Universe — a recent performance arts festival in London.
For Mandala by David Somo I wasn't sure what to expect. Before the performance I'm given my instructions, simply enough to carry a speaker with me and walk along the outline of my assigned shape — a triangle drawn on the floor. Others are assigned different shapes and separate speakers.
As the performance begins it all becomes clear that the shapes overlap so there is congestion in the centre of the performance area, and the sounds from the different speakers mingle.
The choreography between the sounds and movement is not what catches the attention. It's the behaviours of the participants and how they interpret a rather simple brief. Most move slow, others fast and some even backwards.
It's interesting to see how some people like to stay towards the edges in the darkness, while others prefer the centre and to be in the light.
It's also not long before some people (namely me) start to move away from their assigned shapes, while other daren't dream of breaking the 'golden rule'.
The performance whizzes by and it doesn't feel like thirty minutes. And it's a rare piece of participatory performance art I actually enjoyed, largely because it's focussed on the people rather than the performance itself.
Mandala by David Somlo was performed at Camden Roundhouse as part of the We Are Now festival.
Categories
Tags