There are lots of art events happening in London; talks, workshops, tours, discussions and many many more! To help you with the choice Jenny Judova from Art Map London has picked 'The Most Interesting Art Events ' to see in London this week.
---
TUESDAY 14 JUNE
6:00 PM – 9:00 PM @ Transition Gallery, Unit 25a, Regent Studios, 8 Andrews Road, Hackney, London, E84 QN
Europa features a plethora of European themed works by a diverse group of artists. The exhibit looks at what Europe means to the artists involved in the weeks before and after the EU Referendum.
WEDNESDAY 15 JUNE
6:30 PM – 8:30 PM @ Eagle Gallery, 159 Farringdon Road London EC1R 3AL
James Fisher's paintings are carefully calibrated. They explore dualities and employ complex visual palimpsests to construct images that are rich with association.
THURSDAY 16 JUNE
6:00 PM – 9:00 PM @ Goldsmiths, New Cross, London, SE14 6NW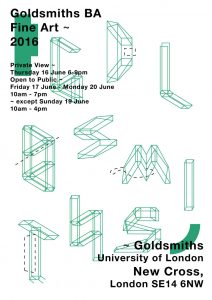 FRIDAY 17 JUNE
6:00 PM – 9:00 PM @ Furtherfield Gallery, McKenzie Pavilion, Finsbury Park, London, N4 2NQ
It is the first exhibition of its kind to focus on the intersection of indigenous cultures and zeitgeist digital practices in contemporary art.
Categories
Tags