Every week Ben Austin picks a young artist to keep an eye on. This week the young artist to watch is Lauren Keeley. Keeley is represented by Supplement Gallery and graduated from MFA, Slade School of Art in 2014.
Her practice involves various processes, including painting, photography, printmaking, and digital design and rendering software producing striking collages, which explore crafted material and image making.
Her work reminds me a little of Craig Martin and Patrick Caulfield, being representational and of a clean graphic design, but the use of other crafted materials including digital manipulation makes the work contemporary and fresh.
Lauren has definite commercial appeal, with domestic interiors featuring strongly, strong vertical and horizontal lines making the work accessible and yet skillfully constructed with clever juxtapositions, to my mind her work is most effectively when there are contrasts between strong primary colours and the muted tone of raw linen canvas.
The artist also breaks down traditional borders and plays with picture planes boundaries, the pieces are often layered, forming a pattern, creating an almost sculptural effect. The compositions are tight and meticulous.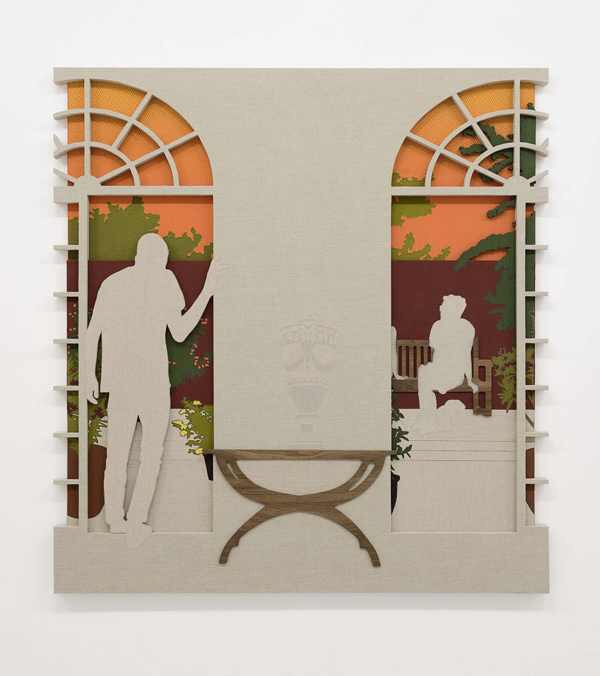 One is left with a feeling of gentle tranquility when viewing the work, even the titles suggest a calmness and peace, for instance 'Dear Summer' depicts two outlined figures, one by some French windows looking out to a female figure seated on a garden bench. The tonal differences between the foliage and the brown fence and orange sky are all suggestive of quiet and reflective mood.

The same is true for 'Balcony', where we have the legs of a figure, sitting by on open window enjoying the cool summer air.
The medium used is reflective of the natural world in conjunction with an interior scene; here we have Ash, Sapele, acrylic and linen on board. The mood is subdued and the tones soft and muted.
Lauren has already gain much attention, having shown at the Milton Keynes Gallery and has won the Bartos dos Santos memorial prize.
I feel that Lauren's work will have a broad appeal for collectors will be drawn to the domesticity represented, the graphic figuration and cleverly constructed design.
The serenity of subject matter added to a handcrafted sensibility makes the work extraordinarily attractive and highly collectible.
As I mentioned there are echoes of other artists who played with both the interior and exterior worlds, with graphic representations and bold colour schemes, but I sense that Lauren has taken the story of art onwards. Her skill and technical ability is first rate, whereby we sense that nothing can be added or removed from the work, they are complete and constructed with careful consideration. We are presented with the essence, the outline of object and figures, allowing the viewer to fill in the blanks.
These pieces are gentle reminders of a quiet domestic world, far from the madding crowd, a place to relax and unwind.
Lauren is certainly a young artist with a bright future ahead of her.
Categories
Tags