Susak Expo 2006 began as an idea to extend platforms by exchanges of contexts and languages through dialogues between people and locations. It's an idea on the move, an idea in translation. And this text too, translated, will emerge with differences, to become another text. Translation can slip between languages to structure networks of thought. It enables simultaneous experiences to interact. It is vulnerable and open to incompletion as well as failure and misunderstanding. The project may fail or it may succeed, its outcome and even the idea of its completion is uncertain. And because of this openness it is vulnerable, this is its character".
Jo Melvin, 2016
Susak expo is a bi-annual art event that has taken place on the remote Croatian island of Susak since 2006. Its proximity to La Serenissima has led to wrongly being mistaken as a collateral event for the Venice Biennale as they alternate years and are located opposite each other. The only audience is the tiny community of 140 islanders who seem to be completely uninterested in Contemporary Art. Even though the point of the expo is that no-one sees it, it has appeared in Frieze Magazine and has been featured on national and local TV and received in-depth coverage by the local media. This year's edition is the tenth anniversary and it promises to gain the attention by the indifferent villagers for the first time ever.
Splash by Daniel Devlin
The idea of staging a biennale somewhere where most probably no-one will see it was by Herzog Dellafiore, a painter and performance artist. Always bitter, sometimes drunk and not much of a maker. He has produced no more than three works in the last 20 years and accuses other artists of being "lost in the fog of neo-formalism". Dellafiore was big in London in the 90s. Rumours circulated, although it has never been proven, that he was part of the YBA's, the eponymous artists' group of Damien Hirst, Tracey Emin and the Chapman brothers among many, but started getting drunk and molesting the artists (male and female). He was swiftly frowned upon descending into complete invisibility. A claim that Dellafiore vigorously denies.
The idea was picked up by method painter Daniel Devlin after a conversation he held with Jo Melvin, a Reader in Fine Art Theory at the Chelsea College of Art and currently working on the catalogue raisoneé of the sculptor Barry Flanagan. The text written by Jo Melvin was translated into Susakian (a language that is still very much alive and is spoken in Susak and New Jersey) was published in a booklet by Susak press. The text appeared in both, English and Susakian, and is thought to be the first time that the Susakian language has been in print.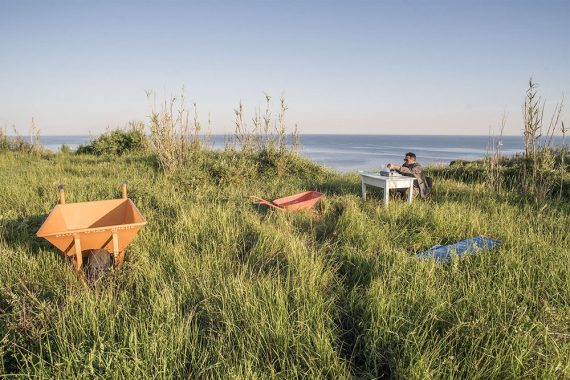 Susak Expo 2016
It was not difficult to convince a bunch of art renegades with the lure of sunshine and free food. Susak Expo became The Promised Land for the unbelievers. Anarchy at its best. There was no grandiose theme favoured by the cult curators today, just a place and a time, no expectations, no impositions and no obligations to make Art. An experience proved to be so intense and radical that some of the artists involved are still in non-speaking terms with the founder.
For the current edition of Susak 2016 which will take place this coming May, the curatorial team of Keran James and Herzog Dellafiore are back. Whether Mr Dellafiore will honour his word and make his presence available is still unclear. The artists are asked to make interventions in the island's landscape. These will be documented and exhibited in the Museum of Mali Lošinj. During the expo, there will be parallel events with ArtHelix and the Museum of Rijeka. The show will then travel to The Musée des Civilisations in Dchang (Cameroon) and the Macura Museum in Serbia.
You can read Lorenzo Belenguer's interview of Daniel Devlin for Sluice_magazine.
For more information about susak expo, please visit the website http://susakpress.org/susak-expo/2016.html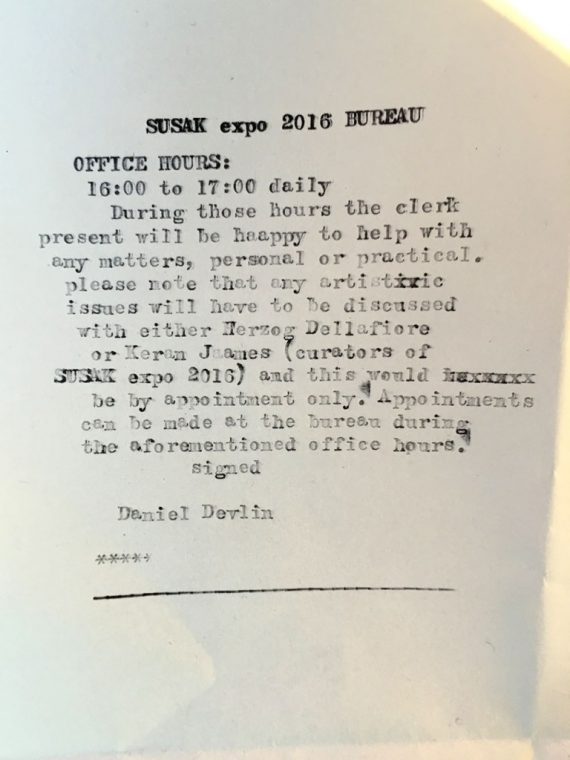 Susak Expo 2016
Categories
Tags