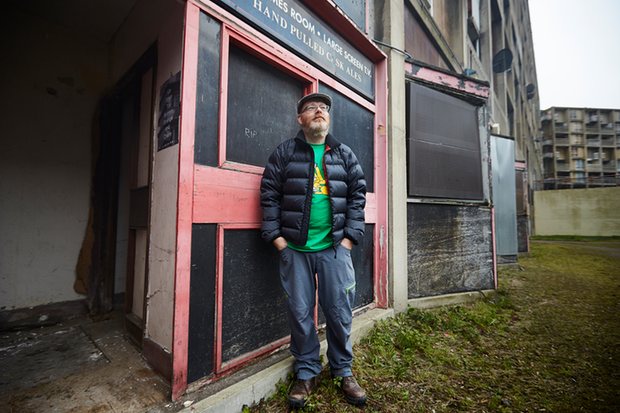 ---
This article titled "Public house music: Mark Fell on making art in a derelict boozer" was written by Ben Beaumont-Thomas, for The Guardian on Wednesday 27th April 2016 06.00 UTC
Built in 1961 in a Sheffield buoyed by steel, Park Hill housing estate was a utopian vision of "streets in the sky", where slums were cleared to make modern blocks with walkways wide enough for milk floats. But as mines and factories closed, it became crime-ridden and dilapidated.
Sitting at the base of one boarded-up block is the Link pub, now covered in dust, bits of masonry and sad-looking Tetley's pumps. Disco lights fill the space as euphoric house music blares; a table in the corner is filled with academic papers on computer intelligence and structuralist film, and a lightbox illuminates a bird's-eye plan of Park Hill, with the chemical structure of MDMA layered on top of it. This is Structural Solutions to the Question of Being, an installation by Mark Fell for the Art Sheffield festival, in which a recording of a 1992 pirate radio show made in the estate – complete with a shoutout to Fell – is the centrepiece of a trip through rave, south Yorkshire and political anger.
Fell is the epitome of a bluff, flatcap-wearing Yorkshireman, whose first encounter with a synth was a Moog in his uncle's coal shed. From his hometown of Rotherham, he has carved out a career making extraordinary, mathematically throbbing electronic music.
His cultural education began via his older brother. "He'd come home with books – RD Laing, the Communist party manifesto. He was just getting stoned, but I was 12, and I'd read them. Literature became this alternative world." As did music. "You'd get a record by Psychic TV or Coil, and it would say: 'Recorded live in Barcelona.' You'd be like, wow, there's a place called Barcelona!"
Come the mid-80s, he fell in with Sheffield's small dance music scene, during Thatcher's war against the miners. "Sheffield was completely desolate," Fell remembers. "There was no hope of getting a job. The police were beating up anyone they could on the streets; 10 Downing Street were passing laws alienating everyone you were friends with. It was great! I was skint but I had a massive warehouse apartment. And people really came together in opposition to this repressive government, this really dark political climate."
Fell regularly went to house nights such as Jive Turkey, but by 1992, when that pirate radio show was recorded, he was becoming disillusioned. "Two years before, I would have got beaten up for playing tracks like these at a party," he says as piano house echoes around the derelict pub. "Now all those people were raving to it, because they discovered MDMA. They'd start on a Friday night and go till Sunday. Then they'd start on Thursday. It got to the point where they'd only have Wednesday afternoon off. People were falling to bits."
Fell, meanwhile, who has never even smoked a cigarette, was a young father studying fine art and philosophy. He had a self-imposed ban on dancing, and, after forming electronic duo SND in 1998, nodding during live performances: "Every show I went to was some guy stooped over a laptop, nodding. It's such a stereotype! Indian classical music can get just as intense, but the performers are static and calm."
Still and sober, the dancefloor instead became a space for ideas. "What I was reading, especially Heidegger, seemed to correspond to what I was seeing in the clubs," he says. The German philosopher railed against Descartes' idea of a split mind and body, arguing that the most fundamental mode of being was when they combined. "A dancefloor is a classic example of that," says Fell. "People are dancing, getting drunk and having a good time. As opposed to sitting in a classical music concert, asking: what is this making me feel?"
Fell also resists the idea that clubs are purely escapist. "I remember having an argument with someone about Wham! when I was a kid. They were on TV saying they just wanted to have fun, and my friend was agreeing with them – but I was like, what is fun for them? Fun isn't just a transparent thing. The act of having fun is not divorced from all the tensions that surround it. Instead, the club could be a way of dealing with stuff going on in the outside world."
Fell's computer music is cerebral, even self-mockingly so: one album came with notes for DJs such as: "Track 1 has a tempo of 137 beats per minute with a rhythmic loop of 30 units each lasting 109.49 milliseconds." But it's also slippery and funky, with odd time signatures wriggling eel-like around techno's grid. This is a result of Fell resisting stave-like composition, instead using Max/MSP, a programming language that allows users to develop and share their own add-ons to the software. The Art Sheffield installation continues this idea – it features a history of dance music made from Post-It notes, which visitors can recombine and add to.
So rather than passing art down from on high, Fell is down among the dancers and common people. We continue our chat about Heidegger outside in the estate. "He writes about being physically engaged without any intellectual awareness of what you're doing." A dog rushes up to us and Fell pets it warmly as we talk. "Hello doggie! You're completely absorbed in the moment without any kind of rational detachment."
• Structural Solutions to the Question of Being is at the Link Pub, Park Hill, Sheffield S2 5QX, Tue-Sun, 12-5pm, until 8 May. Details: artsheffield.org
guardian.co.uk © Guardian News & Media Limited 2010
Published via the Guardian News Feed plugin for WordPress.
Categories
Tags