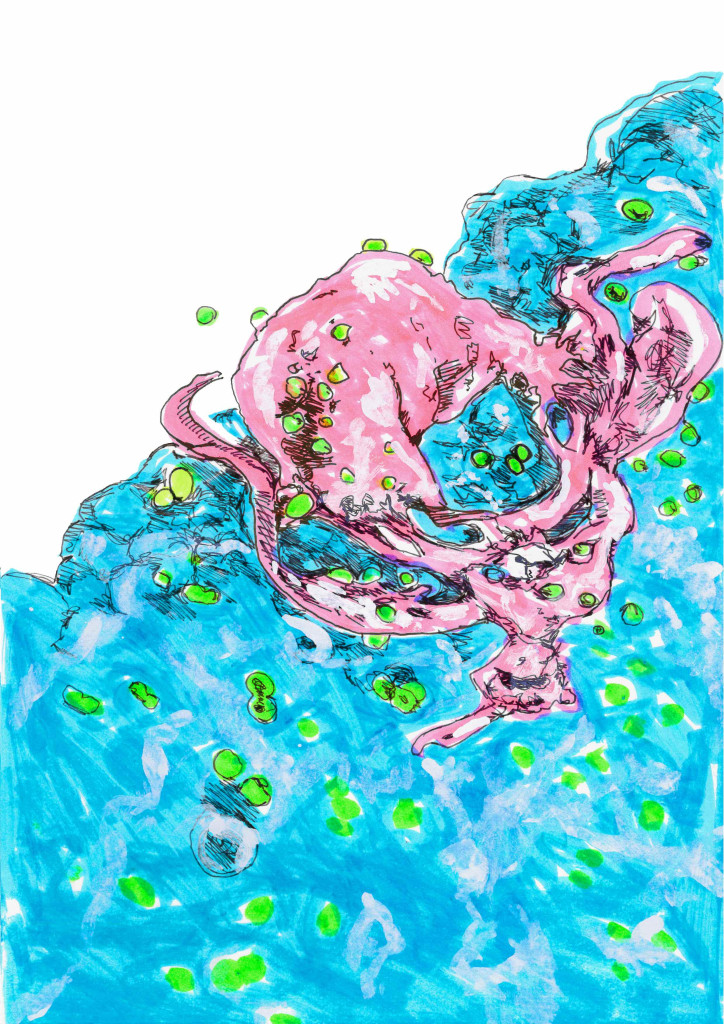 Image courtesy Linda Stupart 2015
In the past they had tried to tell them, warn them (worn thin).  At every single conference or lecture around the world they'd say: HI HAVE YOU THOUGHT ABOUT HOW YOU'RE TALKING ABOUT THE FUTURE BUT YOU'VE ONLY CITED WHITE MEN HEY HOW ARE YOU GONNA STOP THAT HEY WHAT KIND OF FUTURE IS THAT?
But every body grows tired eventually, even this one. The same words again and again wearing out their throat their blood their muscles knotting, stomach filled with black oil, fingers tapping on the seat of every lecture theatre. But, no, nobody can say they didn't try to warn them…
A dead writer exists in words and language is a type of virus. Information is at once this resistance, and what it resists— its own dead form, communication. Words are microbes, molecules, maggots. A dead writer also exists in the devastated by cancer rotting corpse; in death.
A dead writer exists in words and language is a type of virus is Linda Stupart's first solo exhibition in London. The exhibition brings together the artist's concerns with gender, language mutation and abjection, in particular offering a virulent and embodied critique of sexism and structural violence in art and artworlds.
This exhibition is presented alongside the release of Stupart's Novella Virus.
The installation will be comprised of sculpture, powerpoint and sound. The artist will be live casting spells for the duration of the show.
A dead writer exists in words and language is a type of virus. Opening Friday February 26th 6-9pm @Arcadia_Missa  Unit 6 Bellenden Road Business Centre SE15 4RF (Entrance on Lyndhurst Way arcadiamissa.com Runs 27th February – 8th March Thurs-Sat 12-5pm
About The Artist
Linda Stupart is from Cape Town, South Africa and is currently a PhD candidate in the Art Department at Goldsmiths College with a project engaged in new considerations of objectification.
Their writing and visual practice enacts a non-division between writing and making; experimenting with intimacy, embodied critique and realisms without representation. Thematically, the work situates 'self' and bodies as material – working with strategies of confessional, critique and fictional writing and image/object production in relation to other kinds of materials, and in particular relation to productions of images, art and art worlds.
Their work has been the focus of two solo exhibitions in Cape Town and has recently been shown/performed at Arcadia Missa, Matt's Gallery, The Showroom, a.m. gallery, the ICA and Guest Projects in London.
They have presented at a number of conferences including, recently:  FOMO at the ICA, Aliens and Anorexia: A Chris Kraus Symposium at the RCA, Affect, Trauma and the Transmission of Memory at Goldsmiths, Contemporary Experimental Women's Writing at the University of Manchester, World Ornamental Forum at the Kirchner Museum in Davos and Shimmering Worlds at the University of Manchester.
Categories
Tags