Tim Etchells is quite possibly the busiest artist around, he currently has a  solo exhibition at Bloomberg SPACE. Presented as part of Artichoke's Lumiere project, the show centres on a new neon sculpture commission 'More Noise', which is shown alongside two other large-scale neon works from 2014 'Let's Pretend' and 'Mirror Pieces'. More Info: www.bloombergspace.com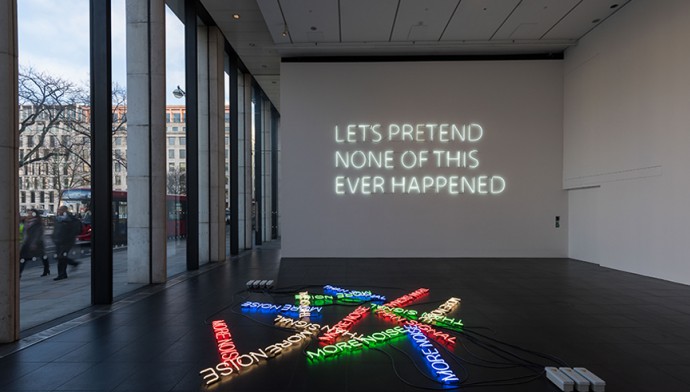 The group exhibition 'Risk' just finished at Turner Contemporary, including another of his neons. www.turnercontemporary.org
Vitrine Gallery will be presenting a solo booth of his work at The Dallas Art Fair (April 2016) and his neon 'end of story' will be featured in The Alternative Document Show at Project Space Plus, University of Lincoln, which opens this Friday 12th February 2016.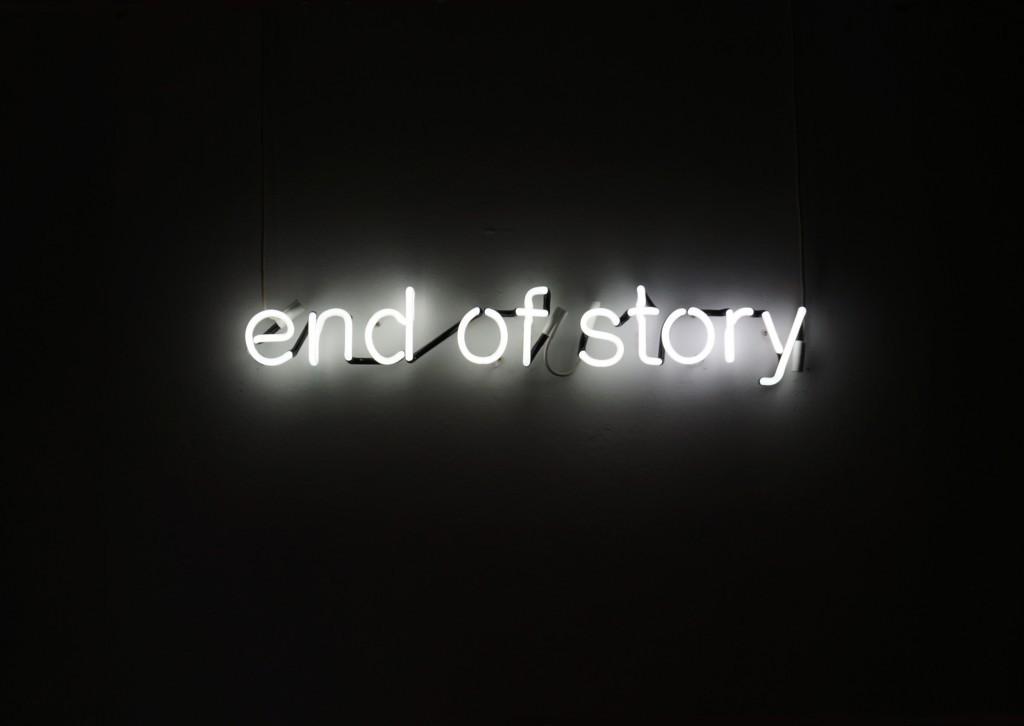 Forced Entertainment presents a diverse range of projects at MCA in Chicago this month and then plays the Complete Works: Tabletop Shakespeare project which Tim directed and made with the company at the Barbican in London from 1-6 March.  www.forcedentertainment.com/tour-dates.
At the same place you'll see details of the upcoming performances of The Notebook in Athens where Tim will be performing (replacing Robin Arthur for three nights), and an outing of his solo performance A Broadcast / Looping Pieces in De Singel in Antwerp on 9th March.
And despite all the above Tim managed to find the time to answer some of our questions.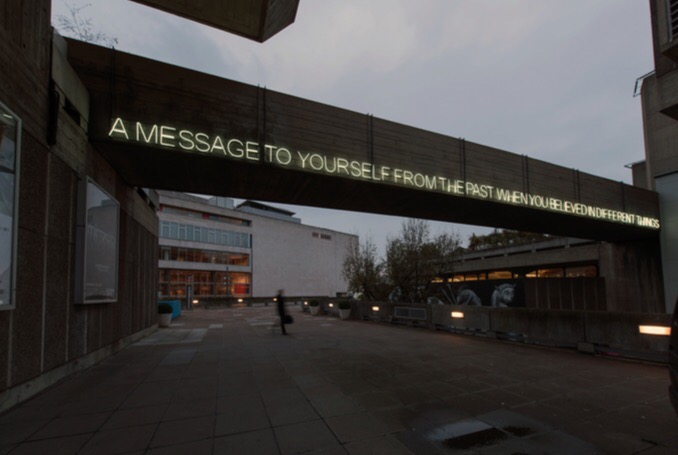 1 Tim you have a lot of diverse projects opening in the next few months did you plan to be so busy in early 2016? 
I'm always busy these days… my joke is that when I catch the person who makes my schedule they are in trouble. It's me, of course.
2 Can you tell us about your work and what are the main ideas you try and express?
The work is often playful – comical, absurd – but there's a seriousness in it too. I'm concerned with politics, with the limits of language and the systems we exist in, with the ways that media define and limit our sense of what's possible. I'm also very concerned with this idea of the viewer – how to excavate that relation, to challenge it, to open it in interesting ways.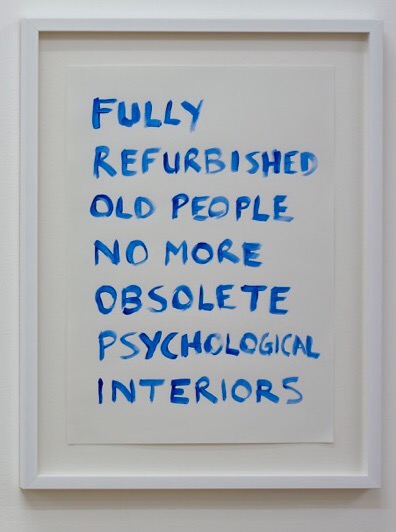 I guess in some ways the heart of what I'm working with is performance. I've spend more than 30 years directing and writing text for performances with the group Forced Entertainment. So the sense of exchange and event you get in performance – the dynamic edge of it – has influenced the way I work in other forms, whether that's writing fiction, making video, installation or sculpture. No matter what the form, I always think about the way that the art work opens a dynamic space between it and the viewer, about the active role the viewer has in making sense of the work, in that act of co-authorship and interaction. Even a three word neon-sculpture works in that way I think… creating an encounter, opening a space.
3 How do you know when an art work is finished?
I know when my work is complete – usually connected to a deadline of some kind! But the work is never finished – its action continues and it changes as it meets different contexts, different viewers.
4 Which do your prefer solo or group projects? 
Luckily I like both, the one being a break from the other, and allowing different possibilities in each direction. The collaborative works involve a very extended and thorough dialogue and critique of ideas – everything has to be taken apart, reassembled, questioned. I miss that when I am working solo, and of course I like the break from it! But to be honest I end up seeking out conversations, critiques and questions even when I am working 'alone' – I think I naturally work in a kind of dialetcic space, no matter how much I enjoy pushing things along on my own, following my nose. The one place I probably don't collaborate happily is on writing.. I like to be left alone if I'm at the computer.
5 How is it working with Vitrine Gallery?
I have a really good dialogue with Alys. I think she really gets the work. The show I did there in 2014 was a good experience – taking my work in new directions. The chance to use the window space on Bermondsey Square was great too. We showed 'Who Knows' which worked perfectly in the context – the first (and only) time that work has been shown in the UK.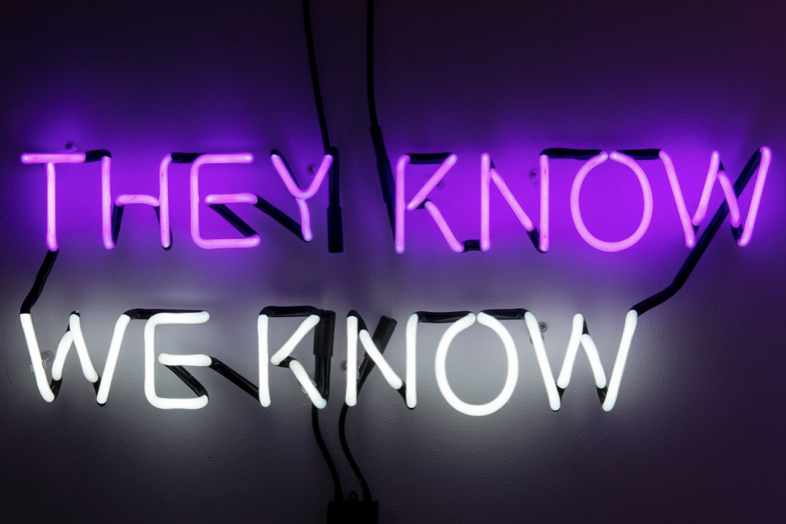 6 How did you decide what work to show at Dallas Art Fair ?
The fair-booth is always such a particular (and strange) context – somewhere between a gallery and a street! So finding work that can exist there in an interesting way is the challenge. But any space has its qualities – opportunities, distractions – and I like figuring out what the right move for me is in any situation. I was looking at the folder of images I have from site/gallery visits the other day – there's something I really like about that collection of bad pictures and plans of empty rooms and galleries – all that potential, all those architectures… all pre-project, all spaces of consideration and potential. That's a really interesting part of the process for me.
7 Final question: Are you going to have a break after April? 
Oh yes… things are slowing down a bit. At least, that's what I always tell myself.
But you can apply for a Tim Etchells workshop and masterclass, Re-Make Re-Purpose at SPRING festival in Utrecht which is to be held 20 & 21 May 2016 details HERE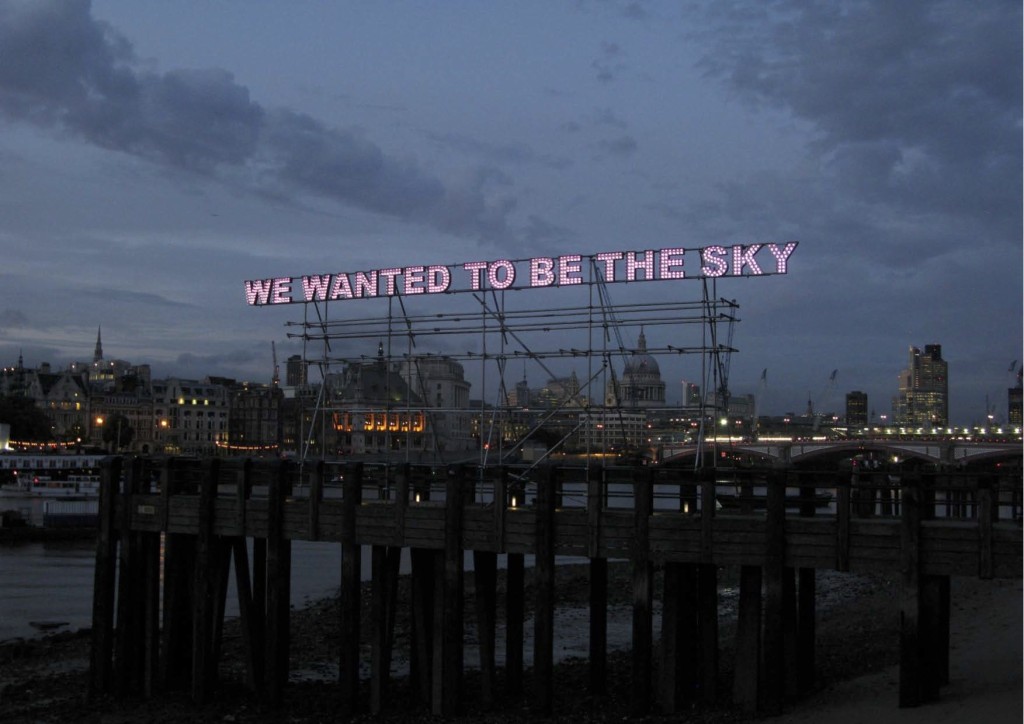 Keep up to date with all Tim's projects at timetchells.com
Categories
Tags