The Marmite Prize for Painting is the only erratic, challenging and nomadic biennial open submission painting exhibition in the UK and Ireland and is open to all.
Deadline Sunday 20th March 2016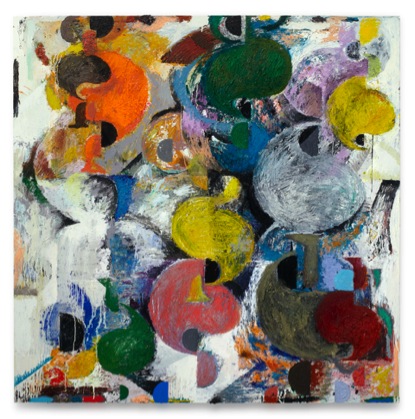 Main Prize
Along with the prestige of being the Prize Winner of the Marmite Prize for Painting V and the opportunity to be a judge for the Marmite Prize For Painting VI, the winner will also receive a specially commissioned sculpture by an artist – To be Announced.
Student Prize – Residency at Bon Volks, Margate, UK. (Please note you must currently be a student to be eligible for the Student Prize. Students are also eligible to win the main prize.)
The two runners up will receive a pat on the back.
The Selectors & Judges
Selectors 
Marcus Cope, co-founder and curator of The Marmite Prize for Painting.
Aoife Ruane, Director, Highlanes Gallery, Drogheda, Ireland.
Jane Hayes Greewood, Artist & Director, Block 336, London, UK.
Daniel Sturgis, Artist, Curator & Course Director in Painting, Camberwell College of Arts, London.
Colin Martin, Artist & School Principal, Royal Hibernian Academy, Dublin, Ireland.
Judges
Phillip Allen (UK)
Phillip Allen lives and works in London. Recent solo exhibitions include: The Approach Gallery (2014) London and Kerlin Gallery, Dublin (2013).
Recent Group shows include: Ghetto Anglaise, Observer Building (2016) Hastings, From Fly on the Wall to Fly in the Soup, Paris 2014, British Art Show IV (2006) and Classified BP Exhibit Tate Britain (2005). Phillip is also programme coordinator for the Turp's Studio Painting Programme and one of the editors for Turp's Banana painting magazine. He's a tutor at the Royal College of Art and Wimbledon College of Art
Brian Cheeswright (UK)
Brian Cheeswright ( b.1978, Harrow) was the winner of the Marmite Prize for Painting IV (2012-2013)
I'm painting in order to discover if I can make paintings. My work is heaped in the detritus of the day: bits of memory, conversations, dreams, frustrations. I'm also still battling with that old hackneyed abstraction versus figuration thing too. Every picture is a sort of failure, but leads to a new question.
Mark O'Kelly (IRELAND)
Mark O'Kelly (b.1968) lives and works in Dublin and Limerick. He is a lecturer in Fine Art at Limerick School of Art and Design. He is a graduate of the Slade School of Fine Art (1992) and of the National College of Art and Design, Dublin (1990). Exhibiting paintings, vitrines and installations, his work is the outcome of a practice of image research that explores the space between the photographic document and the cosmetic image. The studio based painting practice at the core of this work has provided the foundation for a series of specifically conceived installations addressing theories of representation, reproduction and quotation. Forthcoming solo exhibition:,
Empireland, Project Arts Centre, curated by Tessa Giblin, Dublin, 2016
How to enter:
You need to submit one work to The Marmite Prize for Painting.  You must provide one image of your painting (high resolution j-peg on disk or as email attachment no larger than 3mb).
More information: www.marmiteprize.org/enter/
You will receive confirmation of the receipt of your application, images and payment by email.
The Selection procedure
The paintings will be subject to two stages, shortlisting for exhibition by the selection committee (by digital image), and subsequent judging (of works in person) by the judges.
Shortlisted artists will be notified by 20th April when we will make arrangements to collect the work from artists' studios (UK mainland, Ireland and Northern Ireland only).
We welcome international entries. Shortlisted international artists will be required to arrange transportation of works to London in May for the first exhibition, and collection of unsold works from Drogheda in September.
Winners will be announced at the opening of the exhibition in London on 3rd June 2016.
Shortlisted artists will receive a free copy of the catalogue.
The Locations
Block 336, London, UK June – July 2016
Highlanes Gallery, Drogheda, Ireland July – September 2016
There will be 50% commission levied on sales generated throughout the exhibition.
The Marmite Prize for Painting is in no way associated with the food product 'Marmite'.
Categories
Tags