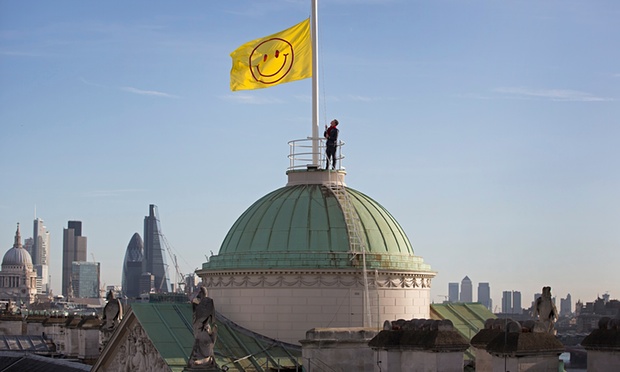 Smiling on London … Jeremy Deller and Fraser Muggeridge's flag is raised above Somerset House to launch ?Utopia 2016. Photograph: Peter Macdiarmid/Getty Images for Somerset House
---
This article titled "Jeremy Deller flies flag for Thomas More's Utopia, 500 years later" was written by Hannah Ellis-Petersen, for The Guardian on Monday 25th January 2016 19.48 UTC
The bright yellow flag hoisted up the Somerset House flagpole on Monday morning bore a universally recognised symbol: the smiley. Jointly designed by the artist Jeremy Deller and the graphic designer Fraser Muggeridge, it launched a year of programming by the London venue to mark the 500th anniversary of Thomas More's seminal work Utopia.
Celebrating its spirit of radical thinking and counterculture, the series will span the realms of fashion, art, design and literature in the largest ever celebration of More's book. Written in 1516, Utopia envisioned a self-contained island world where society and its systems were completely equal.
Instead of examining its historical context, Jonathan Reekie, the director of Somerset House, said the book was the ideal lens through which to examine contemporary artistic innovation in all areas of the arts. He expressed surprise that such an important anniversary had been "largely overlooked".
"The most extraordinary thing about Thomas More's Utopia is that hardly anybody's ever read it but everyone has their own version of what the word means," said Reekie. "It is a cultural reference that endlessly reappears through the last 500 years and will, I imagine, for the next 500 years."
Exhibitions will include the show Venturing Beyond, which will explore the "intrinsically utopian" art of graffiti, showcasing specially commissioned works by 18 street artists from around the world, including Shephard Fairey, Swoon, Horfee and Nano4814. Instead of treating graffiti as a negative practice, the show will explore it as a democratic art form that challenges the political and social structures of society, just as More's book did five centuries ago.
Born in 1478, More was a lawyer and social philosopher. His refusal to accept Henry VIII's divorce from Catherine of Aragon and the appointment of the king as head of the Church of England led to his beheading for treason in 1535.
Utopia, which was written in Latin and first published in Belgium, was translated into English 16 years after More's execution. Reekie said the book did not present a single vision of a utopia but was instead "an invitation to dream, to think … to imagine a better world".
"We are constantly bombarded with news of all the terrible things that are happening in the world," added Reekie. "So to actually have a moment to say: 'Let's not think about the future as a dystopia' – it's very rare and very exciting."
guardian.co.uk © Guardian News & Media Limited 2010
Published via the Guardian News Feed plugin for WordPress.
Categories
Tags