Condo is a collaborative exhibition by 24 galleries across 8 London spaces.
The preview is this Saturday 16th Jan 2016, 12–18h Exhibition dates 16th January –13th February 2016.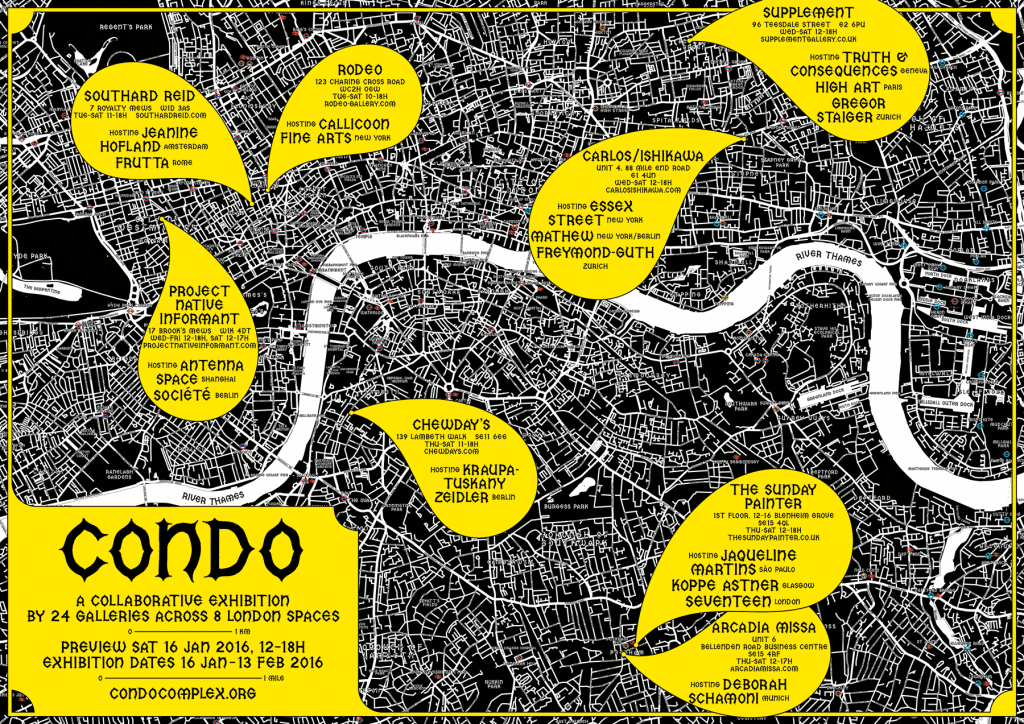 Full list of galleries below:
Arcadia Missa unit 6 Bellenden Road business centre SE 15 4RF (Thursday–Saturday 12–17h)
are hosting: Deborah Schamoni from Munich
showing A.L. Steiner and Phoebe Collings-James.
Carlos/Ishikawa Unit 4 88 Mile End Road E1 4UN (wed–sat 12–18h) Clothes by Darja Bajagic, Ed Fornieles, Eloise Hawser,
Helen Marten & Magali Reus, Jack Lavender, Korakrit Arunanondchai,
Lloyd Corporation, Marie Angeletti, Oscar Murillo, Pilvi Takala, Puppies Puppies,
Stuart Middleton, Victoria Colmegna, Richard Sides
Are hosting:
Essex Street from New York showing Jason Loebs, Fred Lonidier
Mathew from New York/Berlin showing Megan Francis Sullivan
and
Freymond-Guth from Zurich showing Than Hussein Clark
Chewday's 139 Lambeth Walk SE11 6EE
are hosting Kraupa-Tuskany Zeigler from Berlin
Project Native Informant 17 Brook's Mews W1k 4dt (Wed–Fri 12–18h, Sat 12–17h)
are hosting
Antenna Space from Shanghai
and
Société from Berlin showing Jeanette Mundt, Josh Kolbo & GOD
Southward Reid 7 Royalty Mews W1D 3AS (Tue–Sat 11–18h) showing Lea Cetera
are hosting
Jeanine Hofland Amsterdam showing Bruno Zhu
and
Frusta from Rome showing Tessa Lynch
Rodeo 123 Charing Cross Road WC2H 0EW (Tue–Sat 10–18h) Shadi Habib Allah
are hosting
Callicoon Fine Arts from New York
The Sunday Painter 1st floor 12–16 Blenheim Grove SE15 4QL (Thu–Sat 12–18h)
are hosting
Jaqueline Martins from Sao Paulo
Koppe Aster from Glasgow
and
Seventeen London
Supplement 96 Teesdale Street E2 6PU (Wed–Sat 12–18h)
are hosting
Truth & Consequences Geneva
and
Gregor Staiger Zurich
For more info head to www.condocomplex.org
Categories
Tags