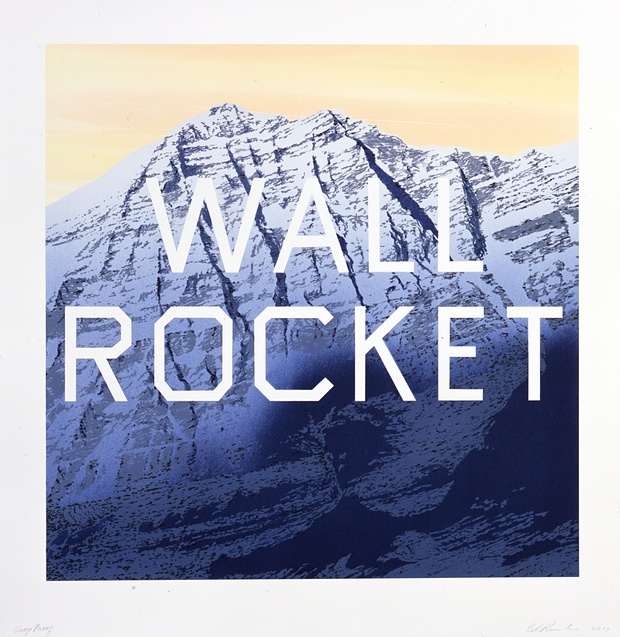 Wall Rocket 2013, one of the prints being donated. Tate said the donation would allow museums across the UK to stage exhibitions of Ed Ruscha's work on paper. Photograph: Ed Ruscha
---
This article titled "US pop artist Ed Ruscha donates collection of prints to Tate" was written by Mark Brown Arts correspondent, for theguardian.com on Monday 14th December 2015 11.32 UTC
The celebrated American pop artist Ed Ruscha is donating a collection of prints to Tate in what its director, Nicholas Serota, called "a wonderful Christmas present to the whole nation".
Ruscha will donate 18 recent print editions and has also promised to give one impression of all future prints he creates in his lifetime.
Tate said the gift would allow public museums around the UK to stage exhibitions of the artist's works on paper.
Serota said: "This is a rare and generous commitment, not to mention a wonderful Christmas present to the whole nation … These works on paper will be a wonderful resource for future exhbitions here in the UK."
Ruscha, who turns 78 on Wednesday, said: "It is a great honour to know that Tate will be a home to a collection of my editioned works."
His work hangs in major collections around the world as well as the White House and possibly Downing Street: Barack Obama gave David Cameron a Ruscha print as a diplomatic gift in 2010.
Ruscha was born in Nebraska but moved to Los Angeles in 1956 and has become closely associated with the city in a stellar career spanning six decades.
Serota said Ruscha's work had been much admired in the UK when it was one of the Artist Rooms travelling exhibitions organised by Tate and the National Galleries of Scotland using the collection donated by the dealer Anthony d'Offay.
Tate holds seven paintings, 23 unique works on paper and 111 prints by Ruscha, most of which were part of the d'Offay donation in 2008.
The prints coming to Tate include Jet Baby 2011, an edition of which sold for $30,000 at Christie's in New York last year and That Was Then, This Is Now, 2014, after the SE Hinton novel.
guardian.co.uk © Guardian News & Media Limited 2010
Published via the Guardian News Feed plugin for WordPress.
Categories
Tags