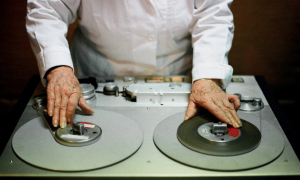 As performance art grows in popularity, with a new generation of artists, eager to push boundaries and traverse new territory, so does the necessity for new platforms to develop and nurture artists and their practice.
The Performance Studio is an independent, peripatetic production and rehearsal space, founded in 2010 by curator David Thorp. Their ethos is established around the development of performance and live art without the constraints that can be manifested by the pursuit of funding and the ethical dilemmas that can exist with sponsorship. As the program has expanded so has a small team dedicated to maintaing the original ideals as well as showcasing and enabling performance art.
TPS's latest episode presented a film program curated by London based artist, musician and curation team Pil and Galia Kollectiv in TPS's sporadic home Bosse & Baum gallery, in Peckham. The evening consisted of works from Roman Štetina, Billy Howard Price, Molly Palmer and Mike Harvey with the aim to establish a dialogue exploring  performance and video practice.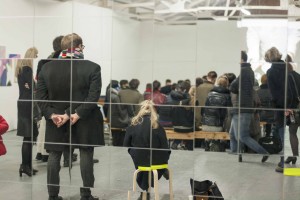 Roman Štetina's fascination with obsolete crafts and technology were depicted in four films, shot in an old Czech radio studio. Each film represents a romantic nostalgia for something that has now disappeared or is well on its way to. Whether it be a the graceful movements of a Steady Cam operator or a reel to reel tape editor, splicing mistakes from a Czech tongue twister, each film celebrates a level of expertise or the endearing, but forgotten, methodology of certain practices.
Artist and musician Billy Howard Price presented a film exploring the psychotropic potential of sound an image. The amalgamation of found footage computer generated imagery and electronic music conjured a mesmeric atmosphere, with echoes of early rave culture, intended to contort perception through a sort of simulated drug experience. The film blurs lines between video art and the art of music video constructing an aesthetic akin to the heady adventures in to the drug and counter cultures of the late 80s and early 90s examined by artists such as Mark Leckey and Jeremy Deller.
All Bad Things Have Ended… from Billy on Vimeo.
All Bad Things Have Ended…… – Billy Howard Price.
Molly Palmer's video constructed a fantastical computer generated environment which fell satisfyingly inline with the trippy theme set by Billy Howard Price's film. Her work also plays with perception and create an other worldly ambiance through carefully layered and edited landscapes.
Mike Harvey's film scrutinizes the human condition through analysing the bodily landscape and combining it with a sub-human dialogue. Shots of sections of the body connected to sculptural extensions are accompanied by a unsettling conversation between contorted bursts of speech.
The evening concluded with a panel discussion between the artists and organisers discussing what had got them to the point of creating their work but also what connected it. Similar techniques had been used to produce very different but very comparable work with a strong focus on the soundtrack driving the images. Each artist had been carefully selected to bring something new or different to the table but at the same time follow a line of thought or practice.
The Performance Studio, now in its 5th year, seems to be amassing the momentum to produce a truly innovative and captivating program whilst maintaing the ability to remain independent. Their ideology is an important exercise in to the possibilities of what can be produced when artists can be truly free to produce and showcase work without compromise.
Check out The Performance Studio's program HERE.
Categories
Tags