Maddox Gallery has announced the opening of its new, 3750 square foot space in Mayfair's Maddox Street on Thursday 3rd December. Set across four newly renovated floors, Maddox Gallery will exhibit modern and contemporary art from a roster of exciting British and international artists including New York man of the moment Bradley Theodore, LA contemporary artist Retna, Hollywood photography stars Tyler Shields and Tony Kelly and French-Egyptian photographer and installation artist Yves Hayat.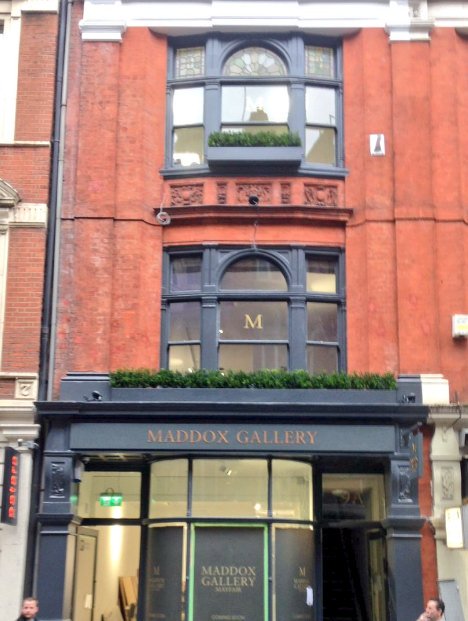 A private view, showcasing the exciting group of artists in the gallery's first exhibition, will be hosted by Tamara Ecclestone Rutland and Jay Rutland who are longstanding clients of Maddox Gallery owner and curator James Nicholls.
The Opening Exhibition
Alongside Retna, Tyler Shields, Tony Kelly, Bradley Theodore and Yves Hayat, the first exhibition, entitled 'Art Fusion', will showcase the work of Michael Moebius, Robi Walters, Claudia Hecht and Simafra. This vibrant collective of Maddox Gallery artists will show sculpture, painting, photography and installations.
London-based Robi Walters was recently cited as one of the UK's most exciting creatives by The Daily Telegraph. For the inaugural Maddox Gallery exhibition, he will be presenting Dark Side – a replica of Pink Floyd's Dark Side of the Moon album cover created from shattered vinyl, plus two of his stunning collages, mixed media pieces bursting with colour, arranged in lotus-like forms.

Robi Walters, Dark Side, 2015 Courtesy Maddox 2015
New York-based urban artist Bradley Theodore has been causing a stir in New York this month with his pop-culture influenced street art. Famous for his colourful skeletal portraits of modern-day icons including Kate Moss, Anna Wintour and Coco Chanel, Bradley will be exhibiting some of his new works at the Maddox Gallery opening show, the first time they will have been seen in the UK. A collection of three new works will be on display – The True Queen, Anna and Karl and Marie's Ball.
LA's Retna is a contemporary artist with roots firmly in graffiti art. Known for his ornate painting technique, Retna merges photography with his famous LA graffiti and channels both into his paintings. His influential work shines a light on the urban soul of LA and is held in notable collections around the world.
Michael Moebius hails from Pirna in Germany. A favourite of collectors globally, Moebius is a figurative artist and photographer whose work has been featured by Robb Report, Vogue and Playboy. On display at Maddox Gallery will be new work from the artist's pop art inspired bubble gum series, which features iconic images of Marilyn Monroe, Audrey Hepburn and The Beatles, playfully reimagined blowing bubble gum.
Maddox Gallery's first solo exhibition will open on 4th February 2016. 'Hollywood's Favourite Photographer' Tyler Shields will present Decadence, his provocative new body of work set in the court of Marie Antoinette. The coolest names in indie stardom luxuriate in the pomp and splendour of the rooms of Versailles, a tongue-in-cheek collaboration between iconic visual artist and America's freshest talent.
www.maddoxgallery.co.uk
Twitter and Instagram @maddoxgallery Maddox Gallery, 9 Maddox Street, Mayfair, London W1S 2QE
About James Nicholls:
James Nicholls has been an art investment advisor to private and corporate clients for many years. He is an investment art advisor to British Airways and a contributing arts editor to international men's lifestyle and luxury magazine, The Player. James gives regular art talks and contributes to numerous publications as an art expert.
About Maddox Gallery:
Maddox Gallery is the new 3750 square foot contemporary art gallery in Mayfair owned by James Nicholls. Its roster of cutting edge international contemporary artists and photographers include Tyler Shields, Retna, Tony Kelly, Bradley Theodore, Robi Walters, Yves Hayat, and Michael Moebius. For further information visit www.maddoxgallery.co.uk.?

Copyright Bradley Theodore Courtesy Maddox 2015
Categories
Tags