A new art gallery will open at Downing College, Cambridge on 6th February 2016. Designed by world-renowned architects Caruso St John, the gallery is an innovative commission by Downing College and will be dedicated to modern and contemporary art.
The gallery will open with an exhibition of works from the private collection of Sir Alan Bowness, former Director of Tate and an alumnus of Downing College. Generation Painting 1955-65: British Art from the Collection of Sir Alan Bowness features works by an array of significant mid-20th century British artists including major works by Patrick Heron, Peter Lanyon, William Scott and Allen Jones. It is the first time these rarely seen works will be displayed together, and the exhibition draws links between the collection and his long career in the arts. Some of the paintings are already in the collection of the Fitzwilliam – others will follow.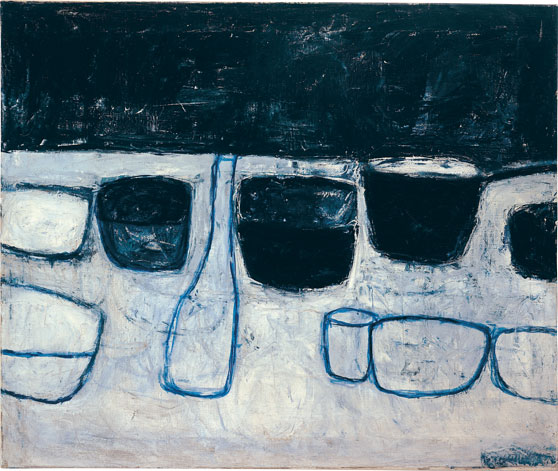 Blue Still Life by William Scott, 1957
Professor Geoffrey Grimmett, Master of Downing College, said:
"The new Heong Art Gallery at Downing will join with the Fitzwilliam Museum and Kettle's Yard in contributing to the appreciation of the visual art in Cambridge. The Gallery has been made possible with generous support from our alumnus Alwyn Heong. We are deeply grateful to the members of our Advisory Board for their commitment to the project, and to our outstanding architects Caruso St John.

A number of exciting exhibitions are planned, the first of which is of key works from the personal collection of our alumnus Sir Alan Bowness. We are immensely proud that Sir Alan has participated with such enthusiasm in the inauguration of this new venture at Downing College."
Sir Alan Bowness said:
"I am honoured to be invited to show works from my collection in Downing's beautiful new gallery – a wonderful asset for art in Cambridge. The paintings were all done in the late 50s and early 60s, which was I believe a great moment for British painting when major figures such as Scott and Lanyon came to prominence."
Architects Caruso St John have transformed the College's Edwardian stables into the new gallery space. This follows their 2009 redevelopment of the College's Dining Hall, which dates from 1818. The College was founded in 1800 and its beautiful neo-classical buildings, designed by William Wilkins, are set in spacious and peaceful gardens in the centre of Cambridge.
The exhibition is curated by Rachel Rose Smith and will be accompanied by an illustrated catalogue including an essay by Sir Alan Bowness.
Generation Painting 1955-65 British Art from the Collection of Sir Alan Bowness
The Heong Gallery at Downing College 6th February – 22nd May 2016
Free Admission www.dow.cam.ac.uk/gallery
Downing College
Downing is a College of the University of Cambridge which was founded in 1800 through a bequest made by Sir George Downing. It is home to a lively and diverse scholarly community, including about 420 undergraduates, 220 graduates and 50 fellows, supported by over 130 staff. The College's beautiful neo-classical buildings are set in spacious and peaceful gardens in the centre of Cambridge, close to many university departments. The Heong Gallery at Downing College designed by Caruso St John opens to the public in February 2016.
Members of The Heong Gallery at Downing College Advisory Board are: Frank Salmon, Downing College alumnus and Art History Department of Cambridge University, John Tancock, former Sotheby's Vice President and currently Chambers Fine Art in New York, Andrew Nairne, Director of Kettle's Yard, Tim Knox, Director of the Fitzwilliam Museum, George Bailey, former Sotheby's Commercial Director and head of Mallett, Louise Arnell, Trustee of The Pebble Trust, Hamish Dewar, art restorer, Sir David King, Former Master of Downing College and art collector, Gifford Combs, donor to the project and art collector, Sir Martin Kemp, Honorary Fellow and art historian, and Chris Bartram, donor to the project and art collector. The gallery's exhibition programme will reflect Downing College's connections with its alumni.
Caruso St John
Since its foundation in 1990, Caruso St John has been pursuing an architecture that is rooted in place. The practice resists the abstraction that characterises much global architecture in favour of buildings that are perceived slowly over time and that have an emotional content.
Following the practice's rise to prominence with the winning of the international competition for the acclaimed New Art Gallery Walsall, its engagement with the art world has been notable for the creation of museum and gallery environments that enjoy the confidence of artists. The practice is known for its willingness to negotiate the delicate intricacies of art institutions on an equal and genuinely collaborative footing.
Recent UK arts projects include the Millbank Project for Tate Britain, a suite of commercial galleries for Gagosian, Damien Hirst's Newport Street Gallery in London and the revival and extension of the Art Deco Liverpool Philharmonic concert hall.
The practice has also assembled a portfolio of projects that intervene in a city's urban fabric at the scale of an urban quarter. These include the 29,000 m2 Lycée Hotelier de Lille, a new head office for the Bremer Landesbank in Bremen, and the new ZSC Lions ice hockey stadium in Zurich, as well as substantial mixed-use developments in Munich, Hamburg, Antwerp and Zurich.
Sir Alan Bowness
Sir Alan Bowness was Director of the Tate Gallery between 1980 and 1988, and Director of the Henry Moore Foundation between 1980 and 1994. After studying at Downing College and the Courtauld Institute of Art, he was an active art critic in the 1950s. He curated two major exhibitions of contemporary art at the Tate in the 1960s, including 54/64 Painting and Sculpture of a Decade (1964) and Recent British Painting: the Stuyvesant Collection (1967). His work as a curator also includes historical and contemporary touring exhibitions for the Arts Council in the 1960s and 70s. As Director of Tate, he oversaw the development of the Clore Gallery, established the Turner Prize and made substantial acquisitions of modern and contemporary art. He was made a CBE in 1976 and knighted in 1988.
Categories
Tags