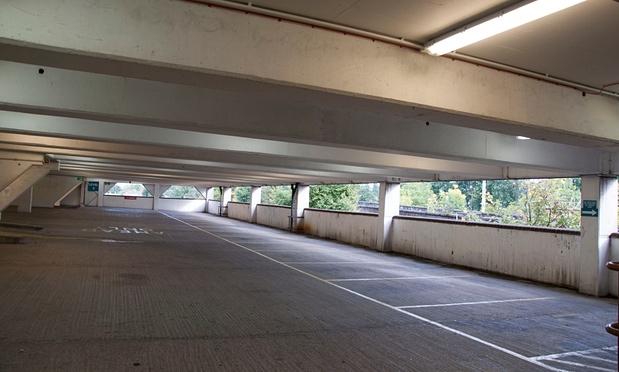 Bold Tendencies has been putting on art and music events at Peckham multistorey car park for nine years. Photograph: Alex Baldock
---
This article titled "Council rejects plans to turn London car park into 800 artists' studios" was written by Hannah Ellis-Petersen, for theguardian.com on Tuesday 10th November 2015 07.01 UTC
Southwark council has rejected plans that would have transformed a multistorey car park in south London into 800 affordable artists' studios.
The council has instead opted for a rival proposal for the building in Peckham from a Mayfair-based property developer.
Some of the most influential cultural figures in the UK, including the directors of the Tate Modern and the Serpentine Gallery, backed the Bold Home project, which would have provided much-needed cheap studios for artists at a time when such spaces are dwindling.
Southwark council opted for Pop Community Ltd's application, which will only offer 50 artists' studios in alongside "multi-use event spaces, pop-up retail and cafe/bar". The development is a partnership between Carl Turner Architects and multimillion property developers The Collective, a business which is likely to target "ambitious young professionals".
Bold Home was a grassroots collaboration between Bold Tendencies – a cultural arts organisation operating from the south London car park and run by local gallery owner Hannah Barry – and Second Home, a cultural venue run by Rohan Silva and Sam Aldenton.
Silva said the decision by the council to opt for 50 studios instead of 800 was worrying given the decline in spaces for artists in the capital.
"Artist studios in London are now critically endangered, and we need to take urgent action," he said. "The creative industries are one of the main drivers of growth and new jobs in London – if artist studios continue to be decimated in this way, all this will be at risk.
"Artists and creative startups have no trade union representation, and no voice whatsoever. That's why they're being squeezed out of the city, and we simply have to do something about it."
Since it began putting on art and music events at the multistorey car park nine years ago, Bold Tendencies have been credited as central to the cultural regeneration of the area in the past few years, hosting recent events by everyone from the singer Mica Levi to the artist Richard Wentworth. The venture has attracted more than 900,000 visitors to the area, thanks also to the popularity of the rooftop bar Franks, which has become a new London landmark.
But in a statement released after Southwark reached its decision, Barry and Silva both said it made the future of this art hub much more precarious, despite the council's assurance that they wanted Bold Tendencies to remain in the car park.
Silva said: "It's really depressing … you would have thought that Southwark council would want to support this kind of initiative, but sadly that's not the case."
He and Barry were adamant that the community of Peckham would have benefited from their plans, which included paying Southwark council £200,000 a year in rent. Artists in residence would have had to pay just £100 in rent a month, and they claim the plans would have supported 2,500 local jobs – compared with the 600 generated by Pop Collective's proposal.
The Collective, which won the bid, has also been criticised for a similar project nearby, Pop Brixton, which was described as a "community campus for local business". Pop Brixton has enraged some locals at what they believe was a substantial change in direction of the project from its original horticultural roots to a more business focussed venture.
The Bold Home project also had the backing of some of the most notable cultural figures in the art world, including the co-directors of the Serpentine Gallery, Julia Peyton-Jones and Hans Ulrich Obrist; Tate Modern's outgoing director, Chris Dercon, and Wentworth, a former professor of sculpture at the Royal College of Art. They all expressed concern about how artists were being driven out of both London and the UK as soaring property prices made the capital increasingly unaffordable.
The issue was made particularly stark last year when a former biscuit factory in Bermondsey, south London, which was home to 400 artists, was sold and converted into 800 flats.
"As London is eating itself, gradually becoming another Dubai or Mumbai, initiatives such as these are increasingly becoming vital to keep London alive," said Dercon. "Artists are capable of steering a city away of becoming a ghetto for purely financial gain … Yet artists need spaces for living and working to lead a meaningful life in an otherwise meaningless city."
Gregor Muir, director of the ICA, spoke of his concern that the decline in studio spaces in the city was having a noticeable impact on Britain's contemporary art scene.
"London is now cooling at the level of artistic production owing to a sharp decline in artists' studio provision," he said. "Without spaces in which to work, artists can't make things. They can't test their ideas or evolve their practice."
Muir added: "Turning a derelict car park in Peckham into studios and exhibition spaces for artists would have clear and obvious benefits for the local community and beyond."
A spokesperson for Southwark council defended its decision, saying: "We felt generally that Bold Home didn't quite fit into the vision we had for the space, as a place that could be used by the people of Peckham.
"The whole point of this interim project was so we could create a lot more mixed and open spaces in Peckham car park that can be used by the community, and the plans submitted by Bold Home would have made it more into the style of an office block. The car park is a public space and we didn't just want it to become just a closed artist commune."
The council also stressed it had chosen the Pop Community project because it was being designed by the same architects who are transforming Peckham's library square, and have "a long-term relationship with Peckham and know the area very well".
Southwark said it still had a pledge to create more affordable artists' studios in the long term in places such as Canada Water.
guardian.co.uk © Guardian News & Media Limited 2010
Published via the Guardian News Feed plugin for WordPress.
Categories
Tags