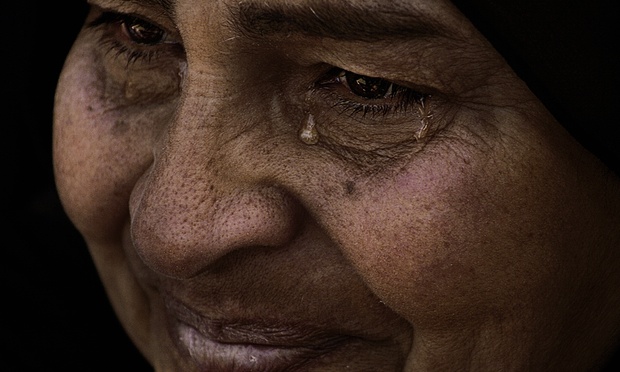 Faces of a revolution … Safeya's Tears, 2012, by Laura El-Tantawy Photograph: Laura El-Tantawy
This article titled "Deutsche Börse photography prize shortlist: drones v the women of Tahrir" was written by Sean O'Hagan, for theguardian.com on Thursday 5th November 2015 11.05 UTC
The shortlist for the 2016 Deutsche Börse photography prize is dominated by artists who engage with contemporary politics and social issues, from drone warfare to refugee activists in Africa.
Egyptian photographer Laura El-Tantawy is nominated for her self-published book, In the Shadow of the Pyramids, which mixes images taken in Cairo during the build-up to the 2011 revolution in Tahrir Square with her lyrical accounts of the events and old family photographs. Tobias Zielony has photographed the everyday life and struggles of African refugee activists in his native Germany for his exhibition The Citizen. Images from Berlin and Hamburg are punctuated with first-person written accounts of their experiences, and interviews conducted by him.
American artist Trevor Paglen, whose work tackles mass surveillance and data collection, has been chosen for his project The Octopus – an installation that includes pictures of restricted military and government areas and the flight paths of drones. Paglen is one of the most conceptually adventurous political artists working today, and has collaborated with scientists and human rights activists on his always ambitious multimedia projects. (The presence of the respected politically committed artist, Alfredo Jaar, on this year's jury seems to be a key factor in the makeup of the shortlist.)
The fourth, and perhaps most surprising, nominee is the Dutch maverick Erik Kessels, who is best known as a book publisher specialising in absurdist found photography. He has been nominated for the poignant show Unfinished Father, in which he filled a gallery space with his father's photographs of car parts – alongside actual parts of a Fiat 500 Topolino his father was doing up when he suffered a stroke that left him physically impaired, hardly able to move.
"This year's four nominees address some of the most urgent political and social issues of our time," says Brett Rogers, director of the Photographers' Gallery in London and chair of the jury. "All these subjects are of great consequence and relevance today – and one which photography, as a multifarious and accessible medium, is uniquely suited to explore."
There is much to admire in the breadth of this year's shortlist. The nominations of El-Tantawy and Zielony show how photography has increasingly become a medium for a new kind of visual storytelling, one that merges the intimate and personal with the social and political. The distance between Paglen's ongoing grand project – the murky world of global state surveillance and the ethics of drone warfare – and Kessels's acutely personal reflection on family, memory and loss also highlights the massive range of photography practice today.
As always, there are some notable omissions. I would have bet on the young and much-touted Japanese artist, Daisuke Yokota, making the shortlist. His live performances (where he makes books and prints either by applying acid or flame to images, or by multiple rephotographing and printing) have pushed the boundaries like no one else of late. Then again, he is young and his chance will come. I'd also have like to have seen Regine Petersen in there, too, for her book Find A Fallen Star about people who have close encounters with meteors – visual storytelling at its most magical.
It's a solid shortlist, if not altogether groundbreaking. But its political thrust is an encouraging sign that photography is once again engaging with the real world in new and surprising ways.
Works by the shortlisted photographers will be exhibited at the Photographers' Gallery from 16 April until 26 June 2016. The winner will be announced in May 2016.
guardian.co.uk © Guardian News & Media Limited 2010
Published via the Guardian News Feed plugin for WordPress.
Categories
Tags