Saatchi started the trend of art exhibitions focusing on the wealth of talent from the African continent. Rather than a trend, it has become a balancing act. Art is global and it should reflect that. Last year 1:54, an art fair specialised in African art, stole the show during Frieze Week.
Emma Menell, the director of the Tyburn Gallery in Marylebone, commented:
"In recent years, we have seen contemporary African artists become more visible in the institutional circuits of museums and international biennales. As they should be, artists from Africa are increasingly presented alongside the work of their international peers. Tyburn Gallery opened Broken English featuring 15 artists in September and it has been fantastic to see so much interest from both the public and collectors. The exhibition continues until 28 October and will be followed by a solo exhibition of work by Zimbabwean artist Moffat Takadiwa."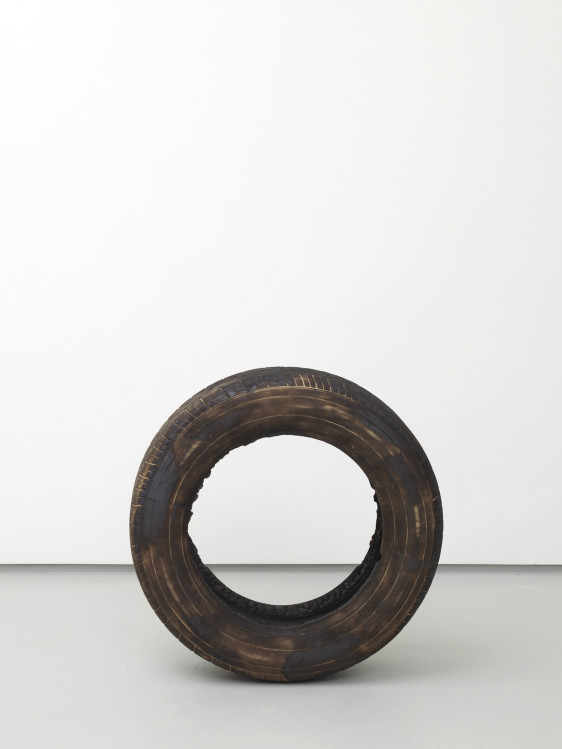 Untitled (Tyre) by Rowan Smith. Courtesy the artist and Tyburn Gallery
Kwame Akuffo, who founded the virtual gallery AFRIKart in 2004, is presenting a selection of some of the most exciting artists from Africa today at the Strand Gallery, off Trafalgar Square, from the 20th to the 24th of October, to then, move to be the inaugural exhibition at the New Africa Centre in Bermondsey, from the 27th of October to the 6th of November.

Ato Delaquis on the occasion of a retrospective of his drawings at the National Museum in Accra, Ghana. Courtesy the artist and CCTV Africa
Ato Delaquis, who has had a retrospective at the National Museum in Accra, Ghana, creates brightly coloured paintings deceptive at first as a touristic commodity; a closer look uncovers a reality that can be harsh and challenging. Anne Blankson-Hemans, who received great reviews from the BBC's Big Painting Challenge, a landscape and portrait painter from Ghana, displays a superb easiness in the use of bold colours, confident characters in the story of their life. Strongly influenced by Impressionism and, perhaps, Klimt. Bruce Chidovori, a Zimbabwean artist based in London, moves between Abstract Expressionism, Minimalism and Urban Art with impressive effortlessness and craftsmanship. Finally, the Ugandan Stephen Gwoktcho is an outstanding contemporary and portrait artist with an unexpected and cheeky twist.

Men Resting in Marrakesh by Anne Blankson-Hemans. Courtesy the artist and AFRIKart
Akuffo has kindly agreed to respond to the following questions:
As the curator of the exhibition, you travelled through Africa to select the artists. Can you please let us know why you selected those artists?
The four artists were selected to represent the development of artistic styles from artists who operate from perspectives that covered realism to abstraction from three different corners of the continent. The final criterion was based on historical links between the artists and curator. Delaquis and Gwoktcho are lecturers. Anne was a student of Delaquis at both Secondary school and University and Chidovori was added to the team to bring a totally different perspective to the works.
Do you think African Art in under-represented in the contemporary art scene? Are you hoping to address that in the show?
There are three or four well-known contemporary African artists of African origin in the UK and a handful of well-known ones such as El Anatsui and Ben Enwonwu, who are Africa-based. There are a great number of brilliant and celebrated contemporary artists living and working in Africa whose works are as inventive and great as any and will sit well in any museum, private collection or great offices.

Graffitiesque by Bruce Chidovori. Courtesy the artist and AFRIKart
Where did the title From African Realism to Contemporary Modernist Classics come from?
The title plays upon the difficulty European and western art experts have in relating to art by artists of African Origin. As it happens, realism, quirkiness, abstraction and masterpieces are to be found in the exhibition. The term Masterpieces would have been used in the title, but modesty from Delaquis persuaded me to drop the phrase.
What would you like the members of the public to take away once they have seen the exhibition?
I would like visitors to go away with some amazing paintings or memories of the range of sophistication and expertise and an understanding of the huge and explosive range of contemporary reality and possibilities emanating from within the continent and from the diaspora. I would like the public to see, and appreciate why Delaquis is a very special painter and why he has been lauded over 50 years as a professional artist. In particular I would like the public to remember and love his colour modulated panoramic views. There are some great contrasting works to be seen from Blankson, Hemans, Chidovori and Gwoktcho illustrating the dynamism of Artists from the continent.
A unique opportunity to explore much further than the usual suspects. Discover art. Discover Africa.
20 – 24 October, 11am-6pm daily, From African Realism to Contemporary Modernist Classics, The Strand Gallery, 32 John Adam Street, off Trafalgar Square, London WC2N 6BP www.afrikartgallerie.com
27 October – 6 November, 11am-6pm daily, closed on weekends. New Africa Centre, 66 Great Suffolk Street, Bermondsey, London SE1 0BL.
18 September – 18 October, 10am-6pm Tuesday-Friday, Saturday 10am-5pm, Broken English, Tyburn Gallery, 26 Barrett Street, Marylebone, London W1U 1BG. www.tyburngallery.com
15-18 October, 12 noon – 8pm Thursday-Saturday, 12 noon – 6pm Sunday, 1:54 Contemporary African Art Fair, Somerset House, Strand, London, WC2R 1LA. www.1-54.com/london
Table Top Bargains by Ato Delaquis. Courtesy the artist and AFRIKart
About Lorenzo Belenguer