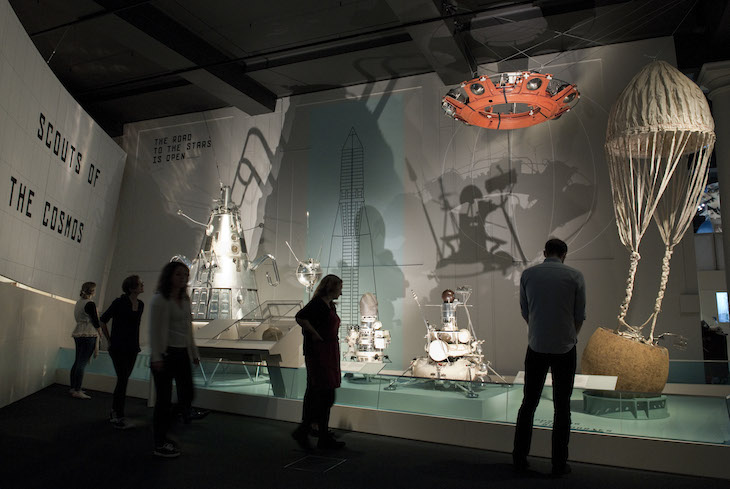 Putting a man into space is still heralded as one of the greatest achievements of humanity. But the space race was between two nations, the USA and Soviet Union, and as the UK was on the other side of the cold war the Soviet space programme is not as well known to us as it should be.
This exhibition seeks to remedy it with a great mix of spacecraft, large scale models, memorabilia and artwork. There are plenty of models of Russian craft including the first craft to land on Venus and the capsule used to simulate the 5oo day mission to Mars. Even at a smaller scale and despite the fact that space technology has moved on, it's still awe inspiring.
One thing I wasn't expecting was there to be a significant amount of art on show. This includes a sketch for an unrealised monument to Cosmism as a cosmonaut appears to burst forth from the ground and a propaganda poster of a Soviet worker holding a rocket — cementing the ideal that it's the common worker powering the Soviet efforts in the space race.
There is deservedly a focus on Valentina Tereshkova as the first woman in space, but a large chunk has to be dedicated to Yuri Gagarin as the first person in space – his military uniform still looks pristine despite it being over 50 years old. What came as a big surprise was the hero's welcome he received as he toured London after his landmark achievement. The people of the UK, including politicians and royalty put aside the frosty tensions between the two countries and came out to celebrate one of the greatest human endeavours.
These are some of the highlights of this fantastic exhibition, that is both insightful and well curated.
Cosmonauts: Birth of the Space Age is on at Science Museum until 13 March 2016. Tickets are £14 for adults.
Categories
Tags