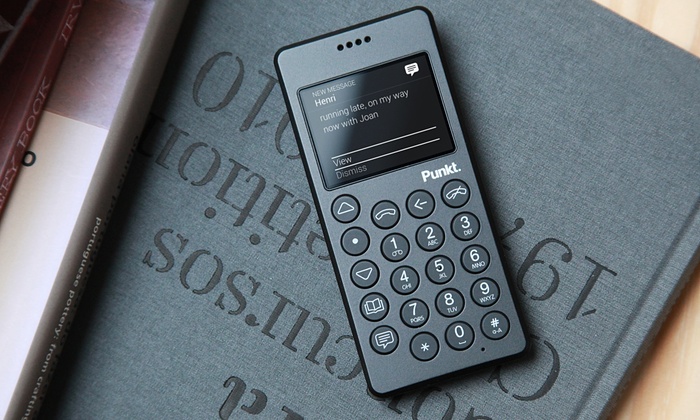 ---
This article titled "Smartphone backlash: the mobile that gives you your life back" was written by Giovanna Dunmall, for theguardian.com on Tuesday 22nd September 2015 13.31 UTC
"I think the 'always on' life is probably even worse than having a poor diet," says Petter Neby, founder of Swiss consumer electronics company Punkt. "Every day we are consuming more trash, and becoming more detached from real life and the ability to deal with situations head-on. Just look around, it's a disaster – and the sociological issue of our times."
Neby is an ebullient man on a mission, an entrepreneur who wants us to rediscover the lost art of conversation and the spontaneous beauty of chance encounters. That's why his company, founded in 2008, makes sleek and easy-to-use devices that do one thing very well, but nothing more, allowing you to focus on "having a life and living", as he likes to say – something technology often derails.
Punkt's latest product, the MP 01, is a back-to-basics mobile phone. Launched at the London design festival, and designed by the British industrial designer Jasper Morrison, Punkt's artistic director, the phone is a pared-down black affair with slightly raised, rounded buttons and a gently angled shape that makes it easy to hold.
But it's the MP 01's functional simplicity that sets it apart from today's smartphones. Users can make and receive calls and texts, check a calendar for dates, store 3,000 contacts in the address book and leave themselves reminder notes on the home screen. And that's it. Unlike the so-called brick or flip phones of yore, however, it can import phone contacts from a computer via USB cable and can be used with the same phone number as your smartphone, when twinned with your SIM card.
Morrison and Neby believe the tide is turning against intrusive technology that endlessly demands your attention. "I think we are more aware than before of feeling stupid looking at our screens," says Morrison. "And the objects themselves have become so big that they are just not that handy for making calls any more. I think there is a niche. A couple of years ago I wouldn't have said that, but it's gone our way since we started designing it."
He's right. There is a growing appetite and market for products and apps explicitly aim ed at helping the user "shut off". There's the yet-to-launch Kickstarter-backed Light Phone, a credit-card-sized phone "designed to be used as little as possible". It only takes and makes calls, and works either on its own or in conjunction with your existing phone thanks to a simple call-forwarding app. Elsewhere, French company Lekki has been successfully selling "revamped" classic Nokia phones, while Microsoft relaunched the basic Nokia 105 in June.
But will a desire to rebalance our tech-mad lives translate into a £229 investment for what is essentially a second phone that only allows talk and texts? "We are quite realistic: we are not out to replace the iPhone," says Morrison. "But as smartphones get bigger and bulkier, there is a place for something small and simplified, without all the functions."
Neby says he has been using the MP 01 phone all summer, but only at night or at the weekends. "My smartphone is my office but when I come back in the evening my office hours need to stop. And so I switch it off." If he needs to make a call to someone later in the evening, there is no chance of him seeing any of the distracting notifications that have accumulated on his smartphone, no temptation for him to engage. "With a smartphone if you are not very disciplined you are suddenly drawn in," he says. That's why Neby decided to ditch his smartphone when he went on holiday. "It was such a relief. I don't think I had a 100% holiday in years."
And that's what it comes down to. The prospect of taking a single-function phone on holiday is terrifying, but almost certainly worth trying – for that sense of freedom and liberation that comes from doing something other than staring at a screen for a change. Or even nothing at all. As Neby says: "This is about taking back your life. It's serious stuff."
This article was amended on 22 September 2015. An earlier version referred to the MP 01 mobile phone costing £219 rather than £229
guardian.co.uk © Guardian News & Media Limited 2010
Published via the Guardian News Feed plugin for WordPress.
Categories
Tags