Ahead of EUROPA the first UK survey of artist Emily Jacir FAD caught up with the curator of the show Omar Kholeif to ask him a few questions about the show and the artist.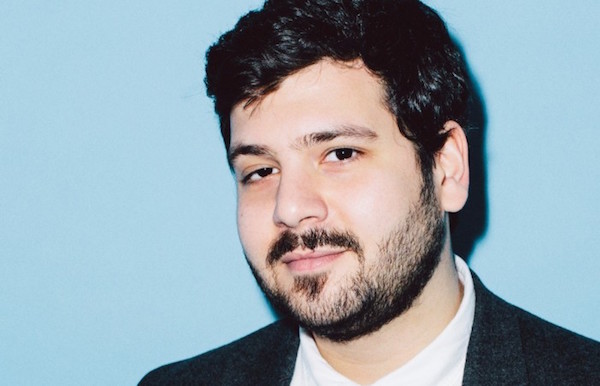 Omar Kholeif Photo: Eric T. White via Enterteiment

Emily Jacir, Lydda Airport, 2009. Photo: Jason Mandella © Emily Jacir, courtesy Alexander and Bonin
1 How long have you been working on the show? And how involved has Emily been in its curation?
I've been working on Emily's show for 2 years now. Emily has been very involved with every element of the exhibition and conceptualised the idea of focusing on her works which have a relationship to Europe. It has been an incredible experience working closely with Emily and shaping what will be her first major UK survey with works running from 1998 to the present.
2 Can you tell us about some of the highlights of the show
I think all of the works in the exhibition are significant in different ways as they illustrate the different facets of Jacir's diverse practice. I am particularly excited to be staging the very ambitious work Material for a Film (2004-ongoing) a major project by the artist which won a Golden Lion at the Venice Biennale. It tells the story of the assassinated Palestinian intellectual Wael Zuaiter who once lived in Rome. I am also thrilled that we will be featuring Lydda Airport (2009), an installation that looks at the British's relationship to Palestine, and tells a strange story that Jacir had heard about a supposed visit by Amelia Earhart to Palestine.
3 Do you feel the themes of Emily's work are particularly relevant given the current movement of refugees.
I don't tend to think that an artist's work should be read literally against social and political events; rather I like to think of all art as discursive, creating spaces for debate. People can make their own interpretations and I am sure there will be much for audiences to debate in Jacir's exhibition at the Whitechapel Gallery.

Emily Jacir, Lydda Airport, 2009. Photo: Jason Mandella © Emily Jacir, courtesy Alexander and Bonin,. Emily Jacir 2008 Hugo Boss Prize
4 Is this the kind of show you need to visit a few times to take it all in?
It really depends on the kind of visitor; or the kind of visit you wish to take; I do think that the exhibition has various entry points; some works are very immediate and others demand the viewer takes time to pause for reflection. I would encourage viewers to spend at least an hour in the exhibition ideally. The longer, the better of course. As a curator, I'm passionate about exhibitions and will often visit a show half a dozen times during its exhibition run.
5 How do you feel when a show you have curated finally opens?
It's always an incredibly exciting feeling, one of relief, and elation in equal measure. However, as a curator our roles are very busy and we are usually immediately onto the next big project. Personally, I always makes sure to take time to reflect on each show after its up – to consider what could be done differently the next time I work with the artist or with a given subject; it's all an ever evolving learning experience.
Emily Jacir: Europa 30th September 2015 – 3rd January 2016, Galleries 1, 8 & Victor Petitgas Gallery (Gallery 9) Whitechapel Gallery, 77 – 82 Whitechapel High Street, London E1 7QX.www.whitechapelgallery.org
Related Event: Curator-led Tour 22nd October, 7.30pm Omar Kholeif on Emily Jacir: Europa Free Book HERE
The show's curator Omar Kholeif explores themes of resistance, migration and politics through two decades of sculpture, film, drawings, large-scale installations and photography.
About The Artist
Emily Jacir solo exhibitions include: Darat al Funun-The Khalid Shoman Foundation (2014), Beirut Art Center (2010), Guggenheim Museum, New York (2009); Kunstmuseum, St. Gallen (2008); The Khalil Sakakini Cultural Centre, Ramallah (2004); and the O-K Center for Contemporary Art, Linz, Austria (2003). Her work has been included in group exhibitions at the Museum of Modern Art, New York; San Francisco Museum of Modern Art (SFMOMA); Fondazione Sandretto Re Rebaudengo, Turin; dOCUMENTA (13) (2012); Venice Biennale (2005, 2007, 2009, 2011 and 2013); 29th Bienal de São Paulo, Brazil (2010); 15th Biennale of Sydney (2006); Sharjah Biennial 7 (2005); Whitney Biennial (2004); and the 8th Istanbul Biennial (2003). In 2003 O.K. Books published belongings. a monograph on a selection of Jacir's work, and a second monograph was published by Verlag Fur Moderne Kunst Nurnberg (2008) with her book ex libris published in 2012 by Buchhandlung Walther König, Köln. Jacir is the recipient of several awards, including a Golden Lion at the 52nd Venice Biennale (2007); a Prince Claus Award (2007); the Hugo Boss Prize (2008); the Herb Alpert Award (2011); and the Rome Prize (2015). She is a professor at the International Academy of Art Palestine in Ramallah (2006 – present) and is on the faculty of Bard MFA, Annandale-on-Hudson, NY. She has curated several Arab and Palestinian film seasons for New York city with Alwan for the Arts (between 1999 – 2002), conceived and co-curated the first Palestine International Video Festival in Ramallah in 2002 with John Menick, and curated the selection of shorts Palestinian Revolution Cinema (1968 -1982) which toured in 2007. She lives and works around the Mediterranean.
Further Reading:
Art and Palestine: complicated positions : Financial Times
Categories
Tags