Christie's has just announced the up coming launch of "+86 First Open", a new initiative and sale providing a global platform and a fresh perspective on Chinese contemporary art. +86 will be launched in New York and Shanghai this autumn. Referencing China's international dialling code, +86 will introduce an international programme of exhibitions, lectures, art forums, private sales and auctions, reaffirming Christie's vision and dedication to this category.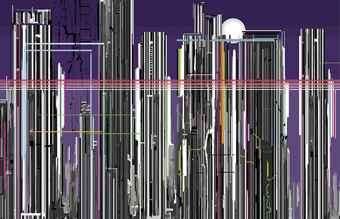 Purple Air by Liu Wei (b. 1972)
The sale features paintings, photographs, installations and videos by artists including Liu Wei, Zhang Enli, Qiu Xiaofei, Qu Fengguo, Chen Xiaoyun, Ouyang Chun, Huang Yuxing, Chen Qiulin, Tu Hongtao, Xu Zhen, Shi Zhying, Sun Xun, Ran Huang and Chen Tianzhuo.
Jinqing Cai, President of Christie's China, declared:
"Spurred by the socio-economic and cultural changes, Chinese contemporary art has regained a new vitality, while its enthralling creative energy continues to capture the world. By presenting a panoramic vision of emerging Chinese artists at Christie's Shanghai this autumn, we look forward to becoming an integral part of the current contemporary art dynamic, and a catalyst of future growth of the art world in China."
Offered at Christie's Shanghai on 24th October, the inaugural +86 auction will be launched in New York, during the 10th anniversary of First Open, with an exhibition of selected works on view from 26th to 29th September at the Rockefeller Center. The sale's highlights will also tour to Chengdu and Beijing in October, before the sale in Shanghai. More Info:www.christies.com
About Mark Westall