TRACEY EMIN Love Is What You [Signed] 2015 Poster 70 x 50 cm Edition of 500 £50 Inc. VAT
You can get a limited edition signed Tracey Emin poster this bank holiday weekend at The Vauxhall Art car Boot Fair. Lured by the sea, the light, the eccentric and the eclectic, the iconic Vauxhall Art Car Boot Sale is heading to Turner Contemporary in Margate this August bank holiday weekend – Sunday 30th August – for one day only.
Now in its eleventh year it will be held in Margate (for the first time), where regulars from its original Brick Lane roots, such as Mat Collishaw, Tracey Emin and Polly Morgan will be selling in person affordable editions of their art to the public.
The fair, continues to attract thousands of visitors each year, many of whom are drawn by the chance of a bargain and the chance to buy outside of the gallery system.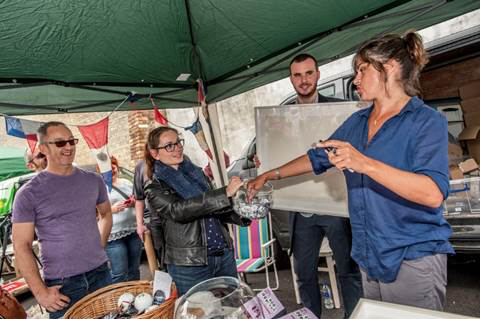 About
The first Vauxhall Art Car Boot Fair was held in London in 2004 with a line-up of around 30 artists including Gavin Turk, Abigail Lane, Mat Collishaw, Fiona Banner and Bob & Roberta Smith. It has been held every year since, except for 2005. The main aim of the Art Car Boot Fair is to be a day when the artists let their hair down and for all-comers to engage with art and the artists in an informal way, and to pick up some real art bargains to boot.
The Vauxhall Art Car Boot Fair is a fun and exciting one day event combining a car boot sale and an art fair. Originated and produced by Karen Ashton, a curator and independent art consultant and writer, the ideas behind the Vauxhall Art Car Boot Fair developed out of Joshua Compston's 'Fete Worse than Death' and Gavin Turk's 'Livestock Market' and 'Articultural Shows', Hoxton based events that blazed a trail in the late 90's. The first Vauxhall Art Car Boot Fair picked up where they left off with the intention of re-introducing some summer fun and frivolity into a thriving but increasingly commercial London art scene.
Participation as an artist in the Vauxhall Art Car Boot Fair is by invitation only. There is no pitch fee and no transaction with the organisers. The event works with well-known and up and coming artists who all buy into the idea of making their work accessible to a wide audience on the day. The event now features a line-up of over 70 artists. www.artcarbootfair.com.
The full list of featured artists for Margate includes:
Tracey Emin & Emin International, Gavin Turk, Vic Reeves and Michael Hogben, Rachel Howard, True Rocks, Holly Allan, Jessica Albarn, Lizzy Rose & Kate Hare, Crate including Charley Vine and Leigh Clarke, Limbo including Paul Hazelton, David Price, Tessa Farmer, Steve McPherson, Tasha Marks (AVM Curiosities), Sarah Wicks, Sarah Craske and Katie Welsford, Resort including Dan Chilcott , Charlie Evarist Boyce, Crowther/Plant, Jo Elbourne and Jason Pay, Kate Harrison, Steve Ibb, Nick Morley, Heidi Plant, Julia Riddiough, Sara Wicks, Rachel Wilberforce, Leise Wilson and Angeli Yara, Bon Volk Studios, Tinsel Edwards and Twinkle Troughton, Nicole Mollet and the Kent Cultural Baton, Tom Thumb Theatre and Jessica Jordan-Wrench, BeDRAGgled from Amy Redmond / SINK The PINK, Sir Peter Blake, Soul Fast Food, Kristjana S Williams, Moniker Projects, Turps Painters, Bumble and Earwig, Alice Herrick & KEELERTORNERO, Hantverk & Found with C.A.Halpin, Angela Frederico, Tom Swift, Jason Pay, Sam Zine, Alteria Art, Binnie Sisters, Wilma Johnston, Silvia Ziranek, Dolores De Sade, Marty Thornton, Art on a Postcard with Rankin, Robert James Clarke, Ray Richardson, Dougie Wallace, Hayden Kays, Cosmo Sarsen, Margo Bowman and Benjamin Murphy for the Hepatitis C Trust · David J Batchelor · Frances Richardson · Jake Clarke · Kate Knight · Joseph Gibson · The Juncture ·Andrew Cunningham · Cultivate feat. Sean Worrell, Emma Harvey, Quiet British Accent and Julia Maddison · Dylans Mobile Book Store · Francis Thornburn· Swifty ·Lucy Soni · Jealous Gallery · Club Shepway · Paul Sakoilsky · Mark Jones · X-ray Fog, Ian Dawson and The Copy Shop.
Categories
Tags