New Zealand has re-opened the doors to its contemporary art museum in New Plymouth, the Govett-Brewster Art Gallery, with a new addition dedicated to the pioneering filmmaker and kinetic sculptor Len Lye. The opening this Saturday 25th July is the culmination of more than three decades' commitment to realising a permanent home for Lye's work, a significant collection and archive of more than 18,000 items.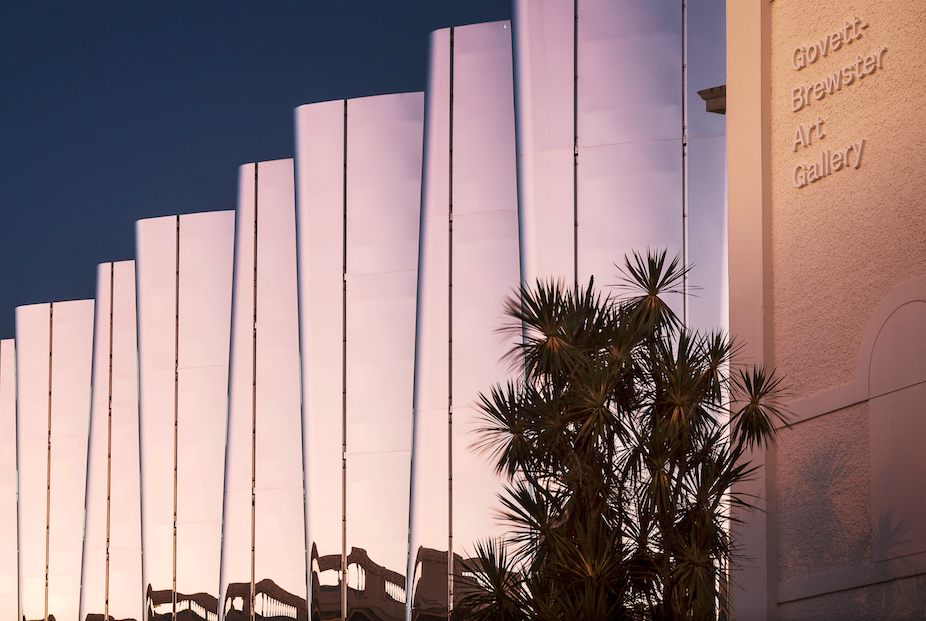 The Len Lye Centre, designed by New Zealand's Patterson Associates, is the repository of the works, archive and spirit of Len Lye (1901–1980). The new Len Lye Centre features Lye's work in kinetic sculpture, film, painting, drawing, photography, batik and writing, as well as related work by contemporary and historical artists.
Simon Rees, Govett-Brewster Art Gallery Director, commented:
"The centre's expansive exhibition spaces, research archive, learning centre, and 62-seat cinema provides the Govett-Brewster the means to truly research, exhibit and disseminate the unique work and vision of Len Lye. The addition of the Len Lye Centre enables a new international connectivity, especially through its cinema, and brings the museum into contact with the modern in a productive way"
says Rees.
The Len Lye Centre building, adjoining the Govett-Brewster Art Gallery, is an example of innovative thinking in both engineering and architecture. The architects, Patterson Associates, are one of New Zealand's most internationally recognised architectural firms. A temple for art, the space creates a sensory experience of light that Len's legacy inspires. The external stainless steel façade echoes the artist's use of the metal in many of his kinetic sculptures, and the futuristic style of the building acts as a counterfoil to the neighbouring Govett-Brewster's more traditional lines. It also houses a state-of-the-art 62-seat cinema – a welcoming environment for audiences to experience Len Lye's films, local and international cinema, arthouse and experimental films, and regular film festival programming. In 1964Len Lye said "Great architecture goes fifty-fifty with great art"
Born in Christchurch, New Zealand in 1901, Lye spent most of his career as an artist in London and New York where his work was displayed in some of the most influential exhibitions of their time, such as the 'London International Surrealist Exhibition' curated by Herbert Read in 1936, and 'Directions in Kinetic Sculpture' at the Berkeley Art Museum in 1966. Today his sculptures are held in the collections of the world's most prestigious institutions of modern art including the collections of several major art museums, such as the Whitney Museum of American Art in New York and the Art Institute of Chicago. Lye's film work is included in the New Zealand film archive, the British Film Institute and the Museum of Modern Art (MoMA), New York.
Lye exhibited at the Govett-Brewster in 1977 and falling in love with the energy and landscape of New Plymouth, he chose the contemporary art museum to be the home of Len Lye. Just months before his death in 1980, Lye established the Len Lye Foundation to continue his artistic vision, gifting his entire collection and archive to be cared for by the Govett-Brewster.
Simon Rees says Lye was attracted to the Govett-Brewster because since its opening in 1970 it has forged a reputation for ground breaking exhibition making, and producing projects with artists at fulcrum moments in their careers: the inaugural exhibition was given over to a 23-year old artist, and Lye's 1977 exhibition was the first survey of his work.
The museum has an important relationship (spanning three generations) with New Zealand artists such as Billy Apple, Mladen Bizumic, Fiona Clark, Don Driver, Peter Peryer, and Peter Robinson, and the strong collection of Colin McCahon works. Plus it has exhibited work by a range of renowned international artists ahead-of-the-curve including; Makoto Aida (2004), Candice Breitz (2003), Luke Fowler (2003), Christian Marclay (2001), Maix Mayer (2002), Jonathan Monk (2000), Pae White (2002) and Christopher Williams (2001).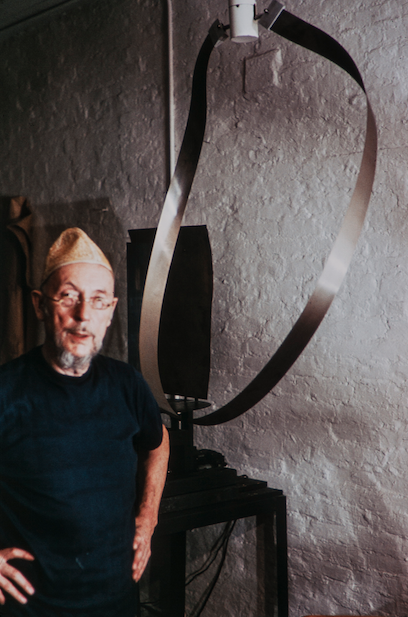 Len ley with Flip in the artist's studio 1960's' courtesy Len Lye
About The Artist
A visionary New Zealander, an inspirational artist, a pioneer of film; Len Lye is one of the most important and influential artists to emerge from New Zealand. Len Lye was an experimental filmmaker, poet, painter, kinetic sculptor and creative visionary ahead of his time. Most of his works were so revolutionary that technology literally had to catch up to him – meaning much of Lye's work was not realised in his own lifetime.
Lye's iconic 45-metre kinetic sculpture Wind Wand sways gently on New Plymouth's Coastal Walkway. The Wind Wand that glows red at night is the first large outdoor sculpture to be built posthumously from his plans and drawings.
In 1977 Lye returned to his homeland to oversee the first New Zealand exhibition of his work at the Govett-Brewster Art Gallery. He called it the "swingiest art gallery of the antipodes". Shortly before his death in 1980, Lye and his supporters established the Len Lye Foundation, to which he gifted his entire collection. His collection was gifted on the condition that a suitable and permanent home be created in which his works could be fully realised. The Len Lye Centre will be New Zealand's first art museum to be dedicated to a single artist.
Len Lye Curator Paul Brobbel says Len Lye fused the European avant-garde with the rhythms of his South Pacific home. Arriving in London in the mid-1920s, he impressed his British peers like Ben Nicholson and Robert Graves with his Brancusi-like sculpture and Antipodean flavoured paintings.
Brobbel commented: "Several years exhibiting with Britain's Seven and Five Society and befriending a number of the leading artists he exhibited with placed Lye in strong company. Never a card carrying member of any movement or clique, Lye preferred to follow his own path, establishing himself in the 1930s as a leading proponent of experimental film through his development of 'direct' animation. His inventive and flamboyant approach to film produced masterpieces such as A Colour Box (1935) and Trade Tattoo (1937), each a thrilling showcase of what the artist could achieve applying images to celluloid without the use of camera."
A mid-career move to the United States in 1944 connected to a project commissioned by Presidential Candidate Wendell Willkie put Lye into a new scene, the thriving cultural capital of post-war New York. A new wave of film experiments established Lye in the American film underground. Lye's film masterpiece Free Radicals (1958) marked him as the abstract-expressionist film maker par excellence before he diverted his practice into the realm of kinetic sculpture. Just a year after Jean Tinguely's historic sculpture Homage to New York (1960) performed at New York's Museum of Modern Art, Lye's 'tangible motion sculpture' performed at the same venue.
By the mid-1960s, Lye was recognised as one of the most compelling artists working in the field of kinetics with the violent and chilling Trilogy (A Flip and Two Twisters) applauded as a standout work in Peter Selz 1966 exhibition at Berkeley.
About Mark Westall