Exhibits from the Rise of Sneaker Culture at the Brooklyn Museum. Photograph: Handout
---
This article titled "Evolution of sneakers explored at Brooklyn Museum exhibition" was written by Lanre Bakare, for theguardian.com on Wednesday 8th July 2015 18.58 UTC
They've evolved from practical, streamlined sportswear to high-end fashion statement designed by the likes of Prada, with rare pairs selling for thousands of dollars. Now the impact of sneakers on popular culture is the focus of a new exhibition at the Brooklyn Museum in New York.
The Rise of Sneaker Culture is a comprehensive guide to how and why the footwear transitioned from sports accessory to fashion statement, signposted by landmark moments in that evolution such as the design and distribution of the world-famous Air Jordan shoe.
Divided into six sections (1830s to 1920s; 1920s to 1970s; 1970s to 1980s; 1980s to present day; and areas dedicated to Air Jordan and another for sneaker design), it's curated by Elizabeth Semmelhack, senior curator at the Bata Shoe Museum.
Rare pairs of sports shoes such as a replicate pair of Michael Johnson's gold spikes, which he wore at the 1996 Atlanta Olympics, sit alongside the futuristic Special Forces Boot that Nike produced for military use.
Both of those were designed by Tinker Hatfield and designers and the creative process of sneakers is one of the main focuses in the exhibition. There's mentions for fashion designers and artists who have turned their hands to sneakers (Rick Owens, Damien Hirst), but just as much space goes to the likes of Paul Litchfield (who designed the Reebok Pump) and Eric Avar (Nike's Foamposite), who attempted innovations that didn't always catch the public imagination.
Alongside the cabinets and rows of footwear are videos that chronicle the stories that surrounded the sneakers. Moments such as Jesse Owens's victory at the 1936 Olympics, Stan Smith's matches against Ilie Nastase and the moral panic caused by a spate of murders related to sneaker thefts all feature and provide context among the consumerism.
"Shifting the sneaker's context from street to art museum revolutionises our understanding of this item of visual culture," said Pauline Willis, director of the American Federation of the Arts. "By viewing sneakers within the museum, their radical cultural significance is revealed."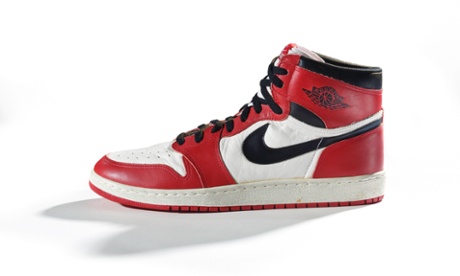 The private collection of Darryl "DMC" McDaniels is also featured, and his group Run-DMC's song My Adidas is used as a jumping off point to explore the way sneakers were elevated to fashion statement, status especially among African American communities, as celebrities like Spike Lee and Michael Jordan fronted Nike adverts.
The "Air Jordan wall" is one of the highlights and chronicles the franchise's development from rudimental basketball shoe to the more outlandish designs that Tinker Hatfield worked on and turned into touchstones for shoe and sportswear design (which still nets Jordan $100m per year).
The Rise of Sneaker Culture will be at the Brooklyn Museum from 10 July to 4 October, entrance from $10 to $16.
guardian.co.uk © Guardian News & Media Limited 2010
Published via the Guardian News Feed plugin for WordPress.
Categories
Tags