London based artists Emma Hart and Jonathan Baldock's first collaboration 'SUCKERZ' is a beautifully grotesque analysis of the absurdly ritualistic world of the dinner party. Their monstrously fantastical creations are displayed, throughout the gallery, in a nauseatingly gastronomic explosion of flesh and excess that explores the physical and mental processes associated with one of the most favorite of middle class pass times.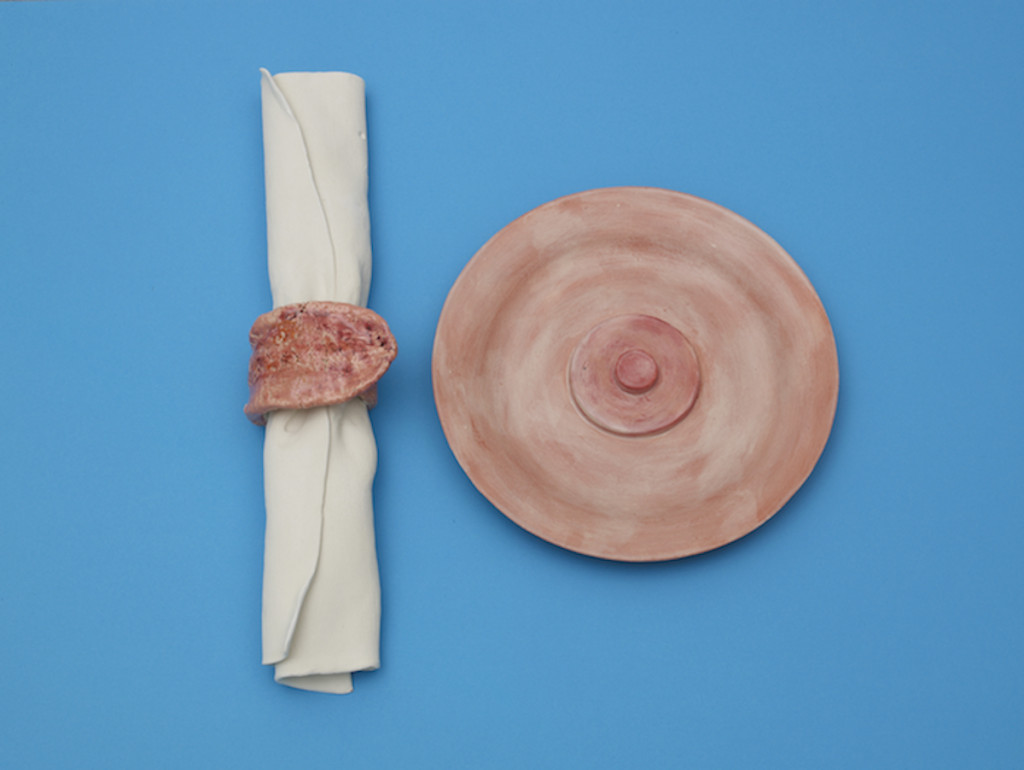 Emma Hart and Jonathan Baldock, 2015
I Managed to catch up with them to find out more about the process involved in creating art as a duo and the reasoning behind their disdain towards such customary events.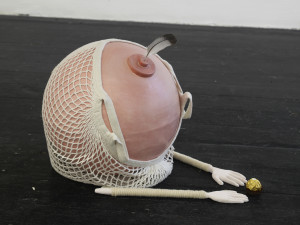 Can you tell me a bit about your relationship as artists and how the collaboration came about? 
JB- Emma and I met on a residency at Wysing Arts Centre in 2012. I knew Emma's work before meeting her and really loved it, but what was really magic is that we also got on really well. I identified with her as a person, and could relate to so much of what she said. Up until then I had never had that with another artist, and I found it quite profound. During the residency we quickly became friends, hanging out in the ceramic studio; making together and talking and having a good time. Until Wysing Emma had not made work in clay, but from that point on ceramic quickly became a common medium in both our works. I had some experience with it before, but I would say that now Emma has definitely become somewhat of an expert in it. I started off showing her how to do things, and now she shows me…
How did you find working as a collaborative unit compared to working alone?
JB- The idea for the show had originally been to place some of our older works together in one show just to see what sort of conversation arose between the works. So it wasn't actually going to be very collaborative at all. Just a dialogue amongst our two practices. As we sat down and started to select works for the show it soon became clear that in addition to our many shared themes, there were also lots of works dealing with the bodily acts and social scenarios of eating. We decided to make a large dinner table to display both our works, and then started making the additional elements that we thought were missing in order to make it a proper dinner party… Or at least what we thought could constitute a dinner party. For me, one of things that make working collaboratively so exciting is that it is an opportunity to work outside of my usual trajectory. I no longer have to justify what I make against my past works. This is totally liberating and opens up opportunities for my practice to be informed by so much more.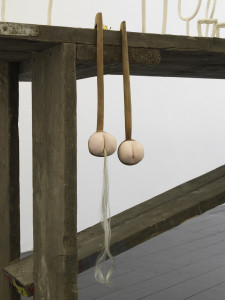 Most of the materials used could perhaps be described as craftsy but are depicting these opulently, grotesque forms and acts. Is there an intentional juxtaposition regarding the materials and and what is made with them?
EH- We have used clay, textiles, photographs and found objects as materials. For myself, sculpture most recently ceramics, provides a way to physically corrupt and 'dirty' images and forcefully squeeze more life out of them. Clay provides a way to work behind pictures, and reveal the raw, crude, real state of things that images screen off. The dumbness and lumpiness of clay becomes a provocative way to mess things up. With Jonathan's work craft techniques and materials are pushed to be over the top and excessive. Absurd appearances are conjoured from everyday items and a fantastical alternative is provided to our conventional experiences.
The work, for me, represents the ritualistic aspect of dinner parties and maybe not in a completely positive light. Is this intentional and Are you both fans of dinner parties?
EH- I have never been to a dinner party, and Jonathan has only been to a handful. I have certainly never held one. I live in a small grotty flat with a very small grotty kitchen that couldn't cope with anything social. I also hate cooking.  Dinner parties seem from a different world, to the one myself and Jonathan inhabit.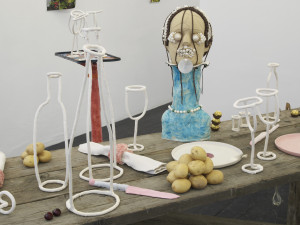 The work is displayed and made in a such a way that the viewer wants to pick it up and touch it (at least I did) but obviously cannot. Was it made to have a tactile appeal?
EH- Through the use of disembodied body parts a physical sensation or equivalence in the viewer can be set off – when looking at a tongue you might experience your own. Also through the fact we normally touch things on a table, plates and napkins etc  a sensual experience, beginning with touch, is offered.  You are right, you can't touch it, but hopefully you can feel it.
Can you tell me a bit about how the show came about?
JB- As I said already Emma and I have wanted to work together on exhibition for some time. We recently got an exciting commission through PEER gallery, and the De La Warr Pavillion, Bexhill to work on an ambitious new work together. This was prior to our show at L'Etrangere, so when Emma got invited to show at the gallery she invited me to get involved too as an opportunity to test run how we work together and see if it in any way contributes to our forthcoming projects. For me it has been a real pleasure. During the install we agreed on all the decisions about the placement of objects and the arrangements of the show. Perhaps because at the core of if we love each others work so it was exciting to see each others work next to each other. The show has definitely proved that we make a great team and I'm really exciting about starting work together on our next project. Watch this space…
The Show runs until the 1st of August at l'étrangére on Charlotte Street London and all other info can be found HERE.
Categories
Tags