Discover Brown's London Art Weekend's programme of talks, art tours, recommended walks and the Artists menu at HIX Mayfair from today
The second Brown's London Art Weekend has just opened taking place in Mayfair and St. James's from today until Sunday 5th July.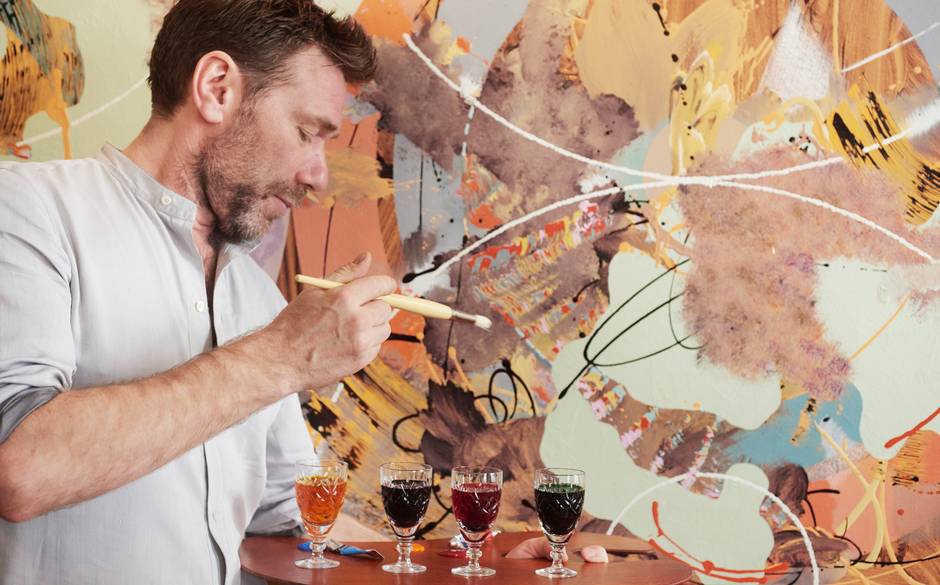 Brown's London Art Weekend, Mayfair. The Artist's Collection Mini Cocktails with Mat Collishaw
100 galleries and auction houses have opened their doors for this weekend.
With talks, walks, and 100 exhibitions to see, Brown's London Art Weekend offers a unique opportunity for you to explore the capital's greatest private galleries.
Brown's Hotel will be hosting a programme of specialist art talks over the course of the weekend, covering topics from 'How to start your art collection' to 'Fashion in Art' and 'The history of art in Mayfair'. Each talk will be hosted by a leading art expert and will last 45 minutes at £30 (including refreshments). Find the full programme at www.brownslondonartweekend.com
Confirmed participating galleries (104):
Aktis Gallery, Albemarle Gallery, Almine Rech, Andrew Clayton-Payne, Ayyam Gallery, Beaux Arts, Beetles & Huxley, Belgravia Gallery, Belmacz, Ben Elwes Fine Art, Benjamin Proust Fine Art Ltd, Bernard Jacobson Gallery, Berwald Oriental Art, Blain Southern, Bonhams, Bowman Sculpture, Browse and Darby, Brun Fine Art, Carl Kostyál, Connaught Brown, Contini Art UK, Daniel Crouch Rare Books, Daniel Katz Gallery, David Baker, David Zwirner, Deborah Gage (Works of Art) Ltd, Delahunty Fine Art, Didier Aaron, Dominique Lévy, Erarta, Fine Art Society, Flowers Gallery, Gagosian Gallery, Galerie Kreo, Gallery of African Art, Gazelli Art House, Gimpel Fils, Grimaldi Gavin, Grosvenor Gallery, Halcyon Gallery, Haldane Fine Arts, Hanina Fine Arts, Hauser and Wirth, James Hyman, James Mackinnon/ At Grosvenor Gallery, John Martin Gallery, John Mitchell Fine Paintings, Joost van den Bergh, Kallos Gallery, Luxembourg & Dayan, Maddox Arts, Marlborough Fine Art, Mallett, Marlborough Contemporary, Martyn Gregory, Massimo de Carlo, Max Rutherston, Mazzoleni Art, Mead Carney Fine Art, Messum's, Nicholas Pitcher Oriental Art, Ordovas, Osborne Samuel, PACE, Paddle8, Paisnel Gallery, Paul Smith, Pippy Houldsworth Gallery, Rafael Valls, Redfern Gallery, Repetto Gallery, Riflemaker, Robilant + Voena, Ronchini, Rossi &Rossi, Rupert Wace Ancient Art, Royal Academy of Arts, Sadie Coles HQ, Sam Fogg, Sarah Myerscough Gallery, Shapero Rare Books, Simon Dickinson, Simon Lee, Sims Reed Gallery, Skarstedt Gallery, Sladmore Contemporary, Sotheby's, Sprüth Magers, Stair Sainty Gallery, Stephen Ongpin Fine Art, Stern Pissarro Gallery, Stoppenbach & Delestre Ltd, The Sladmore Gallery, Timothy Taylor Gallery, Victoria Miro, Waddington Custot Galleries, Waterhouse & Dodd, Alan Wheatley Art, White Cube, Whitford Fine Art, William Weston Gallery & Willow Gallery.

Artist Mat Collishaw and Chef Mark Hix in HIX Mayfair
Mark Hix, Director of Food at Brown's Hotel, has collaborated with artists whose works are displayed in HIX Mayfair at Brown's, creating an innovative, seasonal and delicious menu including dishes such as: Glen Ligon's inked spelt with cuttlefish and sea purslane, Peter Peri-Peri Dorset blue lobster and Lancashire spring chicken and Mat Collishaw's f-lame'd duck with New Forest cherries (see image above). This special Artists Menu will be available in HIX Mayfair during this weekend.
Also available will be Hix presents The Artist's Collection, a palette of colourful mini cocktails (£20 per palette of 4 mini cocktails).
A large team of volunteers will be on hand to help you navigate your way between the discrete upstairs salons of old master dealers to the cavernous white halls of the leading contemporary galleries and auction houses, and whilst it will prove almost impossible to take in everything on offer, there will be a series of suggested themed routes and formal tours from Brown's Hotel.
Paul Smith, Nicole Farhi and Art 16's Kate Bryan are amongst those who have recommended themed art walks around their favourite galleries again visit www.brownslondonartweekend.com for more details.
About
Brown's London Art Weekend is led by Brown's Hotel, situated on Albemarle Street, surrounded by the many galleries taking part in the event. The understated elegance of Brown's Hotel and its location make it a popular choice for art collectors, gallery owners and artists.
Brown's London Art Weekend, now an annual event, received very positive feedback in its first year. "A gateway to the extraordinary range and quality of art works and art expertise to be found in London's premier art district" Emma Crichton- Miller. Each participating gallery will be open from 11am – 5pm on Saturday 4th and Sunday 5th July 2015, many of which will be hosting talks. Guests are advised to sign up to talks at www.brownslondonartweekend.com
Categories
Tags