In Funkier Than A Mosquito's Twitter, Pakistani artist Muhammad Zeeshan presents us with a world in which everything is not as it seems, and what is already fantastical takes on elements of the phantasmagorical.
In a nutshell, Zeeshan seeks to create works that highlight our similarities, rather than our differences.
"We live at a time of great polarity,"
he says.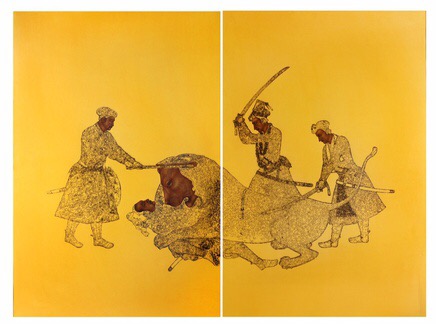 "Political and corporate establishments worldwide exploit the minor differences found between populations who have otherwise lived peacefully alongside each other. These minute differences in worship and culture are then exacerbated, and humanity becomes embroiled in ideological and physical battles."
His work brings together different aesthetic and cultural references to highlight the similarities between cultures, which he feels are more significant and important than the differences. Zeeshan combines historical and metaphysical figures from Hinduism, Islam, Sufism and mysticism alongside satire and puns to create characters that celebrate the diversity of the Indian subcontinent.
"My works tread the thin boundary between found imagery and the originality ascribed to any visual that exists,"
he explains.
"This prompts the spectator to reflect upon and call into question the connotations attached to strict distinctions between both." Indeed, for Zeeshan, it is precisely the tongue-in-cheek aspect of his work that he finds so attractive. "Looking at the images that make it into my work, I am mostly in awe of how they came to be and how they are being experienced and understood in layman's terms,"
he explains.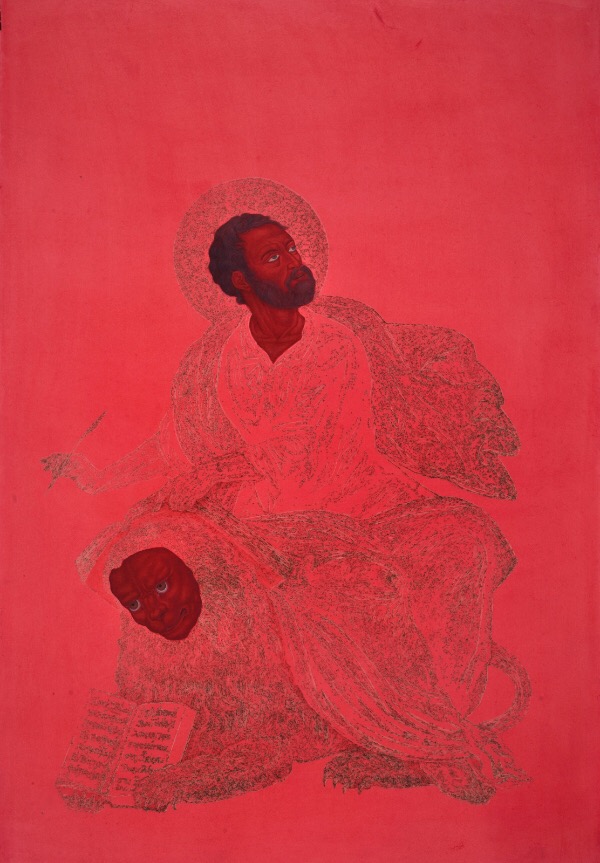 "Some of them are larger than life/imagination for me – I can't begin to decipher them, so they become an amalgamation of vagueness, clarity, ambiguity and vividness. More often than not, I lose myself in them and their constantly changing beauty because I end up understanding them on so many levels. They are funky, in fact, funkier than…"
'Funkier Than A Mosquito's Twitter' runs from 2nd of July – 1st of August 2015 at Kristin Hjellegjerde Gallery, London kristinhjellegjerde.com
About the Artist
Muhammad Zeeshan, born in 1980 in Mirpurkhas in southeastern Pakistan, received his BFA in Miniature Painting from the National College of Arts, Lahore, in 2003. Since then he has exhibited internationally across Europe, Asia, Africa, North America and Australia, participating in numerous international museum exhibitions, such as Lines of Control: Partition as a Productive Space at Duke University, North Carolina and Cornell University, New York (2012-13) and Safavid Revisited at the British Museum, London (2009). Recent solo exhibitions include Safar Nama at Canvas Art Gallery, Karachi (2014), and Special 'Siri' Series at Aicon Gallery, New York (2011), while group exhibitions include Present Re-Inventions at Grosvenor Gallery, London (2014) and Havelian Express at CAIS Gallery, Hong Kong (2010). His work can be found in private and public collections, including the British Museum, London and the Metropolitan Museum, New York, and was recently acquired by the Pacific Asia Museum in Pasadena, California. Zeeshan lives and works in Lahore.
Categories
Tags