Submissions are now open for the 2016 IWM Short Film Festival, a showcase of imaginative and challenging films inspired by IWM's collections and the course, cause and consequences of conflict.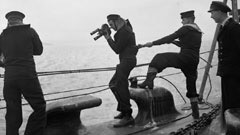 IWM is inviting everyone, including professionals, amateurs and students from across the world to enter their short films into this prestigious competition.
Films will be judged in two categories Best Documentary and Best Creative Response, with three additional awards for Best Use of IWM Archive Material, Best Student Film and the Audience Vote.
In January 2016 IWM will announce the Festival programme, made up for the most significant and inspirational films, as picked by a panel of expert judges. The screenings of the shortlisted films will take place at IWM London from 26th February to 7th March 2016.
Last year the IWM Short Film Festival saw a record number of entries from student, amateur and professional film makers from over 15 countries. Films took the form of art, animation, historical drama, and documentary and covered conflicts from the First World War up to the present day.
Matt Lee, IWM Short Film Festival Director, says
"It is always moving and inspiring to see such a variety of films that deal with and respond to the exceptional circumstances produced in conflict. The creativity, and quality of work in last year's competition was unprecedented, and I can't wait to see what we have in store for this year. "
To find out more and submit your film visit:
www.iwm.org.uk/film-festival.
Categories
Tags