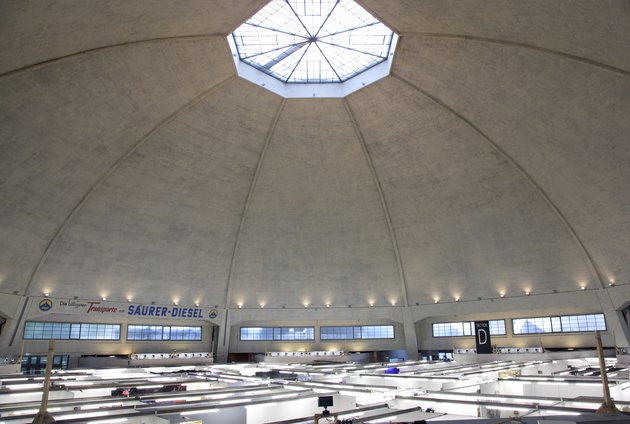 VOLTA11 opens in June and is one of ArtBasel's most recognised and visited satellite fairs, recognised as the place for new and emerging art in Basel along with Liste.
Ahead of its opening FAD caught up with Amanda Coulson one of the co-founders of VOLTA
to find out more about VOLTA and also it's up & coming edition VOLTA11 Basel.
1 Why is VOLTA different to other Art Fairs?
Our two fairs (Basel and New York) began with their own unique identities: VOLTA Basel was founded by three galleries as a fair "by dealers, for dealers", meaning first and foremost we have the galleries' (and their artists') best interests in mind, from the quality and curation of art to the venue and presentation of it. VOLTA NY began as a completely solo-artist project fair, which at the time no other fair was doing, at least not as their entire format. Some of this reasoning stemmed from our original Basel plan: put the art first. And thus, as the years have progressed, more and more VOLTA Basel galleries elect to showcase solo-artist projects. In sum, what we aspire to in every VOLTA edition, whether in Basel or in New York, is to refocus the fair-going experience back to its most fundamental roots: to the artwork and the artists.
2 Whats new at VOLTA 11?
I am turning this question around to Who's new at VOLTA11, in other words our first-time Basel exhibitors, including among others:
Yossi Milo Gallery (New York) — showcasing three artists who revel in photography's materiality while challenging its limits: Marco Breuer, Alison Rossiter, and Matthew Brandt.
ARTCOURT Gallery (Osaka Japan) — showing a solo project for multimedia conceptual artist Taiyo Kimura, whose recent pursuits include Expo 1 at MoMA PS1 (New York) and the Istanbul Biennial.
Jecza Gallery (Timisoara Romania) — featuring Albanian artist Genti Korini in a solo presentation that references H.G. Wells' "The Shape of Things to Come" in exploring the organic rush of new architecture around his homeland.
Galería Ángeles Baños (Badajoz Spain) — following "the other" through history in a two-artist booth project: Susanne S.D. Themlitz and Andrés Pachón
3 Any interesting talks/events lined up?
Our Monday mid-afternoon vernissag (opening day following VIP previews) is a celebration for our artists, and the event is free after 2 p.m. and open to the public.
We have a "Basel Nacht" at Markthalle on Thursday early evening, featuring local tastemakers co-hosting the event and inviting their respective clientele and guests for complimentary access to VOLTA11. It is our gesture in welcoming our Basel neighbors to VOLTA. Plus, throughout the fair week Beschle serves a champagne bar on the Markthalle entryway terrace, with local microbrewery Volta Bräu on tap as well.
4 If you had $56,000 to invest in an artist who would you invest in?
As many of our longtime VIPs do, I would invest in one of the many talented "up-and-comers" who have shown at VOLTA throughout the years, most recently such as Lavar Munroe (VOLTA NY 2015 with NOMAD Gallery, Brussels), who is participating in the Main Pavilion "All the World's Futures" at this year's Venice Biennale, or Tiffany Chung (VOLTA11 with Tyler Rollins Fine Art, New York) who joins Lavar in the Main Pavilion group exhibition. The list goes on…
VOLTA11 Basel JUNE 15th–20th, 2015 MARKTHALLE // Viaduktstrasse 10 // CH-4051 Basel // Switzerland voltashow.com
FAD is grateful for the support of VOLTA Art Fair.
Categories
Tags