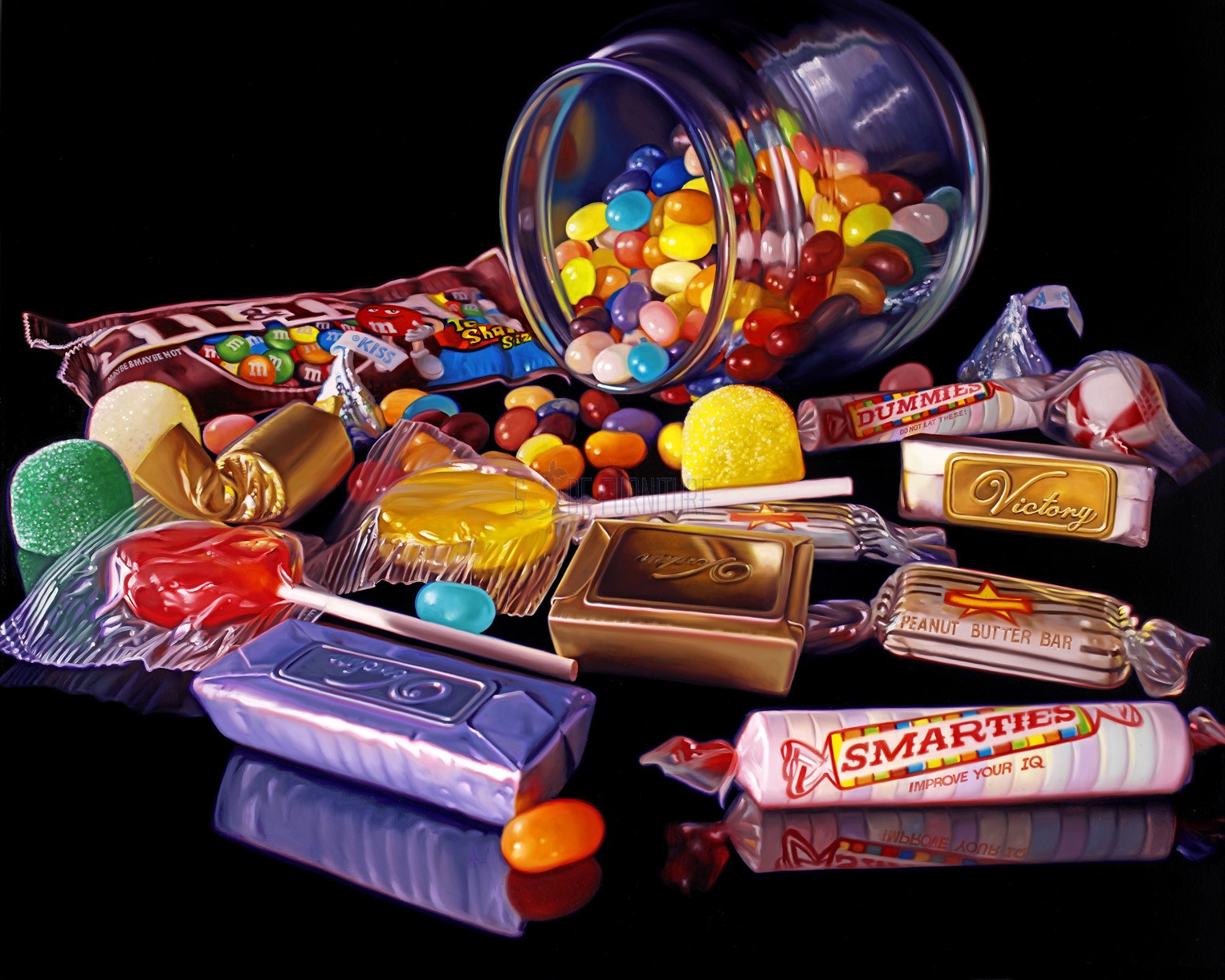 Check out the photorealist artist Doug Bloodworth. Influenced by the lifelike sculptures of Duane Hanson, Bloodworth has taken this understanding of making something artificial seem completely real and combined it with homely American touchstones such as Keebler cookies, Cheetos, Tootsie Rolls and The Jetsons for a series of nostalgic compositions.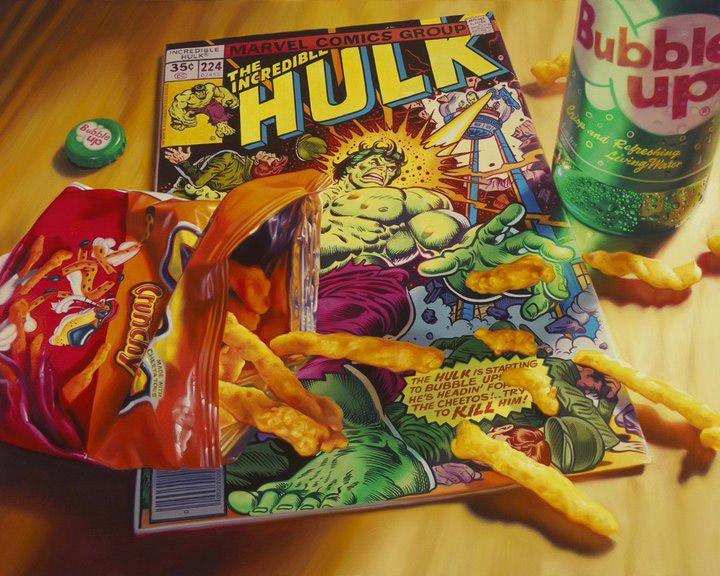 According to Photorealism's curator and president David Muller, the charm of Doug Bloodworth's paintings is his ability to depict the "pop culture flotsam and jetsam of our lives."
photorealism.com/artists/doug-bloodworth/
About The Artist
Courtesy of Maria Ricapito
Photorealist artist Doug Bloodworth was inspired by the beyond-lifelike sculptures of Duane Hanson—most notably, a "security guard" on display at New York's Van de Weghe Gallery. "Thousands of people, myself included, went up to him and asked him where the restrooms were. It was truly uncanny," says Bloodworth.
Similarly, he enjoys overhearing visitors to his shows—in galleries from Zurich to Key West to South Beach to, yes, Disney World—saying that they "love the photos." When corrected, told that these are oil paintings, he says, "Their look of incredulity is such a pleasure to watch. Many people stare at the paintings for a very long time."
One reason they are enthralled is that Bloodworth delights in depicting such beloved and familiar touchstones of Americana as Keebler fudge stripe cookies, M&Ms candies, Coke bottles, Monopoly games, Batman comics, and The New York Times crossword—in mid-attempt—all blown up to giant 4-foot-by-5-foot size.
The hyper-real depictions of the pop culture flotsam and jetsam of our lives is a major part of the artist's appeal, according to David Muller, president and curator of Photorealism, a Boca Raton–based dealer in solely photorealistic art.
"It's a combination of, number one, the actual technical skill involved in the works," Muller says. "I've been in his studio and sat there for three hours watching him complete three square inches of a candy wrapper. Watching it appear from a white canvas is totally amazing. Then you have the addition of nostalgia. When one sees the actual works, it takes you back to another time."
This is a voyage that many have been interested in undertaking. Bloodworth feels lucky to be shown by Ron Hoy in his Hoypoloi Gallery (and its sister, Pop Gallery) located smack in the middle of Downtown Disney in Orlando, Florida. "Over a half million people walk by the door every week," says Bloodworth. "They are introducing my artwork to a myriad of collectors, and I am so grateful for it. Over Presidents' Day weekend, I painted live at the Pop Gallery and there was a line up around the corner [to get postcards signed and remarques done]. What a great scene it was."
He's equally happy (and humbled) to be on the walls of the Russeck Gallery on Palm Beach's Worth Avenue and in Soho, New York City—where the other works hanging are by Picasso, Miro, Calder, Kandinsky, and the like. Not bad for someone with a degree in Commercial Art, who then apprenticed with Marv Gunderson, a renowned billboard painter.
"I worked under Marv for several years, painting outdoor billboards half the size of an Olympic pool," Bloodworth says. "Most of the billboards were for Marlboro brand of cigarettes, although we painted other billboards as well for McDonalds, Budweiser and others. Each billboard took a whole team of us about two weeks to complete. However, after three months or so of being in view, the billboards were whitewashed to make space for a new ad for a new client." He moved on to painting murals and developing his signature style.
His first five fine-art paintings were shown (and sold out) at Art Basel in Miami. The city is therefore close to his heart, and he shows at Effusion Gallery, next door to the Versace Mansion. "Recently, Lil Wayne came in [to Effusion Gallery] and bought my New York Times painting," he says. "I was so honored."
Bloodworth's time, however, is spent not hanging with hip rappers but instead holed up in his studio near Gainesville, Florida. "A photorealist painting in the size I create them – four feet by five feet – can take me over two months to complete," he says. "But it is a labor of love."
Doug Bloodworth's oil paintings are available at fine art galleries such as Thomas Lee Gallery in Ashland, Oregon, Avenida Galleries in Calgary, Alberta, Atlas Galleries in Chicago (two locations), Galerie Zimmermann + Heitmann in Dortmund and Dusseldorf, Germany, C Parker Gallery in Greenwich,Connecticut Sher Gallery in Hallandale, Florida Art Center Gallery in Irvine, California, Art Gone Wild in Key West, Florida, Pop Gallery in Lake Buena Vista, Florida, Artcetera in Las Vegas (Summmerlin), Gallery One in Mentor, Ohio, Effusion Gallery in Miami Beach, Florida, Music City Fine Art in Nashville, Tennessee, Russeck Gallery in Manhattan (Soho), 1200 Images in Omaha, Nebraska, Russeck Gallery in Palm Beach, Florida (Worth Ave), Chasen Galleries in Richmond, Virginia Stone Art in Santa Monica, California, Andrea Smith Gallery in Sedona, Arizona, Douglas Albert Gallery in State College, Pennsylvania, Michael Murphy Gallery in Tampa, Florida, Hamilton-Selway Fine Art in West Hollywood, California, Around the Edge in West Palm Beach, Florida, Gallery 319 in Woodland Hills, California, and Foxx Galerie in Zurich, Switzerland.
Categories
Tags