This mastectomy tattoo was shared on the internet 14,000 times in less than 24 hours. Photograph: Facebook
---
This article titled "The tattoos that turn breast cancer surgery scars into works of art" was written by Joanna Moorhead, for The Guardian on Sunday 10th May 2015 16.00 UTC
You don't expect, when you're diagnosed with breast cancer, that it will be your introduction to the world of tattoos – but for many of us who have the disease, that's what happens. I have two tiny tattoos on my left breast to mark where the radiotherapy beam had to be directed during treatment last year; today, they serve as a memento of a tough time.
But, for some women who have mastectomies, tattoos figure much larger, and are much more important – not so much in their treatment as in their recovery. This week a tattoo artist from Darwin in Australia posted pictures of a client who, having had a double mastectomy and reconstruction, had her new breasts completely covered in flower imagery, transforming her scars into an artwork. In less than 24 hours, the picture had been shared 14,000 times.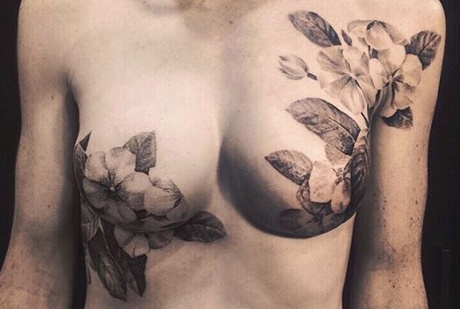 For some women who choose not to have a reconstruction, a tattoo can make a huge difference to life with a mastectomy. Liz Howley, 73, who lives near Edinburgh, had a mastectomy in 2006 – but after the surgery, she struggled to come to terms with how her body looked. "I hated looking at myself in the mirror, and I didn't like my husband to see me without my clothes on," she says. "It was a constant reminder of what had happened to me." But when she saw a TV programme about tattoos, she wondered whether having one could make a difference to her body. "I spoke to my consultant and he said sure, go ahead," she says. "So I found a lovely female tattoo artist, who had a private room, and I had flowers tattooed on."
It was, says Liz, life-changing. "It really did make me feel very different. Now I love that part of my body; I'm proud of it, it looks good." She went on to have another tattoo of butterflies, on her shoulder; and in solidarity her husband John had "Elvis Presley" tattooed on his arm at the same time.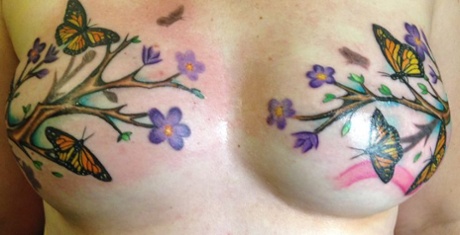 "We're not people who ever expected to be in a tattoo parlour in our seventies," says Liz. Renea O'Grady, who runs Old London Road Tattoos in Kingston upon Thames, says it's lovely to be able to help women who are getting through a breast cancer experience. "Some women come wanting a tattoo where their breast was, others come with a reconstruction to have a nipple tattooed on," she says. "Usually it's the final part of the journey for them and it's the moment when they can feel back to normal, and move on. It's brilliant to be able to do something positive to help."
Julie Perkins, 59, who lives in West Wycombe in Kent, had nipples tattooed on both her reconstructed breasts after a double mastectomy in 2012. "New breasts are never going to look exactly like natural breasts, but having nipples does make a huge difference," she says. "After I'd had them done I felt a lot more confident. Every time I caught sight of myself in the mirror I'd miss my nipples – now they're there, and I feel normal again."
For more information on breast cancer go to www.breastcancercare.org.uk, www.breakthrough.org.uk and p-ink.org
guardian.co.uk © Guardian News & Media Limited 2010
Published via the Guardian News Feed plugin for WordPress.
Categories
Tags