Floating around the the meticulously polished concrete floors of White Cube Bermondsey it is difficult to imagine anything looking bad in such a perfectly sized and finished space. The faux celestial awe created by the stretching white walls lends itself completely to Gates' work – constructing a catalyst to invoke deep emotion.
The body of work is quintessentially American, visually and in sentiment. It encapsulates a feeling of historic unrest and highlights aspects of a nation that, in the midst of extreme racial tension and urban decay, maintains a stringently obvious divide.
On entering the first room you are surrounded by objects that visually represent a simpler time. Sculptures constructed from mostly found articles foraged from Gates' home town, the South Side, an area of Chicago with an extremely varied demographic but which is not immune from the crime and poverty focused on by the American media. A series of wooden vitrines salvaged from an old 'mom and pop' hardware store comment on change and redevelopment while subtly lulling the audience in to a comforting nostalgia. The room resonates with beautifully guttural but soulful tones coming from a video of a musical performance. It's a heady concoction of serious but appropriate thought mixed with a soothing wistfulness.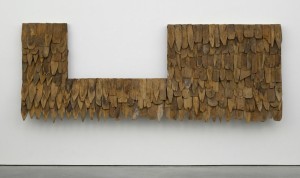 The theme continues with large areas of old gym floor hung like paintings. The composition of each one and the different elements that comprise them conjure the same feelings of nostalgia. An emotion for something that is increasingly lost. A representation of a time from which there has been progression while there has also been huge regressive steps.
The sheer scale of room three is breathtaking with sculptures and paintings, constructed from tar, rubber, clay and "good roofing strategies", ornately positioned in a palatial amalgamation. A cluster of sculptures centralise the room – what looks like ceramics are large glazed clay and metal pots sitting on roughly constructed wooden plinths. The paintings and sculptures show texture and colour being engulfed by other stronger, thicker materials. The jet black tar and rubber dominate whatever lies beneath it. Although there is a coarse, seemingly slap dash approach to these works they are alluringly ornamental and aesthetically pleasing. The grandness and monotone to the room make it stand apart from the other two while the line of thought stays strongly embedded in the entire body of work.
This is emotionally engaging work made by an exceptionally interesting artist. An artist who is commenting on subjects that are now and have been shied away from. Subjects that are now at a point where not addressing them would be detrimental to the development of civilisation. An artist who after winning this year's Artes Mundi Prize shared his winnings with all of the finalists then sang his acceptance speech. A glimmer of light in a sea of darkness.
The show runs until the 5th of july at White Cube Bermondsey and Theaster Gates will also be presenting a new body of work in the Arsenale at this years Venice Biennale. All info can be found on White Cube's website HERE.
Categories
Tags