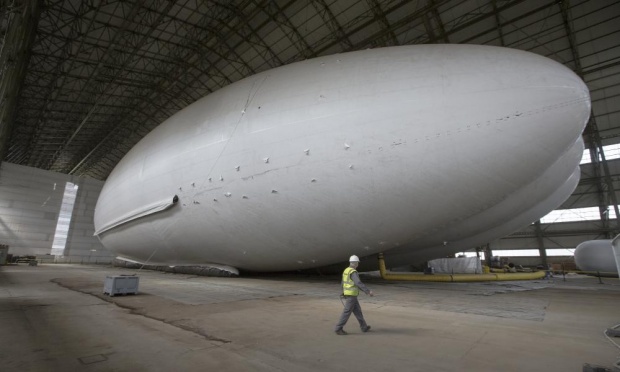 Secreted in a hangar a few miles south of Bedford sits the world's largest aircraft. Photograph: Sean Smith for the Guardian
---
This article titled "Iron maiden voyage: world's largest aircraft looking for investors to give it liftoff" was written by Gwyn Topham Transport correspondent, for The Guardian on Monday 30th March 2015 17.50 UTC
It could be the future of aviation, British eccentric genius on a grand scale, or possibly a bit of both. Secreted in a hangar a few miles south of Bedford sits the world's largest aircraft: a hybrid of plane, balloon and hovercraft, an airship that the company modestly says will change the world. The Airlander 10 can fly for weeks, land virtually anywhere that's flat, and burns just a fifth of the fuel of a conventional aircraft.
With speeds reaching 100mph, it's slower than a plane but greener, quieter, and potentially far more direct. Its unusual shape emulates a wing, giving it lift as it is propelled forward by its four engines, as well as from the 38,000m3 of helium that fills its hull.
Hybrid Air Vehicles, the manufacturer, is looking to smaller investors to follow in the footsteps of the US military and Iron Maiden frontman Bruce Dickinson by sinking their cash into the dream. Buoyed by the numbers of enquiries from enthusiasts, the firm is set to launch a crowdfunding exercise to match a £3.4m government grant to get the craft off the ground – and eventually build hundreds more to fill the skies.
Airships have been built at Cardington for nearly a century, with mixed results. The two giant green hangars were used to house even bigger craft until the 1930s: the R100 and its doomed sister the R101. Its famous crash virtually ended the British interest in airships, until recent advances in technology made a new iteration possible: a super-tough skin to keep the helium in, a cockpit built from lightweight composite materials, modern controls, and a hull whose unique aerodynamic dimensions were calculated via computer-aided design.
The Airlander was patented in 2001 but development hastened with US backing for a potential long-range spy in the sky. Defence cuts and the winding down of the war in Afghanistan led the military to abort its $300m programme not long after the craft's one test flight at the Lakehurst air force base in New Jersey.
"They did it in Lakehurst with top secret all over it, which we thought was a bit silly because you could go down to a shed in Bedford and see it six months earlier," recalls Dickinson.
What looked like the death knell for the Airlander turned out to be a blessing for Hybrid Air Vehicles, which ended up buying back the aircraft and the intellectual property for just $300,000 having been paid $90m for their services.
The UK's ministry of defence is retaining an interest in the airship's surveillance capability, but HAV says the civilian potential is enormous. Sweden will trial the airlifting of wind turbines to remote parts of the country. Mining corporations, search operations, disaster relief or high-end tourism could all use its technology to fly long-haul to places where infrastructure doesn't exist or has been wiped out. HAV believes data gathering and communications from airship levels rather than satellite is a further enormous growth market.
Dickinson, the singer and part-time pilot got involved in 2008 after meeting the "genius behind it", the late inventor Roger Munk, and has now upped his investment to £250,000. Dickinson said: "I told my wife, I'm about to put £100k into a big bag of helium. It may go up in smoke. She said, people have to dream, and unless you can dream something it's never going to happen."
He added: "I'm not expecting to get my money back any time soon, I just want to be part of it. Being a rock person, I could put it up my nose, or buy a million Rolls Royces and drive them into swimming pools, or I could do something useful."
The heavy metal superstar added: "There are very few times in your life when you're going to be part of something big."
An inspiration behind the project is Barnes Wallis, inventor of the bouncing bomb, who built the R100 and late in life shared with Munk – reputedly on the back of a napkin in a pub – the problems that needed to be resolved to make airships viable. The potential of such green, quiet, gigantically scalable craft has made them popular in fictional universes from Philip Pullman's Northern Lights to David Mitchell's Cloud Atlas; but in real life airship technology has raised suspicion.
Gareth Jennings, an aviation specialist at Jane's Defence Weekly, says: "Question marks have been raised over their vulnerability to enemy action, and even to the weather. HAV will say that tests have shown their vehicle to be able to withstand missile strikes, but the perception is not fully overcome. It would need a huge culture shift at the heart of the military to embrace [it]."
HAV director Chris Daniels admits: "One of the biggest challenges we're going to have is to tell the world just how safe this is."
Dickinson says the technology has been unjustly neglected: "People say, God, the Hindenburg [the German hydrogen-filled airship that crashed in flames in 1937]. But on this, you are flying the world's biggest fire extinguisher."
It needed, he says, someone to "break the mould, get in there and fly it. Well, we've built one and flown it and luckily the US government ran out of money so we've got it back."
guardian.co.uk © Guardian News & Media Limited 2010
Published via the Guardian News Feed plugin for WordPress.
Categories
Tags