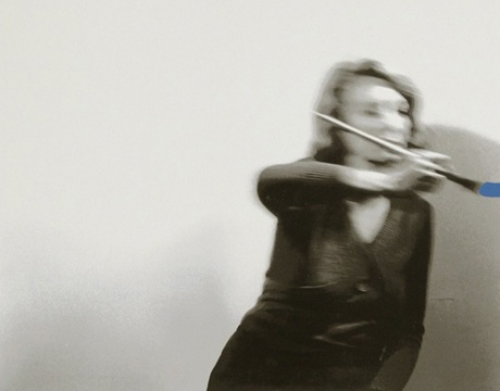 Helena ALMEIDA, 1977/2007. Pintura Habitada, Silkscreen print on paper, 50 x 70 cm, Signed, numbered and dated (Edition 17 of 25) © The Artist. Courtesy Richard Saltoun Gallery.
This is the first London show dedicated to Helena Almeida, one of the leading women artists working in Europe during the '70s and '80s. Throughout her career Almeida has continuously explored and questioned traditional media, breaking away from the pictorial plane by placing her body as the subject of her work – or as her titles suggest, by "inhabiting" them. Almeida's body, often clad in black, performs carefully choreographed movements in dialogue with simple, everyday objects. The resulting photographic image is never purely representational, but blurred and grainy, and often interfered with by a drawn line, a paint-stroke, or a sculptural element such as horsehair: they exist beyond the limits of the 2-dimensional photographic surface through these interferences.
A presentation of works by Portuguese artist Lourdes Castro (b. Madeira, 1930) will also be exhibited. A contemporary of Almeida, Castro uses shadow and light as a means of representation. She has been the subject of two retrospective exhibitions at the Serralves Foundation (2003 and 2010).
Helena Almeida: Inhabited drawings / Desenhos habitados RICHARD SALTOUN GALLERY 111 Great Titchfield Street, London, W1W 6RY
27th March – 22th May, 2015 Private View:Thursday 26th March, 6 – 8pm
Categories
Tags