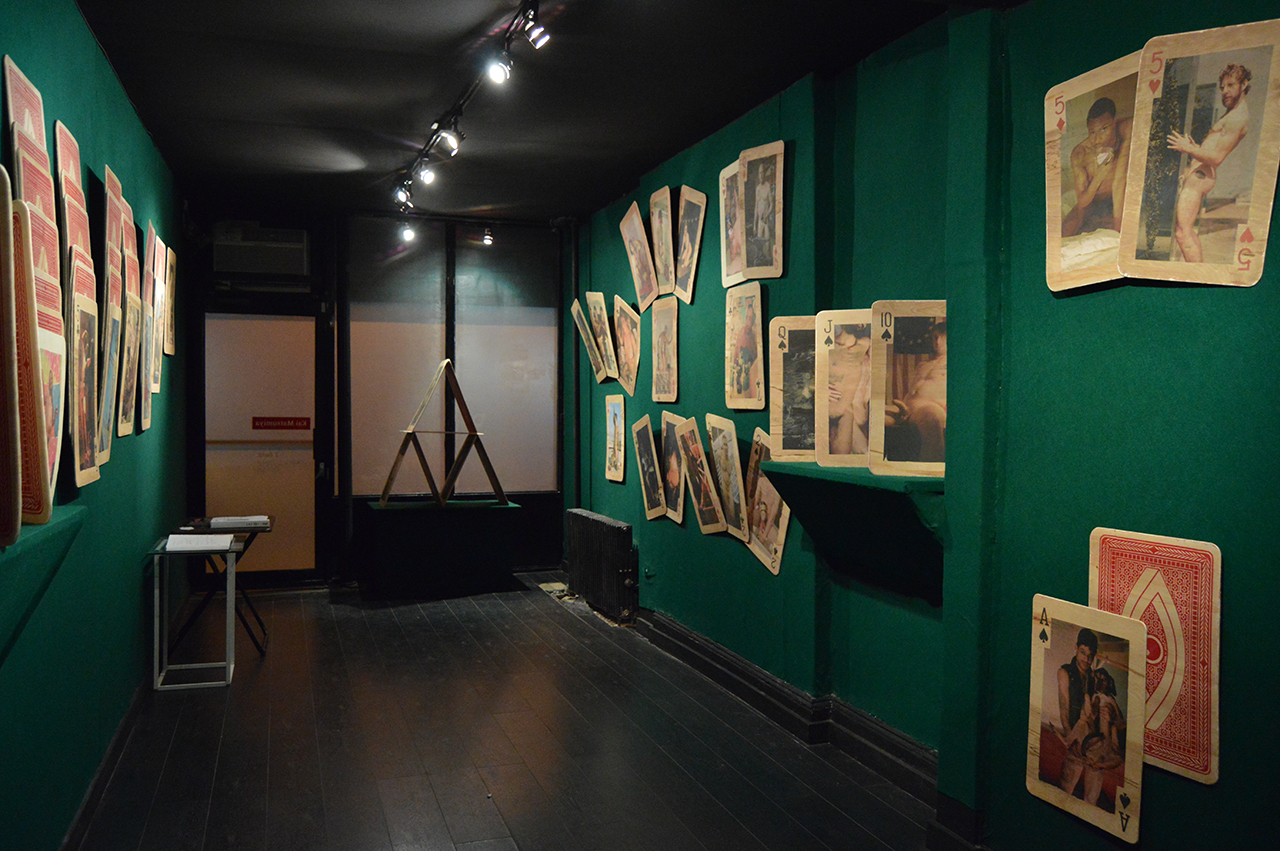 The frosted door to Kai Matsumiya Gallery swings open, transporting you from the bustling blocks of the LES into a dimly lit portmanteau of a space comprised of low walls draped with rich green felt. Reminiscent of smoky billiard halls and precarious poker chambers, you are greeted by an abounding multifold of photographs depicting nude men contained within various landscapes brushed on large wooden panels the size of framed posters. Each male is strategically assigned to a number, color, and suit, directly emulating the traditional western version of a standard deck of playing cards. As erect as a classical Greek or Roman sculpture, unique personalities from all angles jut out from the electric emerald felt, beckoning their viewers to take a closer examination.
From left to right, right to left, front to back, back to front, inwards and around, your gaze leaps from barren torso to torso, voyeuristic gesture to playful pose, cluttered foregrounds to complicated backgrounds of distortion. The back side of the works depict a pattern that references standard card deck motifs with an enigmatic red 'female eye' at the center which watches your every move. You feel as if you may have unlawfully trespassed into a rabbit hole of intrigue that even a bashful Alice would be drawn toward—and you want more.
A naked 2 of Clubs swivels on the pole of a NYC train, a 4 of Spades whisks fluids in a small silver bowl in his concave kitchen, a 9 of Clubs tied up in chains and adorned in ropes beckons you to witness his status quo. And a King of Diamonds, dressed in nothing but an unbuttoned vintage rainbow striped shirt with matching tube socks, summons you to the other side of the wall where his party is clearly the best.
A brunette placed in the foreground of what seems to be his personal library, glares out through his tortoise shell rimmed glasses while his bare penis nonchalantly rests on a stack of novels (one of which spines suitably reads Moby Dick).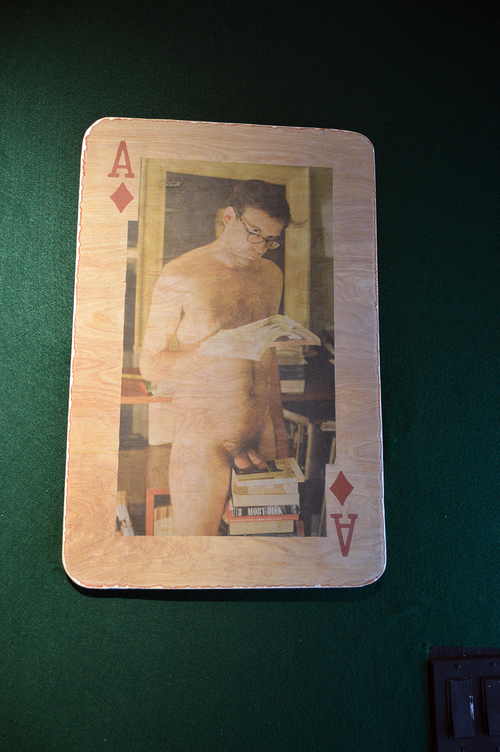 Toward the back, three sets of pairs are dispersed in a staggering effect. Erotic poses are accompanied with props from sweets to sculptures to pools and friendly dogs which are both charming and puzzling. A black male licks your gaze into his boudoir, while the celebrity Redhook based artist, Dustin Yellin looks you lovingly in the eye as he generously penetrates his 'magic stick' directly into the heart of his own sculptural 'masterpieces'.  In the middle of the wall, a 2 of Hearts poses as a mocking rendition of a classical Turkish odalisque. Reclining on a wooden table, allusions are made to 17th century Dutch genre portraiture by the red lobsters featured in the foreground. As his sly gaze invites, the view is lured toward his direct mid-center. Cunningly he grips a butcher knife, and like a sharpened blade, the card strategically cuts through the stack.
Similar to echoes heard from Greek mythological sirens on a nearby island, repetitive shudders of what sounds like the clanking of thin boards, marshals you toward an alternate and nebulously lit room situated in the back of the space. The sounds which you are entranced by seems to be coming from a looped video. This video, which is placed in the top left hand corner of the space adjacent to the entrance, offers an overhead view of a nimble figure scaling vehemently across more green felt while costumed in a black and white jumpsuit.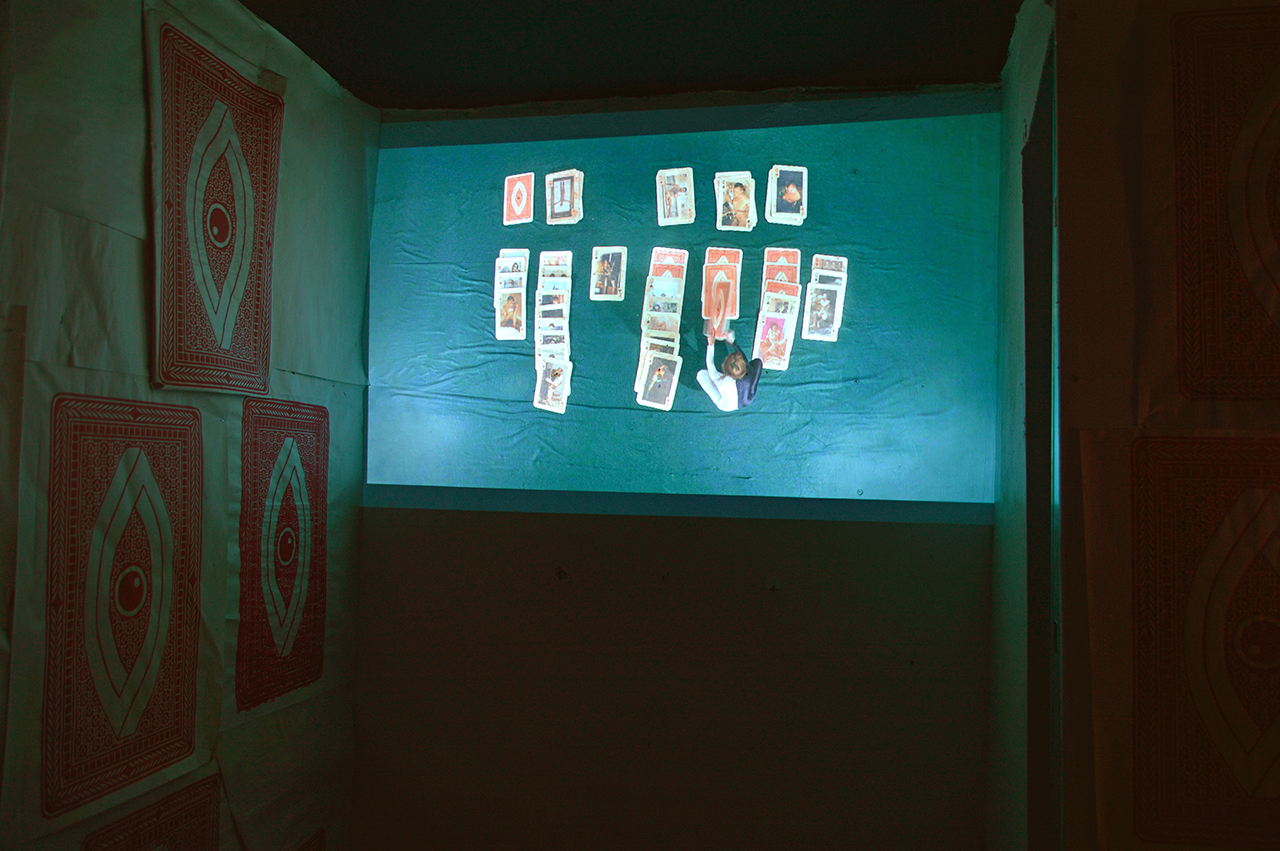 As this character NEVER looks up, you are coerced to watch him, or her, play a game of Solitaire with the same deck which is hanging throughout the front of the space. Clap, clack, clap, clack, you continue to watch- never missing a beat. The question of whether or not this character is male or female is reinforced by those same earlier seen red 'female eyes' which are also repetitively printed on paper surrounding the entirety of the room. Near the corner, your eyes tilt to the right where a pair of fanned 'jokester' cards which feature mirrored images of the character depicted in the looped video; recognizable by the same long hair and jumpsuit. Embossed betwixt layers of wavy wood and photographic print, her self portrait floats towards the center of the frame. Clutching her camera outright from her chest in one and from her right eye in the other, like an enigmatic apparition she lures you in even closer, forcing you to reflect on the relevance of the show she has presented. Synonymous to the Joker card which is historically known to trump any royal flush, full house, or three of a kind, you are obliged to fold into, and under, the charm of the artist herself: Z Behl.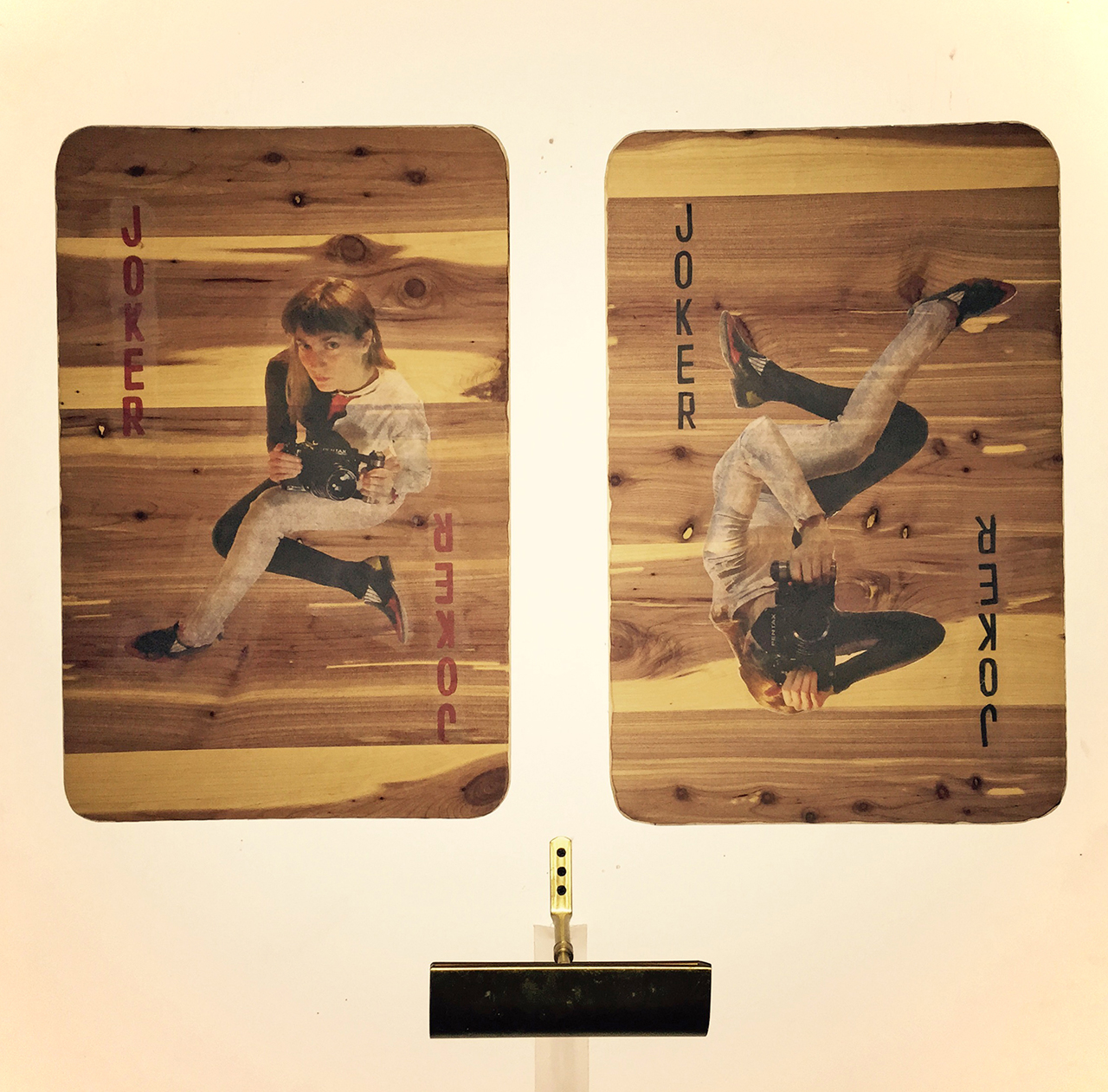 Known for her larger than life sculptural wood cut outs and installations, seen at noteworthy galleries and project spaces such as  7ELEVEN Gallery and  Mana Contemporary, which impulsively captivate the mind to second guess their interpretation of space and the blurred lines which oscillate between fantasy and reality- Z Behl is a planner, meditator, constructor, creator, director and an astute executor. Inspired by a set of female nudist playing cards, which she found in her father's drawer as a child, her most recent solo exhibition, 'Joker's Solitaire' while provocative, seemingly humorous, and often seductive, is inherently seeking to stimulate a dialogue around the history of the mythological and historical 'trickster'.
'Tricksters' are archetypal, almost always male, characters who appear in the myths of many different cultures and as their name suggests; love to play tricks. Think mythological or Shakespearean characters such as Hermes or Puck, for example. Without their cunning, rebellious and often mischievous ways, foundational plots and themes both in mythology and script would never evolve. Perhaps the best definition of a trickster is the one given by professor Lewis Hyde in his book, Trickster Makes the World, Mischief, Myth and Art,  when he also describes the trickster as: "a boundary-crosser". Hyde also notes that in addition to crossing boundaries, trickster also creates them: "In several mythologies, for example, the gods lived on earth until something a trickster did caused them to rise to heaven".
Trickster tales have different functions in various societies. Certainly the stories are told because they are funny and entertaining; but they are also in some sense sacred. The cultural anthropologist Paul Radin reports that the reaction to trickster stories "is prevailingly one of laughter tempered by awe". So if tricksters do in fact make the world, why are they so often described as male, or androgynous at best?
"It is unfortunate that when you start using the words or the ideas that are attributed to these trickster characters it immediately sexualizes them. If you talk about a woman who is any way having fun or playing games, people tend to characterize these characteristics as derogatory. Why can't a female, be a trickster or a jokester without having to be considered slutty or even manipulative?"- Z Behl
In her book, Mercury Rising: Women, Evil and the Trickster Gods, Deldon Anne McNeely pinpoints three reasons why she is exploring this topic, "One is to recognize the survival value of recognizing the trickster archetype in our individual and collective psyches; another is to raise the possibility of developing a more enlightening approach to ethics by our species, by attending to the tricksters as an agent in the differentiation of evil, a third is to explore the feminine side of an androgynous archetype which is portrayed universally as masculine."
But, unlike the Persian Scheherazade, or the hebrew Judith, instead of sleeping with men to later torment them or kill them, Z works from behind the photographic lens. Where the weapon is no longer the female body, instead the weapon becomes her lens and her target: History. By directly replacing erotic female nudes with a set of naked willing and eager males, she uses these cards and your interaction with them to ignite a conversation which directly examines our sense of order, hierarchy and morality in today's contemporary society.
The first set of 'playing cards', were documented as having evolved in Asia, specifically in China, in the 8th century. But, the system which we adhere to in the West was first introduced to Europe in the 14th and 15th centuries. Before the invention of the printing press, playing cards often used to be hand crafted, gilded and designed to be beautiful objects and were often mentioned in wills, and inventories and were even given as wedding presents. They demonstrated great artistic skill, craft and harmony of grace and form.  Eventually they were most notoriously used for gambling, but they were also initially utilized as circulating vessels of didactic and moralizing allegory. Many packs of playing cards were designed for representing life's basic facts, a memory aid or teaching tool, a means of condensing knowledge. The subject could have been anything from botany to heraldry, from cosmology to geography. Political satire has also been an inspiration for the landscape of playing cards. Because gambling was so sought after there was a massive market for these sets and a necessity for their reproduction. The cards produced after the 15th centuries were usually a balance between a utilitarianism and an artist's expression. Whatever the case, they served as a canvas for expression of not only social satires or political concerns but they were also of great use for representing ideal within a social hierarchy. The greater use of these cards are that of social or even collective reflection.
The fact that these participating models, all of which come from multi disciplinary backgrounds ranging from lawyers and security guards, to artists and philanthropists, were open to the opportunity to take their clothes off and pose for a project which reevaluates a women's role in society is more than  interesting.  However, to simply write it off as feminist exhibition would be inaccurate. The concern lies not with feminism nor with a female creating art which features male nudes, this exhibition is more concerned with starting a conversation surrounding these precepts. Where this question of feminism is only slightly illuminated, and replaced instead with a post- jungian collective exploration on why the word 'feminism' even has to be brought up as a descriptor in the first place.
A true artist and diligent craftsman, she utilizes her all of her carpentry, photography and fine art skills, luring her audiences to take a step back to not only acknowledge the visceral ascetics but to also understand the narrative of each work and how each panel assist in carving out a bigger picture.
For this show (with a few exceptions of males approaching her asking to be a part of the project) every step of the way was calculated. Beginning in July of 2014, Z drove all around the country, catching up with old friends and some strangers, with most scenes already in mind she took months, planning, shooting, and editing the photographs- all of which she shot through a vintage camera and analog processes. Though she has used photography as kindling for previous works, she has never presented a body of photography in an exhibition, much less a solo one.
"There is some thing so commercial about photography I don't like looking at pictures in a way where we can understand, where they came from or how they were manufactured. There is so much to be gained from using more analog processes. It adds so much of a time stamp or an era or nostalgia to the work that I find valuable. Just in the same way that I chose to source found lumber instead of buying new wood when I build a sculpture. You find a piece that embodies a history to it. When I shoot a picture I look for things that have history in them and then when I present that picture I want to do it in a way that really questions the time and the spectrum of the piece, of the image."- Z Behl
Struggling also on whether or not to use card stock or wood as the base for the cards, she knew how necessary it was to have her hands on every process through every step of the way. After meticulously sourcing unique gradations of lumber throughout various lumber stores, she then cut, carved and sanded each card- all on her own. Next, she printed the images on three types of tissue (including Japanese rice tissue) mounting them on wooden boards. The red eye, printed on the cards where nude men are omitted, are a handmade silkscreen pattern. She then finished the boards with multiple layers of adhesive, which helped to add a striking authentic ascetic flavor. Inimitable in construction as are her ideas, she has executed each one to a splintered perfection. It is not random, but her decisions for how the numbers and suites were attributed were made based on ascetics and on her awareness to stay away from certain linguistics. Maintaining a certain power and control for how all of the works were executed- from start to finish she held all of the creative reigns.
Metaphorically and mechanically, like a new age trickster,  she constructs her own boundaries to cross and has invited you to come along to witness the magic. Z oscillates as a powerful female medium, a joker between 'realities'. She tricks the eye and the mind, and flips the normalized script, or the cards if you will. Eloquently, she captures and presents a new generational formula.
This show is refreshing for so many reasons. Not only is it aesthetically ambitious, culturally relevant, playfully interactive, original and well curated, but it also raises awareness to the notion that perhaps roles in the contemporary art world are shifting. And Z Behl stands tall on the forefront of shifting them.
To know more about the show visit: www.kaimatsumiya.com
To know more about Z Behl visit: www.zbehl.com
All images courtesy of: Kai Matsumiya
Read more over at: trickmagazine.com
Categories
Tags