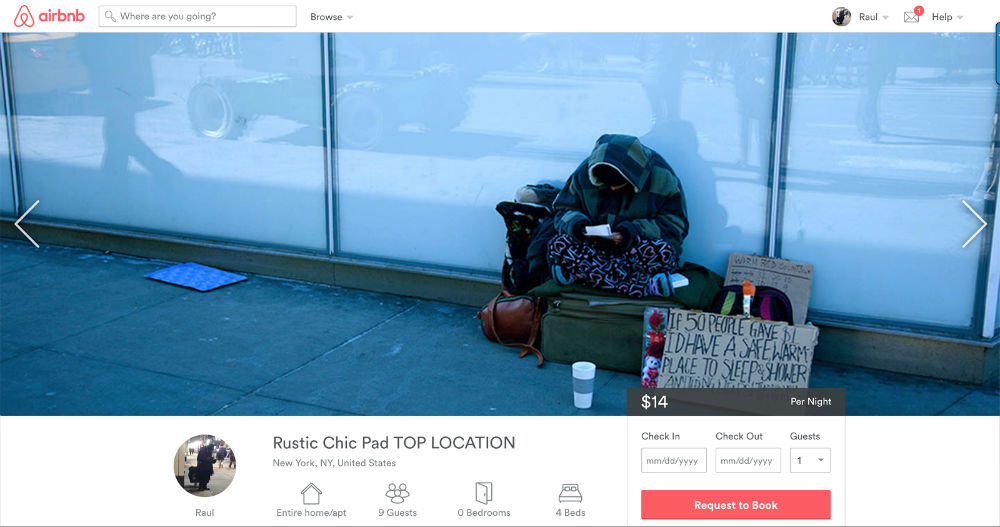 Airbnb as you know is an online platform where people with a spare room can advertise it for rent.
Jamie Shin and Vito Catalani, a pair of artist activists, have been creating listings based on photos of where homeless people in New York City sleep. They hope this project will help in two ways.
1) If anybody rents the space, those proceeds are donated to homeless assistance programs in New York such as New York Rescue Mission, Goddard Riverside and the Jericho Project.
2) The project is intended to raise awareness of the homeless program, specifically in the eyes of a population with the disposable income and free time to offer real help.
Every year, approximately 50,000 people have to sleep on the streets of New York City, a city with both crime and weather that make sleeping outdoors a risky situation at best. Although shelters operate to help alleviate the problem, funding for them rarely keeps up with the demand, especially during the winter months.
The postings appear and disappear randomly on the website. If you can't find one right away, Jamie and Vito encourage you to donate directly to homeless relief organizations in the area, or in your own town.
Interested parties can find the listings with an Airbnb search for "Manhattan." The individual listings are priced at ten to twelve dollars per night, donated directly to homeless relief efforts.
About Staff